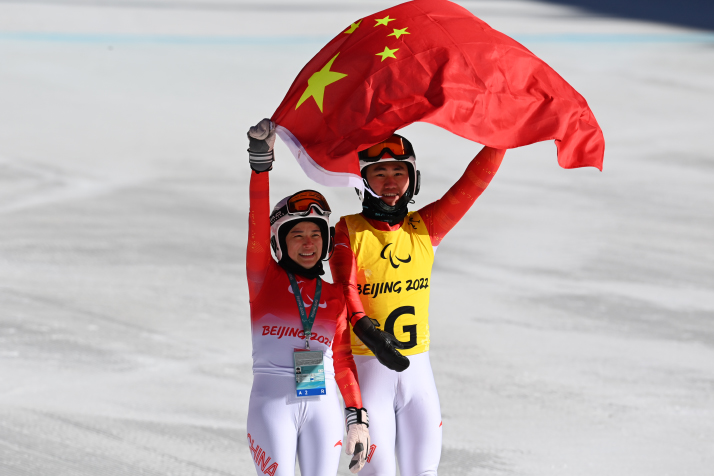 Para-alpine skier Zhu Daqing (left) celebrates with her guide Yan Hanhan after winning silver in the women's downhill vision-impaired race in Beijing on March 5 (XINHUA)
When Liu Zixu put down his bow and took up the rifle, he wasn't expecting to land the top spot in athletics. Liu finished first in the Para biathlon men's sprint sitting on March 5, earning China its first gold medal at the Paralympic Winter Games Beijing 2022.
"I'm happy with today's performance and it feels good to have made history for my country," said Liu.
The gold medal he earned is the second in the country's Paralympic history, while the first ever was won by the wheelchair curling team at Pyeongchang 2018.
Liu made a good start. His success was quickly followed by gold medals won by other Chinese winter Paralympians. As of March 10, they had won 10 golds, nine silvers and 13 bronzes in the Beijing Games, ranking first on the medal table, an unprecedented feat for the country.
The take-off
The honors are earned with hard work and courage.
Liu, 24, hails from Xi'an, capital of Shaanxi Province. He had one lower limb amputated after a traffic accident in 2008. He could only get around with the help of a wheelchair or crutches and was left feeling helpless and depressed.
The U-turn occurred in 2013, when 16-year-old Liu was selected to the archery team of the Shaanxi Disabled Persons' Federation. "It was a precious opportunity that reignited my dreams and marked the beginning of my athletic career," Liu told Xinhua News Agency after conquering the top spot at Beijing 2022.
At first, Liu wasn't familiar with the discipline and lacked confidence, but with the help of his coach, he fell in love with it. After six months of training, he made significant progress.
In 2017, the national cross-country ski team for people with disabilities was recruiting athletes and Liu applied out of curiosity; he made it through multiple selection rounds because he holds the
advantage for biathlon, a sport featuring both skiing and rifle shooting. He joined the national Para cross-country ski and biathlon team in October that year.
He won gold in the Para biathlon at the Para Cross Country Skiing Europa Cup in Finland last December, qualifying him for Beijing 2022.
Shortly after Liu's success, on March 5, Para alpine skier Zhu Daqing won silver in the women's downhill vision-impaired race, China's first-ever Paralympic medal in alpine skiing.
The 32-year-old Zhu is both a summer and a winter Paralympian. She had already secured the bronze in the women's 200m race at the London 2012 Paralympics. She deeply regretted having missed the Beijing 2008 Paralympics as she had to undergo surgery, but the recent Games gave her the opportunity to make up for that. She started practicing alpine skiing in 2019, with the goal of participating in Beijing 2022.
Alpine skiing is challenging, especially for visually impaired people who naturally fear speed, whereas the discipline requires just that.
During her first Paralympic training run on March 3, Zhu, with a near vision of only 10 cm, took a tumble after hitting the protective barrier at a speed of 120 km per hour. Fortunately she did not sustain any serious injuries. Strong sunlight causes her to fully lose her sight and fall—even with the help of a guide.
Zhu and her guide wholly trust one another, and she managed to overcome her fears and eventually reach the Paralympic podium.
In addition to individual efforts, athletes also benefited from other helps such as guidance of top coaches. Capelli Dario, the Italian head coach of the Chinese Paralympic alpine skiing team, has greatly contributed to the skiers' achievements at the Games.
He is the coach of Chinese skier Zhang Mengqiu, who grabbed China's first Paralympic gold in alpine skiing with a victory in the women's super-G standing race.
Dario first met China's Para alpine skiing team in 2017, when the team went to train in Austria. At that time, the team had been established only one year earlier and lagged far behind their European peers in terms of techniques and experiences. Dario was selected to coach the team for the 2017-2018 competition season.
At Pyeongchang 2018, only one skier from the Para alpine skiing team, Liu Sitong, had qualified for the Games; she didn't manage to secure any medals. Following the event, the national team sent Dario her competition videos to get his input. Dario gave her many suggestions and ended up traveling to China to become the team's head coach.
The team has grown rapidly in the past four years under Dario's guidance. He has taught them everything from physical training to technical skills and mental adjustments. As a result of his efforts, the over 20 athletes all qualified for Beijing 2022.
Born in Sauze d'Oulx, a winter ski resort in the Italian Alps, Dario started skiing at the age of 4 and has partaken in numerous international competitions. He received his national coaching certification at just 23 and began coaching Para skiing three years later.
He has been with the team almost every day of the past few years and has forged an emotional bond with the athletes, transcending nationality.
"I always feel I'm not teaching them, but rather am learning from them. They are working hard to overcome difficulties every day and they have taught me a new respect for life," he told China Today.
Liu Zixu during the Para-biathlon event in Zhangjiakou, Hebei Province, on March 5 (XINHUA)
Wintery sensations
After Beijing won the bid to host the 2022 Winter Olympics in July 2015, the China Disabled Persons' Federation (CDPF) established a leading group for Paralympic preparation. The group organized training sessions to select excellent athletes and ever more disabled individuals started to take part in winter sports.
Wang Zhidong, a Para ice hockey player and one of the flag bearers during the opening ceremony of the Winter Paralympics, has benefited from the country's drive to develop Para winter sports.
In December 2015, the CDPF hosted the first Para ice hockey training session in Harbin, Heilongjiang, and Wang was chosen by the disabled persons' federation in Qingdao in his home province of Shandong to take part in the session. Wang fell for the sport and after multiple national championships and selection rounds, he finally got his spot on the national team.
In addition to ice hockey, the CDPF has established national Para alpine skiing, snowboarding and biathlon teams. Since 2018, the federation has hosted national games, incorporating all six categories of Para sports.
Since 2016, Chinese winter Para athletes have won 47 gold, 54 silver and 52 bronze medals in international competitions. "However, compared with Para summer sports, the winter sports have a weak foundation and still need improvement," Wang Meimei, Vice President of the Executive Board of the CDPF, said on March 3, the day before the opening of Beijing Winter Paralympics.
The progress has become a reality, as testified by the brilliant performance of the Chinese winter Paralympians.
(Print Edition Title: Breaking Through)
Copyedited by Elsbeth van Paridon
Comments to jijing@cicgamericas.com