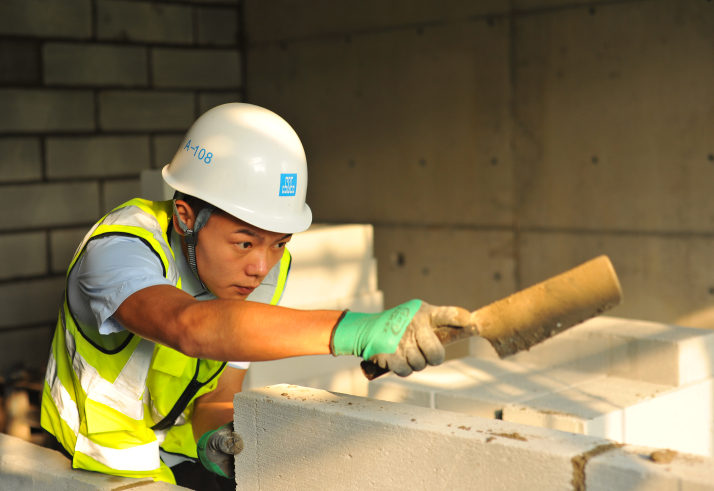 Zou Bin, a deputy to the National People's Congress from Hunan Province and a quality controller for the China Construction Fifth Engineering Division Corp., works on a construction site in Changsha, Hunan Province (COURTESY PHOTO)
Five years ago, when Zou Bin first spoke to the media as a deputy to the National People's Congress (NPC), he was nervous. Standing in front of journalists at the Great Hall of the People in Beijing, the venue for the full sessions of the NPC, China's top legislature, the then 23-year-old felt overwhelmed by the situation and the responsibility.
This year, Zou, reelected to serve from 2023 to 2028, is much more poised and confident.
"I will continue to be a voice for all frontline construction workers, helping to address their concerns and improve their work and life," Zou told Beijing Review.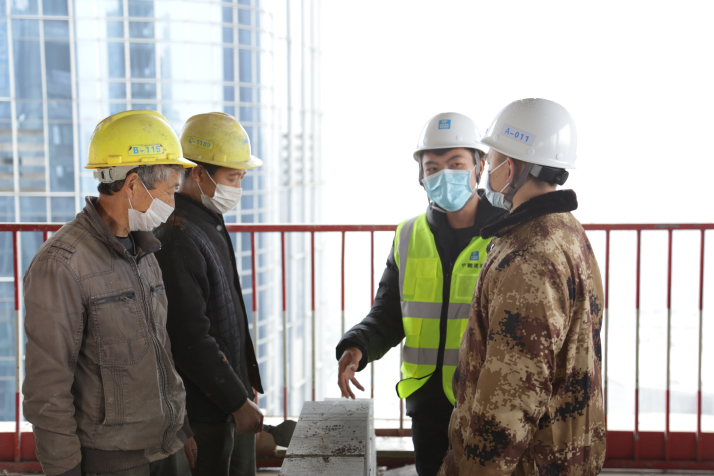 Zou Bin (second right) talks with colleagues, on a construction site in Changsha
(COURTESY PHOTO)
From rural worker to world champion
Born into a family of construction workers in a village in Xinhua County, Hunan Province, Zou began working as an apprentice bricklayer 200 km away in Changsha, the provincial capital. As a new apprentice still learning his trade, a typical day for Zou consisted of laying bricks, breaking them down, and laying them again until he was completely satisfied with his work.
Despite the daily pain from his physical exertions, Zou persisted in perfecting his skills, and it was this dedication and attention to detail that have seen him excel in his career. In two years, Zou became a fully qualified bricklayer and reached the first major turning point of his life.
In April 2014, when working at a construction site of China Construction Fifth Engineering Division Corp. in Changsha, Zou's employer asked if he was willing to participate in a worker skills competition held by the company. Zou took the offer and ended up winning first place in his age group. In July that year, he entered and won a national skills competition and then began receiving national training in preparation for international competitions.
In 2015, Zou won a Medallion for Excellence in bricklaying at the 43rd WorldSkills Competition, held in Brazil, setting a record for China in this field.
"Winning the world competition changed not only my life, but also my attitude toward my career and bricklaying," Zou said, adding that through training and competing, he realized that bricklaying could be technically very sophisticated. The experience helped him gain a better understanding of what craftsmanship is. "It was way more than a means for making a living," he said.
When he returned to work, Zou was recruited as a construction quality controller for China Construction Fifth Engineering Division Corp. In the following years, he received several national awards, including the China Youth May Fourth Medal—the top honor for outstanding young Chinese people, and the title of National Model Worker.
Zou was also given the chance to share his skills and his stories with his colleagues and other people across the country at various seminars, inspiring more workers to improve their skills and become craftspeople.
People's representative
People's congresses exist at township, county, city, provincial and national levels. According to China's Constitution and the Electoral Law, deputies to the people's congresses at township and county-levels are directly elected by their constituencies, while deputies to people's congresses of higher levels are elected by the people's congresses at the next level down.
The National People's Congress is composed of deputies elected from the provinces, autonomous regions, cities directly under central government jurisdiction, special administrative regions and armed forces.
In 2018, the Hunan Provincial People's Congress elected Zou to represent the province at the 13th NPC. NPC deputies, who serve five-year terms, represent a broad cross-section of their communities, and steps are taken to ensure each region, background and ethnicity are adequately represented. In his first term, Zou was one of the youngest among the more than 100 deputies representing Hunan at the NPC.
Deputies have decision-making responsibilities as well as the responsibility to deliver suggestions from their communities. As a national-level deputy, Zou has the responsibility of drawing suggestions from his constituents in Hunan for submission to the NPC.
"What should I do to help migrant workers nationwide?" is a question Zou has often contemplated as an NPC deputy. To gain insights into the opinions and concerns of rural construction workers, he has visited many regions around the country to consult with them. At first, the workers he met were too shy to express themselves, but later he learned how to become familiar with them quickly by chatting about domestic trivia and life, like their families and their living conditions.
"From our talks, I have found that workers' desire for professional training is increasing, as they are becoming less contented with being mediocre and are looking for opportunities to grow in their careers," Zou said. With this in mind, he has made suggestions to the NPC on increasing vocational training and holding more competitions for workers, which are platforms for them to demonstrate their skills and gain professional recognition. These measures can also help attract and train a larger number of younger workers, as the construction workforce is aging, according to Zou.
"I can see the country has attached more importance to vocational training, with more policies being introduced," Zou added. One of these new policies is a national guideline introduced last December to promote high-quality development of vocational education. It aims to enhance the capacities of vocational schools and increase the quality, adaptability and appeal of vocational education to train more high-caliber technicians and skilled workers. The reform of national vocational education is focusing on developing a multiform, multichannel and sustainable education and training system, and mechanisms for cooperation among governments, industries, enterprises, and schools.
Zou has also been making suggestions related to the wellbeing of migrant workers, many of whom are flexible employees, such as improving their income and insurance, work environment and safety, as well as their recognition by society.
Now at the start of his new term, Zou says his suggestions for this year's NPC session also focus on the cultivation of high-caliber construction workers. He believes that government, industry and educational institutions should join hands in this endeavor. "Companies and schools should jointly create curricula focusing on practical skill training that caters to the job market," he said. "After completing training, rural workers should also receive support in finding employment."
"This is an era in which everyone has the opportunity to shine," he said.
(Print Edition Title: Time to Shine)
Copyedited by G.P. Wilson
Comments to luyan@cicgamericas.com