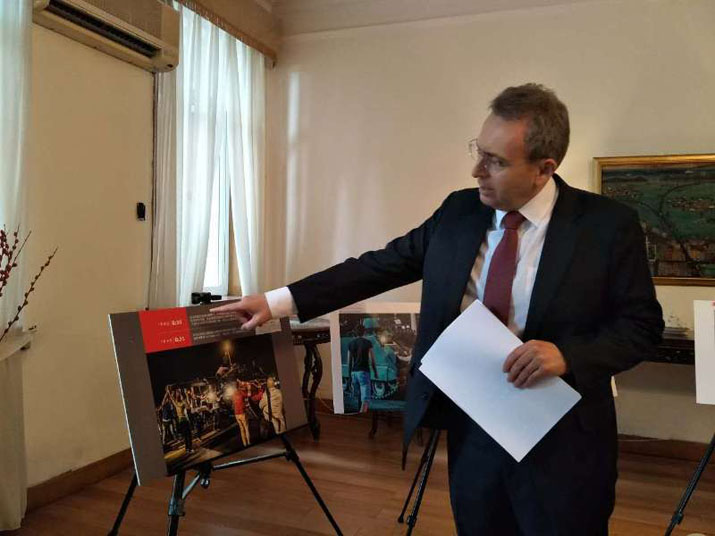 Ali Murat Ersoy, Turkish Ambassador to China, shows Beijing Review reporter pictures of the thwarted coup attempt in Turkey on the eve of the first anniversary of the event on July 14 in Beijing (LI NAN)
July 15 marks the first anniversary of the thwarted coup attempt in Turkey. During the same night last year, a faction of the Turkish military staged a coup to try to seize control of several key places in Ankara and Istanbul.
The Turkish Parliament, the presidential compound, the National Intelligence Headquarters, and Special Forces Headquarters were bombed. Forces loyal to President Recep Tayyip Erdogan subsequently responded and quelled the rebellion.
However, the coup left 250 Turkish citizens dead and more than 2,000 people wounded. "It was the worst act of terror in the history of the Turkish Republic," Ali Murat Ersoy, Turkish Ambassador to China, told Beijing Review on July 14. Ersoy added that Fetullah Gülen, a U.S.-based Turkish cleric, and his organization were behind the attempt.
According to Ersoy, there are 78 ongoing court cases in 23 different provinces processing some of the alleged perpetrators after a year of extensive investigations.
A state of emergency, which was declared immediately after the foiled coup attempt and extended until mid-July 2017, may be extended again if deemed necessary, said Ersoy.
"Today, after a year, we can say that Turkey is proving to be a strong player," said Ersoy, adding that Turkey's economy is back on track, and that tourism is picking up.
"We also want to thank China for giving immediate support on this matter by dispatching a vice foreign minister level delegation to Turkey in the aftermath of the coup attempt," said Ersoy.
In early August of last year, Vice Foreign Minister Zhang Ming visited Turkey and exchanged views with his Turkish counterparts on China-Turkey relations and international and regional issues of common interest.
Copyedited by Bryan Michael Galvan
Comments linan@bjreview.com