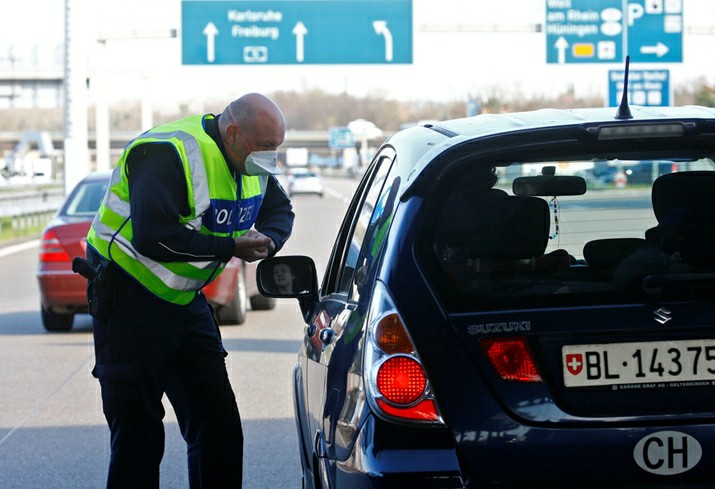 A German police officer questions a motorist on March 16 in Weil am Rhein, at the German-Swiss border, after Berlin announced new border controls (AGENCIES)
China firmly supports Italy's efforts to fight the novel coronavirus pneumonia epidemic and is fully confident that Italy will win the battle against the virus, President Xi Jinping said. He made the remark in a phone call with Italian Prime Minister Giuseppe Conte on March 16.
The Italian government has taken a series of resolute measures to prevent and control the epidemic, he said. Xi said that China feels Italy's worry as its own and will send additional expert medical teams to Italy and provide assistance such as medical supplies within its ability.
China stands ready to work with Italy to make contributions to international epidemic cooperation and the building of the Silk Road of Health, he said.
China believes that the friendship and mutual trust between China and Italy will further deepen through joint efforts in combating the virus, thus creating broader prospects for all-around bilateral cooperation, Xi said.
Noting that both countries have experienced severe tests from the epidemic, Xi said that the situation in China is witnessing positive changes with important short-term progress achieved and economic and social development resuming.
China will remain cautious and strive to finally win the battle against the virus as early as possible, providing confidence for epidemic control in other countries, he added.
Meanwhile, containment measures in Europe, now the epicenter of the outbreak, have intensified across the continent, with the Czech Republic imposing a quarantine on the entire country and Germany deciding to partially close its borders as of March 16.
Following Italy's example, the Czech Republic's government banned nonessential movement of people across the country as of March 16 in an effort to contain the COVID-19 spread, Prime Minister Andrej Babis said on the night of March 15. He urged citizens to limit movement in public spaces to "a necessary minimum" and limit the contacts with others to "a bare minimum".
The new measures, effective until March 24, do not apply to those going to work. People are allowed to shop, see doctors and visit family. The country reported 293 infections as of March 15.
The COVID-19 pandemic has caused 164,837 cases of infection in 146 countries and regions globally and 6,470 deaths as of March 16, according to the World Health Organization. Across Europe, more than 45,000 cases have been reported.
Italy, the most affected country in Europe, is still under a countrywide lockdown, with a total of 24,747 cases and 1,809 deaths reported as of March 16, according to the WHO.
Italian Prime Minister Giuseppe Conte said the government is working urgently on procuring more protective equipment, and its priority is to keep doctors, nurses and all health personnel safe. Italy is also expected to issue a package of measures on March 16 to help businesses and families amid fears of an economic crisis.
The spread of the virus has forced Germany to resort to border controls in an attempt to break the chain of transmission. Germany said it would close its borders with France, Austria, Switzerland, Denmark and Luxembourg starting at 8 am on March 16, with exceptions for transportation of goods and commuters going to work.
Russian Prime Minister Mikhail Mishustin announced the closure of the border with Belarus on March 16. Russia closed its borders with Poland and Norway and suspended international trains from Moscow to various foreign cities, including Kyiv, Ukraine, and Berlin on March 15. Russia reported 63 infections as of March 16, Interfax news agency said.
Serbian President Aleksandar Vucic said foreigners won't be allowed to enter the country. "The only ones allowed will be Chinese doctors" who were asked to come to help treat patients, he said. Vucic said that China is the only country in the world that can help Serbia at this point.
European Commission President Ursula von der Leyen said on March 15 that the European Union will ban exports of medical protective equipment to non-EU countries, including masks, gloves and protective garments.
"We need to keep in the EU the protective equipment we need," she said.
European Union finance ministers planned to agree on March 16 on a coordinated economic response to the coronavirus outbreak, as there are fears the effects of the virus could push the EU into a recession.
The top health official in the United Kingdom said the country is close to ordering residents aged 70 and older to stay indoors, likely for an extended period of up to four months, as the nation battles the fast-spreading outbreak.
Health Secretary Matt Hancock told the BBC on March 15 that the authorities will issue the order "within the coming weeks".