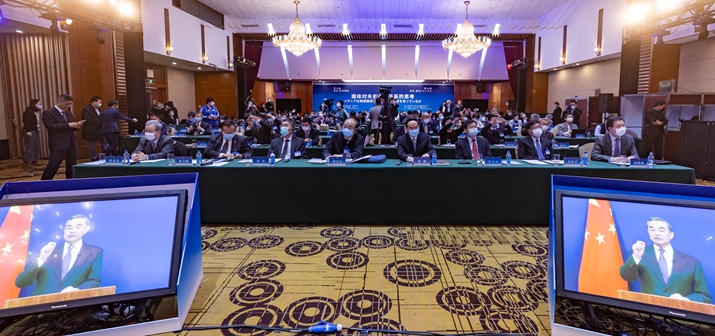 The 16th Beijing-Tokyo Forum in session in Beijing on November 30(COURTESY PHOTO)
When Xu Zhiyu, President of Global Government Affairs at Huawei Technologies, spoke at the 16th Beijing-Tokyo Forum on December 1, he mentioned that Japanese companies provide more than 80 percent of the 1,800 components in Huawei's P40 flagship smartphone series.
It was a telling statement on the complementarity of the strengths of the Chinese and Japanese industries.
At the forum, an annual event co-hosted by the China International Publishing Group and Japanese non-profit think tank the Genron NPO to enhance bilateral relations, officials and experts from both countries agreed that the two neighbors should strengthen cooperation more than ever, especially in the post-novel coronavirus disease (COVID-19) pandemic era.
Though differences do exist, China and Japan share broad common interests, Chinese State Councilor and Foreign Minister Wang Yi said in a video message during the opening ceremony of the forum on November 30.
"For the common parts, we must continue to expand and make them a solid bond that connects the two sides. Regarding the differences and sensitive issues, we should put them in an appropriate position with constructive management and control," he said.
The two-day forum, held simultaneously in Beijing and Tokyo, focused on the international order in the post-pandemic era and discussed how to build China-Japan relations that keep up with the times and strengthen mutual trust and cooperation.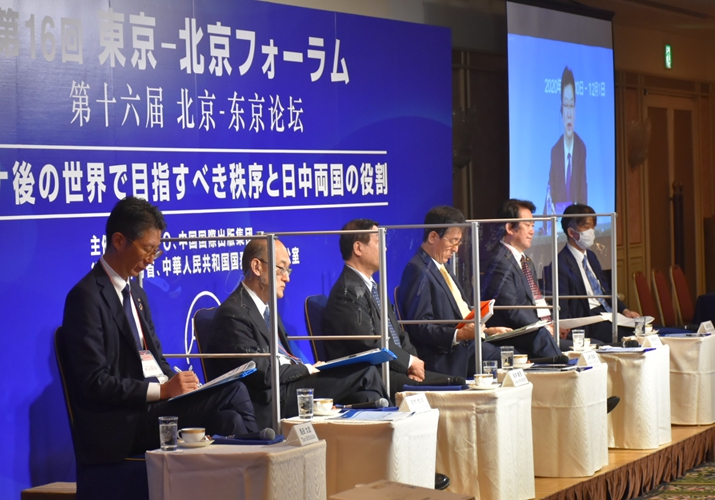 Japanese delegates attend a sub-forum of the 16th Beijing-Tokyo Forum on the digital economy in Tokyo, Japan, on December 1(COURTESY PHOTO)
Economic collaboration
China and Japan are highly interdependent economically and industrially and share many common interests. Their bilateral cooperation is crucial to peace and prosperity in Asia, a consensus document released at the forum said. The more uncertain the situation in Asia and the world at large becomes, the more it is necessary for China and Japan to make joint efforts, promote stable development of the world economy and avoid instability in the region.
Although the rising anti-globalization sentiment may continue a year or two after COVID-19 wanes, globalization will eventually win, Wei Jianguo, Vice Chairman of the China Center for International Economic Exchanges, said. A new type of globalization, featuring more inclusiveness and innovation, will eventually become an irresistible trend in the post-pandemic era, he said.
It will better bridge the development gap among different countries and regions, creating a fairer international environment featuring win-win cooperation. Moreover, it will feature new growth drivers such as the digital economy instead of being confined to trade liberalization and investment facilitation.
Wei said as the economic center of the world will further shift to Asia, the two nations should seize this opportunity, jointly tap third markets under the framework of the Belt and Road Initiative, and increase collaboration in the industrial supply and service chains amid China's new dual circulation development pattern.
In China's new development strategy, the domestic and foreign markets complement and reinforce each other, with the domestic market as the mainstay.
China and Japan, being the second and third largest economies, play a vital role in promoting globalization, Hirohide Yamaguchi, former Deputy Governor of the Bank of Japan, said. How to solve the problems caused by the aging population, achieve the UN Sustainable Development Goals and strengthen financial cooperation are common tasks facing both. Partnership in these fields should be enhanced and provide inspiration for world economic recovery, he added.
Takeshi Kunibe, Chairman of the Sumitomo Mitsui Financial Group, said the two should pursue a clear international specialization, safeguard globalization and advocate a green economy to lead the world's economic growth. They must jointly explore and build new rules in such areas in the years to come.
The two neighbors are complementary in digital technologies such as 5G, artificial intelligence, the Internet of Things and blockchain, Liu Song, Vice President of the Alibaba Group, said. They should work together to help Asia, the continent with the most vibrant digital economy in the next decade, achieve rapid growth.
In the past three years, China's digital economy has seen rapid growth. In 2017, it exceeded 27 trillion yuan (4.11 trillion), reaching 35.8 trillion yuan ($5.45 trillion) in 2019, accounting for one third of China's total economy.
Zhao Jiannan, Managing Director of Tencent Cloud for Northeast Asia, said due to COVID-19, some offline training institutions closed down and retail and catering enterprises were hampered by their plummeting offline business sales. However, many enterprises have benefited from the digital reform and got out of the predicament quickly.
According to him, digital technologies can serve as a buffer for economic and social operations, boosting V-shaped rebound of industries with high resilience.
Chinese and Japanese enterprises should adhere to open cooperation to develop the new economy, according to Huawei's Xu. He also said the company is willing to work with Japanese companies in creating an enabling environment and cultivating innovative talents in this field.
Future-oriented efforts
While holding in-depth discussions on how to further cooperation and exchanges, the current bilateral problems were also raised.
The results of a joint opinion poll on China-Japan relations were released before the forum opened. It showed that more Chinese are now optimistic about China-Japan relations but favorable views of China have fallen among the Japanese respondents.
Wang stressed that friendship between the two peoples has always been an important cornerstone of China-Japan relations. However, the current contrast in popular sentiments deserves attention and deep thinking.
We need to respect each other on internal affairs, and show our understanding and tolerance as close neighbors, he said.
Cheng Yonghua, former Chinese ambassador to Japan, said the results indicate that the decrease in exchanges between the two peoples has led to misunderstandings. Also, the pandemic has dampened bilateral ties with asymmetric information.
The poll also found nearly 70 percent of Japanese respondents believe that the bilateral relations are important and need closer collaboration.
With virus control measures in place, China and Japan has launched a fast track for the necessary flow of personnel in November for further resumption of work and production. This will present rare opportunities for people-to-people and cultural exchanges between the two neighbors, Kong Xuanyou, Chinese Ambassador to Japan, said.
Tokyo will host the Olympic and Paralympic Summer Games in 2021 and the 2022 Olympic and Paralympic Winter Games will be held in Beijing. These global sports events will inspire people. Against this backdrop, further public support should be built up for the sound development of China-Japan relations, according to the consensus reached at the conclusion of the forum.
(Print Edition Title: KNOW THY NEIGHBOR)
Copyedited by Sudeshna Sarkar
Comments to mamm@bjreview.com