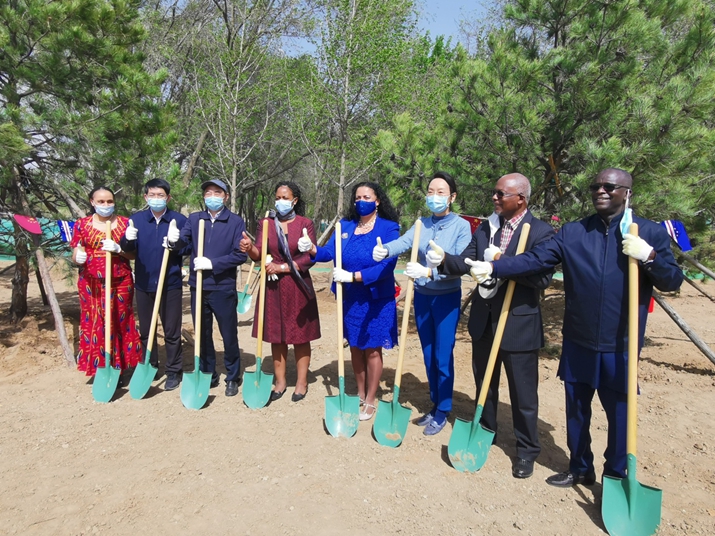 A tree planting ceremony is held to celebrate the 45th anniversary of the establishment of diplomatic relations between Cabo Verde and China on April 27 (COURTESY PHOTO)
On April 27, a tree planting ceremony was held in Beijing's Zhangjiawan Park in celebration of the 45th anniversary of the establishment of diplomatic relations between the Republic of Cabo Verde and the People's Republic of China.
The event, hosted by the Chinese People's Association for Friendship with Foreign Countries (CPAFFC) and the Embassy of Cabo Verde to China, was inaugurated by Vice President of CPAFFC Lin Yi and Tania Romualdo, Ambassador of Cabo Verde to China.
Addressing the event, Lin said that since Cabo Verde and China established diplomatic relations 45 years ago, people of the two countries have embarked on a historical journey of working hand in hand for common development.
"The past 45 years have witnessed the enhanced mutual political trust between China and Cabo Verde. Under the strong leadership and guidance of heads of state of both countries, China and Cabo Verde have always enjoyed mutual understanding and mutual support, regardless of the vicissitude of international situation," she said.
Speaking at the event, Romualdo said planting trees seemed to be a very simple act but it was also one with a strong symbolic meaning. Cabo Verde and China established diplomatic relations in spring, which is the season of birth, growth and renewal.
She said that over the years, the political and diplomatic dialogue between the two countries has deepened. The friendship and cooperation - on international, regional and bilateral levels - has developed in a very healthy and stable way.
"We are thankful for China's support to Cabo Verde's development and also for China's sensibility to seek solutions that fit our specific condition of a small African island developing country. The relations between China and Cabo Verde set an example of what cooperation and partnership between a small and a big country can be," she added.
Cabo Verde established diplomatic relations with China on April 25, 1976, less than a year after it achieved independence. In the past several decades, China-Cabo Verde cooperation has been gradually strengthened, especially under the framework of the Forum on China-Africa Cooperation (FOCAC), including closer communication on issues such as climate change, the United Nations 2030 Agenda for Sustainable Development, and safeguarding the common interests of the two countries and those of the developing countries.