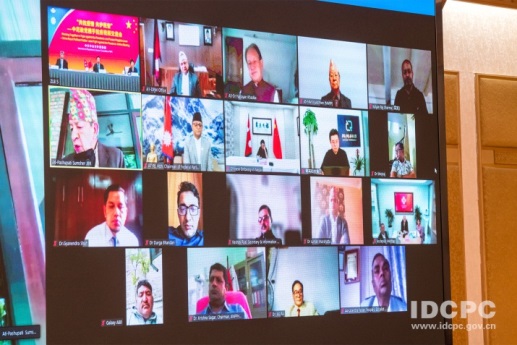 The International Department of the CPC Central Committee and leaders of Nepal's major political parties held a meeting on jointly fighting against COVID-19 via video link on May 26th (COURTESY PHOTO)
The International Department of the Communist Party of China's Central Committee (IDCPC) and Nepal's major political parties on May 26 held a meeting titled "Working together to fight the pandemic and protect people's lives" via video link.
Song Tao, Minister of IDCPC, said that China and Nepal are linked by mountains and rivers, have been friendly for generations, and have always enjoyed a brotherly and mutually beneficial relationship. The two countries have shared good times and bad, especially after the outbreak of COVID-19, which has deepened the friendship between the two nations.
China is aware that, at present, the situation in Nepal is still grim, and poses a great threat to people's lives and health, said Song, adding that China will provide medical supplies and other assistance to major political parties and social organizations in Nepal through inter-party channels. It is believed that Nepal will be able to overcome the pandemic and achieve new development at an early date, he noted.
Song also said that China will, as always, support all parties in Nepal to unite against the pandemic, work cooperatively to bring about results that benefit both countries, and jointly contribute to maintaining world peace and stability. The CPC is willing to work with Nepal's political parties to implement the strategies agreed upon by the leaders of the two countries and to enhance strategic communication and cooperation.
China has donated 800,000 doses of COVID-19 vaccines to Nepal. As Nepal is suffering from a second wave of COVID-19, China decided to additionally donate 100 oxygen generators and 600,000 N95 masks to the country through inter-party channels. Oxygen cylinders and other medical equipment are also being sent by China for use in Nepal.
Leaders of Nepalese political parties thanked China for supporting Nepal in safeguarding its sovereignty and territorial integrity, and for its great help in fighting the pandemic. The leaders also congratulated China on the 100th anniversary of the founding of the CPC, the achievements China made in COVID-19 prevention and control, and its robust economic development.
Nepalese representatives at the meeting stated that Nepal is willing to work with China through inter-party channels to promote pragmatic cooperation between the two sides in fields of pandemic control and economic development. Nepalese attendees at the meeting also reaffirmed Nepal's commitment to cooperation with China on Belt and Road Initiative construction, and to working with China to jointly build a global community of shared future.
The meeting was led by Chen Zhou, Vice Minister of the IDCPC, and was attended by Hou Yanqi, Chinese Ambassador to Nepal, Xu Jianguo, Secretary General of China Foundation for Peace and Development, representatives of Chinese enterprises, heads of Nepalese friendship organizations, and representatives of medical organizations.
Copyedited by G.P. Wilson
Email to maxiaowen@bjreview.com