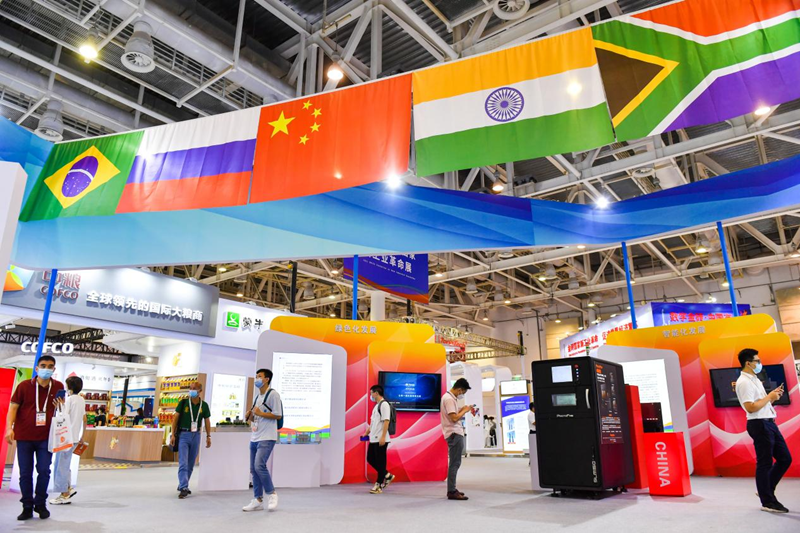 Visitors at the 2021 BRICS Exhibition on New Industrial Revolution, in Xiamen, Fujian Province, on September 9 (WEI YAO)
With contracts for 28 projects worth some 13.4 billion yuan ($2.1 billion) signed, an innovation base for BRICS partners on the New Industrial Revolution was unveiled on September 7 in Xiamen, Fujian Province.
The establishment of this base was first proposed during the 12th BRICS Summit held in November last year and will provide a foothold for BRICS countries to make use of technological innovation and digital transformation brought by the New Industrial Revolution.
According to the Ministry of Commerce, BRICS countries are now home to 42 percent of the global population, 24 percent of the global GDP, 18 percent of global trade and 25 percent of the world's foreign investment on an annual basis.
They have already set an example in international cooperation, especially in combating the COVID-19 pandemic, through the sharing of medical equipment, vaccines and knowledge, Alexei Gruzdev, Russian Deputy Minister of Industry and Trade, said via video link during the 2021 BRICS Forum on Partnership on New Industrial Revolution held in Xiamen on the sidelines of the 21st China International Fair for Investment and Trade.
The pandemic has fueled digital transformation, and BRICS members are accelerating the establishment of partnerships in the new industrial revolution and focusing on cooperation in the digital economy such as 5G, big data, artificial intelligence and cloud computing.
Jin Xin, Secretary General of the China Council for BRICS Think Tank Cooperation, said at the forum that "more efforts are needed from these partners to jointly pursue technological innovation, the fundamental booster of various industries," he said.
"With technological improvements, the five members will be able to make a big leap in the reconstruction of the global supply and industrial chains," he added.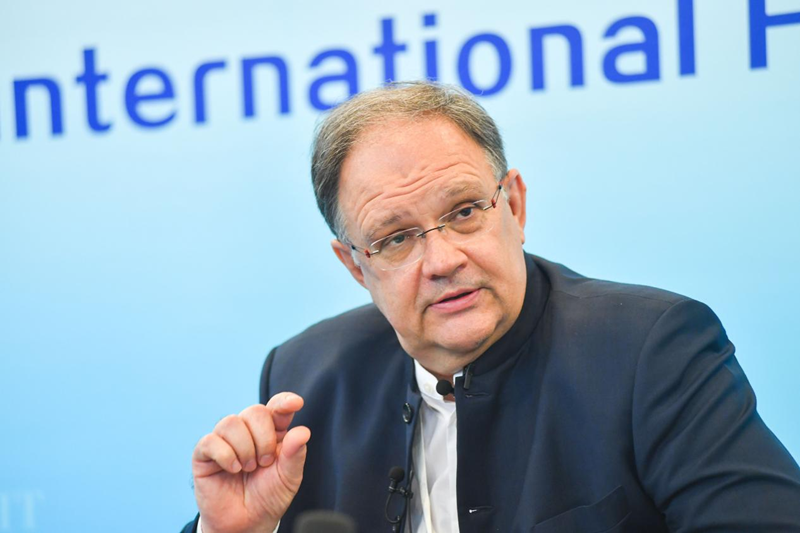 Alexey Dakhnovskiy, Russia's trade representative in China (WEI YAO)
For example, China and Russia have already cooperated in emerging industries such as aerospace, new materials and robotic science. Russia is involved in 19 of the total 28 projects signed during the forum, Alexey Dakhnovskiy, Russia's trade representative in China, told Beijing Review. He also said that his country would continue its efforts to promote this type of multilateral collaboration.
BRICS members should also develop their roles as regional leaders, aid their neighboring nations and "boost cooperation with regions like Europe to inject momentum into the world's economy," Jin said.
Xiao Yaqing, Minister of Industry and Information Technology, called for a stronger cooperation between China and other BRICS members in smart manufacturing, the industrial Internet and green development.
He added that communication in project planning, policy coordination and talent training should be enhanced.
Visitors at the 2021 BRICS Exhibition on New Industrial Revolution, in Xiamen, Fujian Province, on September 9 (WEI YAO)
"China will push forward a series of demonstration projects on BRICS cooperation and encourage enterprises, scientific research institutions and universities from all countries to jointly build open innovation platforms to promote the application of new technologies," Xiao said.
According to a report on the innovation competitiveness of BRICS nations released by the China Science and Technology Exchange Center at the forum, the annual export volume of high-tech products from the five countries reaches $6 trillion and accounts for over 25 percent of world's total.
According to the report, their annual research and development investment for scientific and technological innovations accounted for over 16.7 percent of the global total. The comprehensive innovation index of them will grow 1.5 percent annually on average in the coming years.
Copyedited by Elsbeth van Paridon
Comments to mamm@bjreview.com