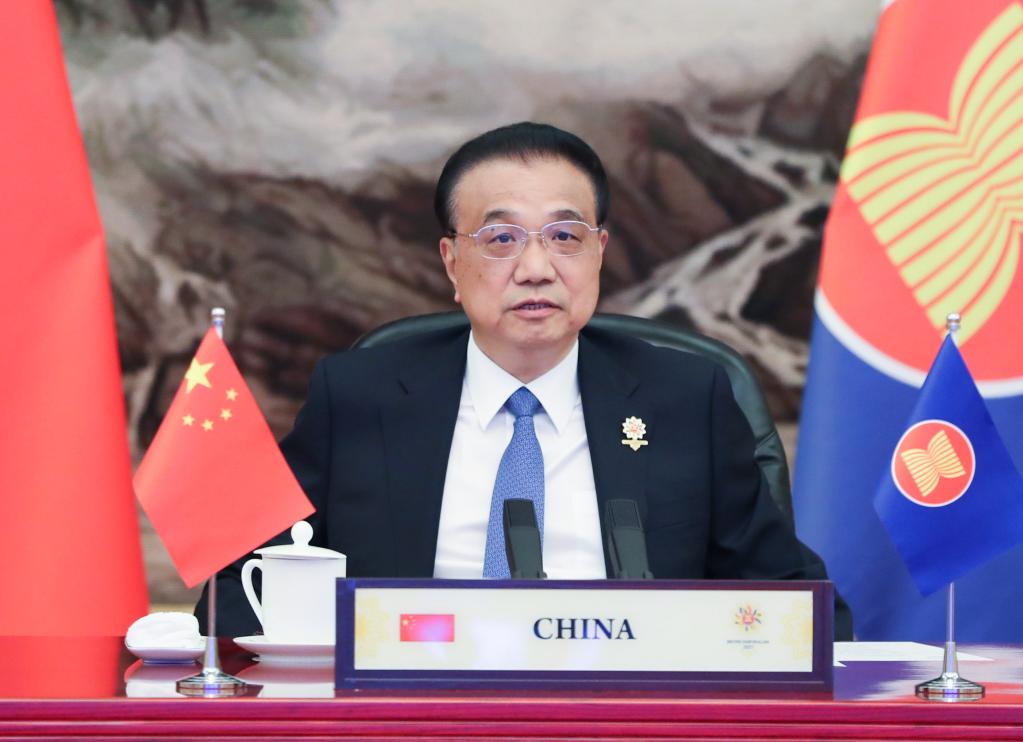 Chinese Premier Li Keqiang attends the 24th ASEAN Plus China, Japan and ROK Summit via video link, at the Great Hall of the People in Beijing, capital of China, on October 27, 2021 (XINHUA)
Chinese Premier Li Keqiang on October 27 called for advancing East Asia's regional economic integration and jointly responding to challenges on the public health, energy, food and financial fronts to promote development.
Li made the remarks in Beijing when addressing the 24th ASEAN Plus China, Japan, and the Republic of Korea (10+3) Summit via video link.
"We need to make the most of the mature mechanisms of cooperation and rich experience in crisis response, ... to boost an all-round and balanced recovery of East Asia and safeguard long-standing prosperity and stability in the region," for a more open and inclusive East Asia that enjoys sustainable development, Li said.
Li made a six-pronged proposal, including improving public health governance, deepening regional economic integration, strengthening industrial cooperation, promoting the digital economy, stimulating financial cooperation, and promoting green and sustainable growth in East Asia.
As a signature outcome of East Asian cooperation, the Regional Comprehensive Economic Partnership (RCEP) will soon reach the threshold of entry into force, Li said.
"We need to hasten work for the agreement to take effect as early as possible, and continue to advance free trade and pursue higher-level integration," he said, adding that China will host capacity building programs such as personnel training and experience sharing on RCEP implementation.
In terms of public health governance, Li called for accelerating the building of the 10+3 Reserve of Medical Supplies for Public Health Emergencies to enhance the region's capacity for epidemic response.
China will host a 10+3 forum for cooperation on industrial and supply chains, Li said on East Asia's industrial cooperation.
China supports extending the ASEAN Travel Corridor Arrangement Framework to all 10+3 countries and better harnessing the existing "fast tracks" and "green lanes," he said.
On digital economy, Li said China will host the 10+3 Young Scientists Forum and other activities to help regional countries bridge the digital divide, and will step up exchanges with all parties on cyberspace governance, digital governance and cyber-security.
Li also called for increasing support and input for the ASEAN Plus Three Emergency Rice Reserve to better protect regional food security.
Leaders attending the meeting agreed that the 10+3 cooperation mechanism has played an important role in coping with crises and promoting East Asia's regional development.
As next year will mark the 25th anniversary of 10+3 cooperation, more efforts are needed for building an East Asian community, and promoting common growth and prosperity in East Asia and the rest of the world, according to them.
A statement on cooperation on mental health among adolescents and young children was adopted at the summit.