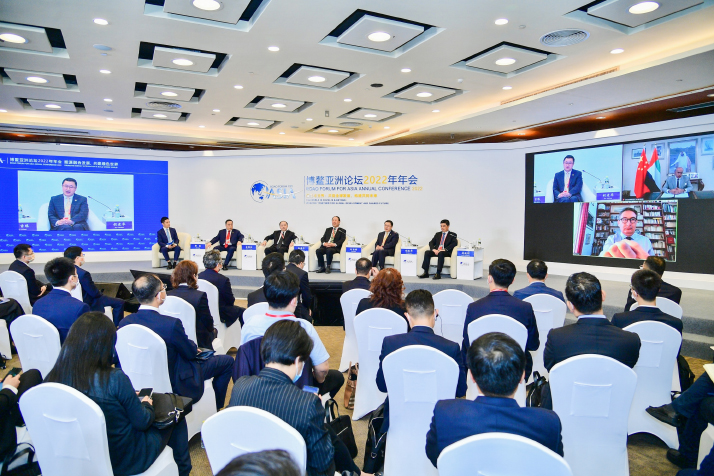 Panelists discuss energy integration at a subforum during the Boao Forum for Asia Annual Conference 2022 on April 20 (COURTESY PHOTO)
Two years ago, an already-divided world in urgent need of cooperation faced a pandemic that has since created yet more instability and uncertainty. Under these circumstances, the priority of the global community is undoubtedly tackling the pandemic as well as navigating the global economy in a more sustainable way. Cooling the flames of international discord and seeking synergy are a core part of addressing these two priorities.
This became the main focus of this year's Boao Forum for Asia (BFA) Annual Conference, hosted in the coastal town of Boao in Hainan Province, China, from April 20 to 22. Over 1,000 representatives from 42 countries and regions attended the event, including 400 guests joining discussions online.
Chinese President Xi Jinping proposed a Global Security Initiative while delivering a keynote speech via video link at the opening ceremony on April 21. He said to break through the mist and embrace a brighter future, the biggest strength comes from cooperation and the most effective way is through solidarity.
"Choosing dialogue and cooperation over zero-sum games, openness and inclusiveness over a closed-door and exclusive approach, and exchanges and mutual learning over a sense of superiority: this is the only choice worthy of the broad-mindedness of Asians," Xi said.
Spirit of sharing
Inequitable vaccine accessibility and the consequent unbalanced development between countries were major participant concerns. One third of the world's population is yet to receive a single jab, including 80 percent of the population in Africa, according to the World Health Organization (WHO).
"The failure is so great that even as we manufacture more than 12 billion doses of vaccines a year, enough to vaccinate the world's adult population twice over, in low-income countries, only 15 percent of the population have received their first shot. Compare that to higher-income countries, where 80 percent have received a vaccine," said Gordon Brown, former Prime Minister of the United Kingdom, at a pandemic-themed panel discussion on April 20.
Even though developed countries have been seen offering help to developing countries, more aid is required. "The ultimate goal is capacity, being able to build their own health system and manage their health problems," said Margaret Chan Fung Fu-chun, a member of the BFA Council of Advisors and Director General Emeritus of WHO.
A widely seen obstacle to narrowing the vaccination gap is described as vaccine nationalism, and was mentioned by Leif Johansson, Chairman of the Board of Directors of AstraZeneca. "It was the obvious decision by political leaders in some countries that had facilities to not export to other countries. And that's clearly a failure of the system," Johansson said while participating via video link. "In reality, what we need to be is prepared for the next pandemic with enough international agreements in place to be able to rely on them for the cross-border supply of vaccines."
While detailing the current and future economic impacts of the pandemic and the funding so far contributed to global containment efforts, Brown said that the failure by wealthy nations to adequately support COVID-19-related control efforts in poorer nations would not only be a moral failure, but also an economic one. "Our aim should be to finance this through a burden-sharing agreement under which all countries contribute based on their capacity to pay—the richest advanced economies doing most, and those who are developing economies contributing a lesser share."
This approach is theoretically possible but has not proved efficient in reality, not only for vaccination but also for achieving the common goal of global sustainable growth, for example, decarbonization.
"Western countries have promised $100 billion in climate financing for developing countries every year. They have failed to achieve that promise. That's really a disgrace, because $100 billion per year is not a lot of money these days," Jeffrey D. Sachs, Director of the Center for Sustainable Development at Columbia University, said during a panel discussion on inclusive development.
Some European views were pessimistic, mainly because of the conflict in Ukraine. "War and conflict lead to development in reverse, lead to poverty, lead to growing inequality. Slower global growth without working on issues that we share means they just carry on becoming bigger problems," Ian Goldin, professor of globalization and development at the University of Oxford, said.
Goldin's sentiments were echoed by Ban Ki-moon, BFA Chairman of the Board and former UN Secretary General, who shared his opinion at a panel discussion themed Toward Carbon Neutrality: Governments in Action.
"With the Ukrainian crisis, I want to confirm that most well-to-do countries are now cutting the funding from climate finances to provide immediate emergency support," Ban said, taking the U.S. as an example of transferring climate financing to strengthen aid to Ukraine.
"Ukrainian people deserve immediate humanitarian support. But that does not mean that we have to cut the money and financial support formerly earmarked for climate change. Therefore, I'm again urging the European Union, the United States, Japan and other countries to do much more to support financial aid to many developing countries, particularly in Africa and small island developing countries," Ban concluded.
Economic outlook
Asian economic growth rebounded strongly in 2021. Measured by purchasing power parity, Asia's share in the world economy in 2021 rose by 0.2 percentage point from 2020 to 47.4 percent, according to the BFA's annual report on the Asian economic outlook and integration progress.
According to International Monetary Fund estimates in January, the weighted real GDP growth of Asian economies in 2021 would be 6.3 percent, up 7.6 percent from 2020. Of the 47 Asian economies, all but Myanmar, Afghanistan, Bhutan and Iran grew faster in 2021 than in 2020.
"The Asia-Pacific has been a leader, whether it is fighting against the negative sentiments of unilateralism, trade protectionism, or economic nationalism which had been on the rise," Shamshad Akhtar, former Under Secretary General of UN Economic and Social Commission for Asia and the Pacific, said during the launch of the annual report.
Participants in the conference also expressed their strong faith in the power of regional agreements such as the Regional Comprehensive Economic Partnership and the Comprehensive and Progressive Agreement for Trans-Pacific Partnership to bolster the regional economy and deliver benefits to member states.
__________
Global Security Initiative Proposed by Chinese President Xi Jinping
—We stay committed to the vision of common, comprehensive, cooperative and sustainable security, and work together to maintain world peace and security;
—We stay committed to respecting the sovereignty and territorial integrity of all countries, uphold non-interference in internal affairs, and respect the independent choices of development paths and social systems made by people in different countries;
—We stay committed to abiding by the purposes and principles of the UN Charter, reject the Cold War mentality, oppose unilateralism, and say no to group politics and bloc confrontation;
—We stay committed to taking the legitimate security concerns of all countries seriously, uphold the principle of indivisible security, build a balanced, effective and sustainable security architecture, and oppose the pursuit of one's own security at the cost of others' security;
—We stay committed to peacefully resolving differences and disputes
between countries through dialogue and consultation, support all efforts conducive to the peaceful settlement of crises, reject double standards, and oppose the wanton use of unilateral sanctions and long-arm jurisdiction;
—We stay committed to maintaining security in both traditional and non-traditional domains, and work together on regional disputes and global challenges such as terrorism, climate change, cybersecurity and biosecurity.
(Source: Xinhua News Agency)
(Print Edition Title: The World in COVID And Beyond)
Copyedited by G.P. Wilson
Comments to ffli@cicgamericas.com