Nixon-era congressional trips highlight need for trust to be rebuilt, forum told
Leading diplomats from the United States and China are encouraging the two countries to draw inspiration from US lawmakers' groundbreaking trips to China 50 years ago as a means of helping to guide bilateral relations.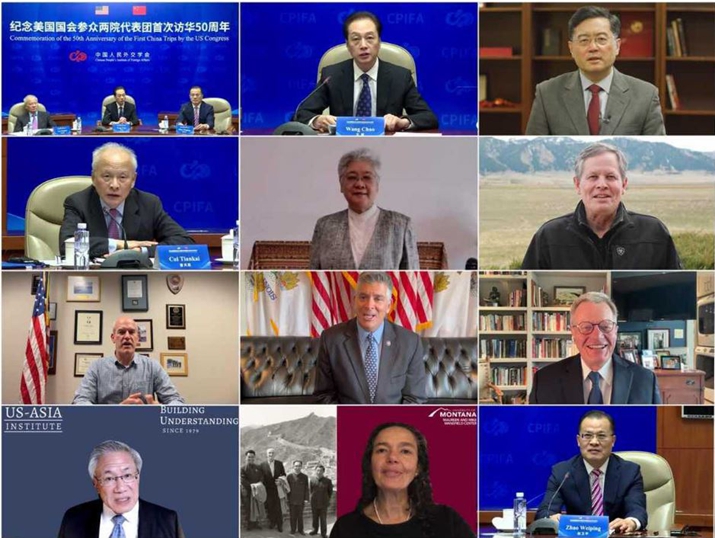 Following president Richard Nixon's historic visit to China in February 1972, the Senate's then majority leader Michael Mansfield and minority leader Hugh Scott visited China in the same year. A few months later, the House of Representatives' majority and minority leaders led another congressional delegation to China.
The visits helped open up the relationship between the US and China five decades ago and it's important to revisit that chapter of history to help solve today's issues, US and Chinese diplomats and scholars said on Tuesday at a virtual conference commemorating the 50th anniversary of the first China visits by leading figures of the US Congress.
"The China-US relationship is at another historical juncture, just like 50 years ago. It is in a new round of mutual exploration, understanding, adaptation and balancing," Chinese Ambassador to the US Qin Gang told the conference.
"In the context of severe and complex China-US relations, we should not set eyes on our differences only. Rather, we should bear in mind our common interests, and show strategic vision, political courage and diplomatic wisdom," he said. "We should learn from history, overcome difficulties and challenges, rebuild trust, and take China-US relations back to the right track."
Citing a report completed by Mansfield upon his return to the US, Qin told the audience that the senator's observations are still "resonating and relevant today".
In his report "Journey to the New China", Mansfield concluded that China "has become a viable modern society with an approach to social participation and responsibility which is rooted in the past, meets the needs of the present, and offers a soundly based hope for the future".
Even before Nixon's 1972 visit, Mansfield delivered a speech on China in 1968 at the University of Montana. He argued that it was essential that the two countries end their mutual distrust and suspicion.
It was a "powerful" and "courageous" speech to write at that time, said Max Baucus, a former US ambassador to China. "I think it takes more courage today than it even took back then to speak truth to power," he said.
Future guide
Baucus said Mansfield's speech and visits to China not only offer inspiration but also serve as "a guide to what we should be doing as we go forward in the future" because politicians' statements today are driven by domestic politics and they are not willing to "stand up and say something constructive about China" for fear of being criticized or defeated in the next election.
It's also important for people to learn and remember this history, especially for people in the US as most of them are not familiar with this history, said Baucus. "We may have different cultures, but we have the same interest," he said.
Darin LaHood, a US congressman from Illinois, also spoke of the importance of cooperation between the US and China. He has led two bipartisan congressional delegations to China in recent years, engaging with business and government officials.
Though the engagement has been affected by the pandemic, LaHood said given that the US and China are the world's two largest economies, there'll always be areas of cooperation within the relationship.