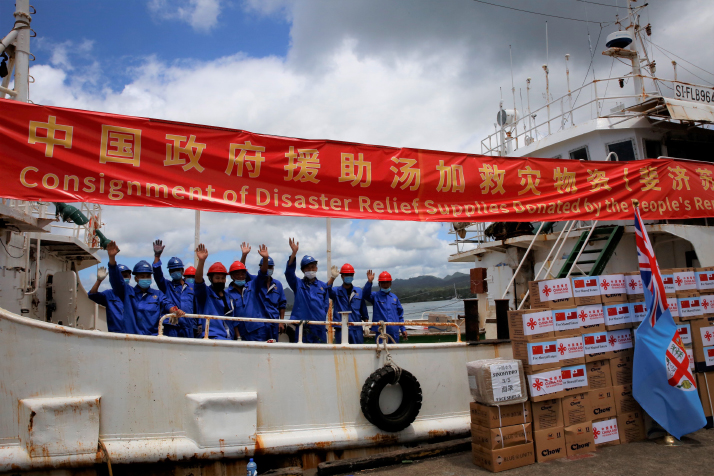 A ship carrying relief supplies donated by the Chinese Government sets off from a port in Fiji for Tonga on January 24. Tonga earlier suffered heavy damage from a volcanic eruption and tsunami (XINHUA)
Climate change has always been a major concern for Pacific island countries (PICs), which can easily fall victim to the rising sea levels associated with global warming. China feels keenly for them and is ready to offer assistance. Recently, new joint efforts were launched during Chinese State Councilor and Foreign Minister Wang Yi's visit to PICs from May 26 to June 4. "China fully understands PICs special concerns on the issue and will continue to promote the comprehensive and effective implementation of the Paris Agreement," he said in Kiribati on May 27.
Wang visited the Solomon Islands, Kiribati, Samoa, Fiji, Tonga, Vanuatu, Papua New Guinea and Timor-Leste, and accepted an invitation to pay a virtual visit to the Federated States of Micronesia. During his 10-day trip, he also held video conferences with the prime minister and foreign minister of the Cook Islands, and the premier and foreign minister of Niue, and co-chaired the Second China-Pacific Island Countries Foreign Ministers' Meeting in Fiji on May 30.
Observers hailed the visit as providing a timely answer to each PIC's individual needs, increasing the scope of cooperation, and ushering in an even broader future for China's bilateral and multilateral relations in the region.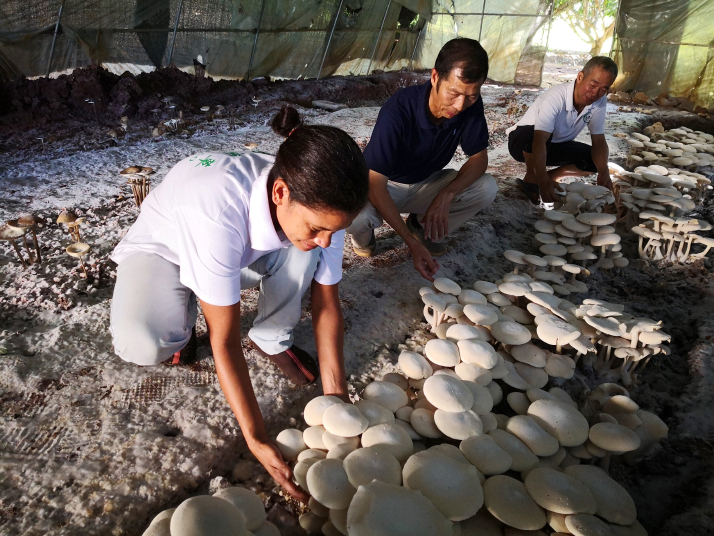 Chinese and Fijian farmers check mushrooms in Nadi, Fiji, on June 12, 2018. Juncao, an agricultural technology introduced from China, has been bringing tangible benefits to Fijians as it is not only being used in the development of a low-cost mushroom cultivation industry, but also produces cattle feed and minimizes soil erosion in the country
(XINHUA)
Fruitful results
"PICs are sensitive to climate change, which is the most pressing challenge facing them and an issue crucial to their survival," Ning Tuanhui, a researcher with the China Institute of International Studies, told Beijing Review. These countries suffer greatly from global warming, while the developed economies historically responsible for the crisis are mainly outside the region.
"So, PICs have long emphasized the importance of tackling this issue in developing relations with other countries, hoping to gain more support," Ning said, adding that China has been lending a helping hand in providing both funds and
infrastructure.
The Chinese Government has provided financial assistance every year to the Secretariat of the Pacific Regional Environment Programme since 1998 to support PICs in tackling climate change and achieving sustainable development, according to a fact sheet released by the Chinese Ministry of Foreign Affairs in May. The country is also encouraging its enterprises in joining the construction of hydropower stations in states such as Papua New Guinea and Fiji. Particularly, the launch of an climate action cooperation center in April became a milestone in joint endeavors between China and PICs.
Wang said China will leverage its strengths in new and renewable energy to achieve green and low-carbon transitions. "Efforts will be made to help island countries promote diversified development, which is an inevitable part of achieving modernization," he added.
Located on the southward extension of the Belt and Road Initiative, PICs are important partners in cooperation under its framework. During Wang's visit, China signed an implementation plan with Kiribati on jointly building the Belt and Road, and achieved 52 bilateral cooperation results with PICs that have diplomatic ties with it in 15 fields including climate change, pandemic prevention and control, disaster preparedness and mitigation, and green development.
Since the emergence of COVID-19, China has provided PICs with nearly 600,000 vaccine doses and more than 100 tons of other supplies for combatting the pandemic, according to the fact sheet.
From 1992 to 2021, trade between China and PICs that have diplomatic ties with it has increased from $153 million to $5.3 billion, an average annual growth of 13 percent and a more than 30-fold increase over the period.
Wang said both sides need to join hands in the development of the ocean, which is the key to the sustainable development of the island countries. "This involves concerns not only regarding how to utilize ocean resources, but more importantly, how to better protect the ocean while developing the economy," Ning said.
China and PICs also need to expand cooperation on emerging industries such as the digital economy, which will be a growth stimulus for the island countries' economies in the future, the foreign minister added.
Ruan Zongze, Executive Vice President of the China Institute of International Studies, said PICs value China's style of partnership building. "The way China cooperates with these countries is based on mutual respect and always considers their urgent needs," he explained.
"China can share its poverty reduction experience with these countries and help them turn their resource advantages into drivers for growth," Ning said, adding that China can also help build processing industries for agricultural products or fisheries as required so as to enhance the latters' capacity for independent development.
Inclusive cooperation
"For years, PICs have often been easily forgotten by the international community, or even marginalized, due to their weak national strength and voice," Wang said. He stressed that China is also a developing country and thus can better understand the situation, needs and concerns of small and medium-sized countries.
In an interview with Chinese media on June 5, Wang pointed out that China is not "a newcomer" for PICs, but "an old friend," and the comprehensive development of China's relations with these countries is a natural result of the conditions being right.
China has provided economic and technical assistance without any political strings attached. According to the fact sheet, it has implemented more than 100 aid projects, delivered more than 200 batches of in-kind assistance, and provided training to approximately 10,000 Pacific islanders in many fields. A total of 600 Chinese medical workers have worked in PICs, offering service to more than 260,000 local residents.
China's efforts to develop relations with PICs meet the demands of their diverse development goals, Ning said.
The fact sheet also showed, by the end of 2021, PICs had received $2.72 billion of direct investment from China to improve their infrastructure, develop the economy and create large numbers of jobs to local residents.
Wang's trip, however, has created anxiety in countries such as the U.S. and Australia. "PICs have long been regarded as members of the 'Pacific family' that also consists of Australia and New Zealand. Nevertheless, considering the huge development gaps between these island countries and other 'family members,' it is only fair for them to pursue a better life with support from other countries that are willing to help," Ning said. "After all, cooperation should never be
exclusive."
China respects the existing traditional bond of Australia and New Zealand with PICs, and recognizes that these countries have helped with the advancement of PICs in the past, according to Ning.
Kiribati's President Taneti Maamau said PICs have the right to choose their own partners and expect China to play a bigger role in helping them promote development.
"The point is, these are sovereign nations able to do business with whoever they want. The ultimate decision is on the countries themselves," Colin Mackerras, professor emeritus at Griffith University in Queensland and one of Australia's leading Sinologists, told China Daily.
"China has no intention of scrambling for influence with any other countries and no interest in geopolitical rivalry," Wang said, adding that China will continue to adopt an open attitude and carry out more trilateral or quadrilateral cooperation in accordance with the wishes of the island countries so as to leverage respective strengths and form greater synergy.
Printed edition title: Peace, Cooperation, Friendship
Copyedited by G.P. Wilson
Comments to mamm@cicgamericas.com