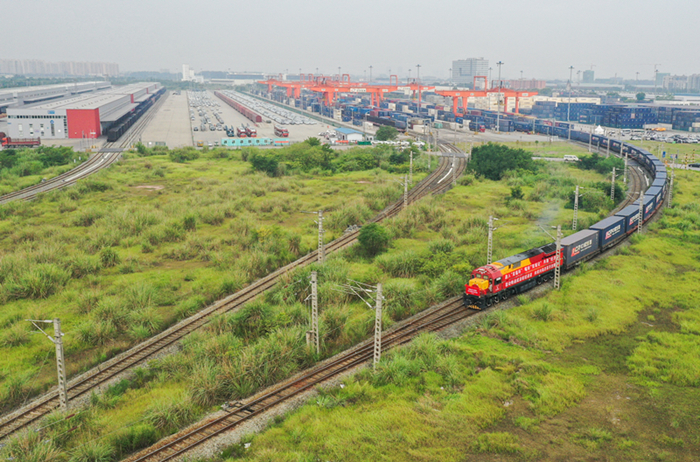 A China-Europe freight train departs from Chengdu International Railway Port in Sichuan Province on June 30
Since the Belt and Road Initiative (BRI) was proposed and launched in 2013, China has responded to the vital needs of developing countries by cooperating with them to build infrastructures such as roads, railways and ports, and by providing financial assistance, Adrien Mugnier, founder and president of the French Observatory of New Silk Roads, told ChinAfrica.
He added that the BRI is an approach to peaceful development, which can be tailored to the actual needs of the countries joining the initiative, rather than imposing China's development path on them. In his opinion, in the multifaceted development promoted by the BRI, the most important aspect is the improvement of people's livelihoods.
According to a 2019 World Bank study, the BRI would lift 7.6 million people out of extreme poverty and 32 million out of moderate poverty in the countries involved and would increase trade by 2.8 to 9.7 percent for participating countries and 1.7 to 6.2 percent globally, raising global income by 0.7 to 2.9 percent. The BRI has not only opened up new horizons for China's opening up and development, but also provided new development opportunities for the rest of the world.
Accelerating trade flows
In March 2011, a train from Chongqing in southwest China arrived in the small German town of Duisburg. This railway line, known as the Chongqing-Xinjiang-Europe International Railway, marked the beginning of the China-Europe regular railway cargo service.
Today, 80 percent of all China-Europe freight trains terminate in Duisburg at the Duisburg Intermodal Terminal, the largest of the nine local freight terminals, from where the cargo is distributed across the European continent. The trains bring in containers full of clothing, toys and hi-tech electronics from Chinese cities such as Chongqing, Wuhan and Yiwu, and leave with German-made cars, Scottish whisky, French wine, Italian textiles, etc. The operation of China-Europe freight trains has helped to boost local industries such as transportation, warehousing, wholesale, and retail. In 2021, the Duisburg Port registered 18.9 percent year-on-year increase in sales revenue and over 30 percent growth in net profit.
Markus Bangen, CEO of Duisburg Port Group, said in an interview with Xinhua News Agency that the China-Europe railway cargo service is developing rapidly and gaining momentum, and that the successful cooperation between Germany and China has benefited both sides.
The booming Duisburg Port is a microcosm of the rapid development of the China-Europe freight trains. According to Hu Biliang, executive dean of the Belt and Road School of Beijing Normal University, the China-Europe cargo railway, which has so far completed over 60,000 trips, has connected 200 cities in 24 European countries in a network through its 82 routes. "It has played an important role in promoting trade between China and the countries involved," he said.
In the first half of this year, China's total imports and exports with the 24 countries totalled by the China-Europe freight trains totaled 3.45 trillion yuan ($495.42 billion), up 7.3 percent year on year, accounting for around 17.4 percent of China's total foreign trade volume in the same period. Mugnier said that the low cost as compared to the soaring price of maritime transport, as well as the shorter running time, high stability and low pollution are the key reasons why the China-European train freight has been able to grow against the trend.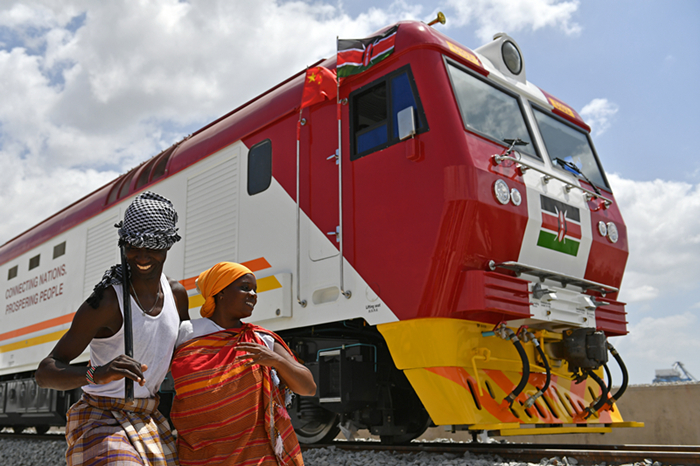 Locals dance beside a locomotive on the Mombasa-Nairobi SGR in Mombasa, Kenya, on January 11, 2017
Sense of gain
When the Mombasa-Nairobi Standard Gauge Railway (SGR) was opened on May 31, 2017, then Kenyan President Uhuru Kenyatta said that the railway will transform Kenya's economy, creating jobs, hope, opportunities and prosperity for Kenyans. The hope has now become a reality.
The 480-km-long Chinese built railway runs from Mombasa, East Africa's largest port, westwards to Nairobi, the capital, the largest infrastructure project since Kenya's independence.
The railway shortened the travel time from Nairobi to Mombasa from an average of 10 hours to five hours. In an interview with Xinhua, Philip Mainga, managing director of Kenya Railways, said that the railway is the most efficient and reliable infrastructure in Kenya. According to him, the railway has carried 8 million passengers over the past five years and now runs an average of six passenger trains a day, carrying 7,000 to 10,000 passengers. He said more and more people are choosing to travel on the railway because it is "safe, punctual and comfortable."
With its freight transport capability, the railway has also boosted Kenya's overall exports. Today, it takes only eight hours to transport what used to take two days. Over the past five years, the railway has transported 1.77 million containers of twenty-foot equivalent units (TEUs), and currently operates an average of 16 goods trains per day. Thanks to the railway, the port of Mombasa is no longer congested, and Kenya's exports are growing and becoming more diversified.
Since its launch, the railway has provided 123 new types of jobs in five major professions for Kenyans. In total, it has recruited more than 3,000 local employees. The Chinese builders have passed on their knowledge, technology and experience to the local staff without reservation, with the vast majority of job types having over 80 percent of local employees.
According to Hu, China and the participating countries have cooperated on many joint projects over the past nine years. China's central state-owned enterprises alone have invested in more than 3,000 major projects, and China's total investment in the participating countries has reached about $1 trillion. Examples of other major projects include the Addis Ababa-Djibouti Railway, China-Laos Railway, the Piraeus Port in Greece, the Karot Hydropower Station and the Karachi Nuclear Power Complex in Pakistan, the Padma Bridge in Bangladesh, and the Pelješac Bridge in Croatia. These projects have benefited local people with improved transportation condition, reduced transportation cost and increased power supply.
Enabling high-quality development
Many Pakistanis still have the memory of power cuts during the hot summer years ago. After years of hard work on the construction of the China-Pakistan Economic Corridor, the country is now no longer short of electricity, and the cost of electricity production is reduced. Also notable are the increased share of clean energy such as hydropower and wind power, and the improved performance of transmission networks with advanced technology.
Over the years, such stories have been repeated in the participating countries. Since 2020, Chinese-built energy projects in these countries have been dominated by renewable energy projects. In September 2021, China announced that it will not build new coal-fired power projects abroad.
Mugnier said that the Chinese companies' efforts to develop green energy in the BRI participating countries are in line with the UN's Sustainable Development Goals. The French Observatory of New Silk Roads has published several reports on cases such as how electric buses made by BYD, a Chinese automaker, have contributed to relieving traffic jam and pollution in Latin American cities, and how Goldwind, a Chinese wind power company, has helped to develop wind power in countries along the Belt and Road.
With a focus on not only economic gains but also public benefits, China has been practising new concepts such as green, digital and innovative development into the construction of BRI projects for high-quality development of the initiative.
Policy coordination has served as an important guarantee for the high-quality development of the initiative. According to Chinese Academy of Sciences' 2019 connectivity index, which monitored the five cooperation priorities of the BRI, namely policy coordination, infrastructure connectivity, unimpeded trade, financial integration and people-to-people bonds, the policy coordination index rose rapidly from 3.4 to 9.8 between 2013 and 2018, making it the aspect with the most prominent progress.
Up to now, China has signed more than 200 cooperation documents with 149 countries and 32 international organisations under the BRI. The initiative's concepts and propositions on cooperation have been included in important outcome documents of the UN, G20 and APEC, becoming international consensus.
Hu pointed out that the basic concepts of the BRI are highly compatible with the goals and aspirations of countries around the world, especially developing countries, in pursuing economic development, national prosperity and world peace, and are also consistent with the development visions and goals of the UN and many other international organisations. "That is why in less than a decade since its launch, the BRI has been recognised, supported and joined by the majority of countries and international organisations around the world," he said.
The high-quality development of the BRI has also gained important support from enhanced financial integration. With the establishment of the Asian Infrastructure Investment Bank and the Silk Road Fund, as well as the issuance of financing guidelines and green investment principles for the BRI, the participating parties have gradually established a diversified, stable and sustainable investment and financing system for the BRI.
In the first seven months of this year, China's investment in countries along the Belt and Road maintained growth. In response to the actual needs of host countries, China strengthened investment in areas such as green development and the digital economy, with non-financial direct investment reaching $11.87 billion, up 5.1 percent year on year and accounting for 18.2 percent of the total for the same period.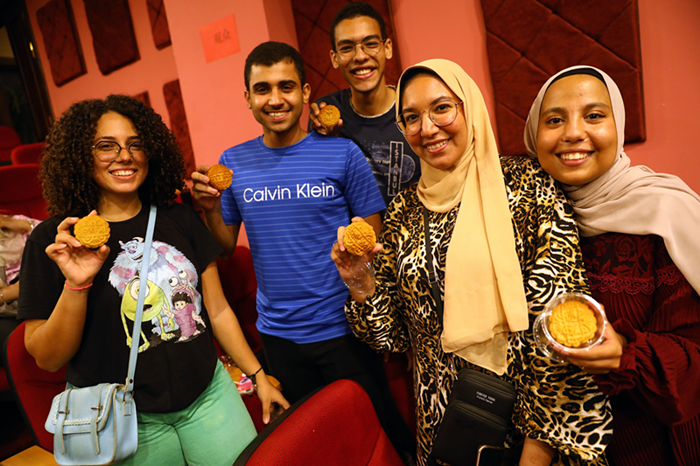 University students pose for a photo with mooncakes in their hands during a celebration in Cairo, Egypt, on September 8, before the Mid-Autumn Festival
Bringing people closer
"Traditional Chinese medicine (TCM) treatments such as acupuncture, guasha and cupping have become increasingly popular in my hometown in the past few years, and we have opened many new TCM clinics there," said a 28-year-old international student from Kazakhstan known by his Chinese name Li Endian in an interview with Xinhua.
In 2015, Li came to the Shaanxi University of Chinese Medicine to study acupuncture and massage. Through seven years of hard work, he has not only mastered TCM knowledge and skills, but also formed deep friendship with his Chinese teachers.
With the promotion of the BRI, TCM has further spread in more than 190 countries. A development plan for promoting the integration of TCM into the BRI released in January proposes that during the 14th Five-Year Plan period from 2021 to 2025, China will work with BRI participating countries to build 30 high-quality overseas TCM centres to provide quality medical services to the public.
People-to-people exchange between China and these countries have been intensive in various forms: holding year of culture activities, tourism festivals, art festivals, seminars and so on; creating and promoting film and television works; and holding youth exchange activities. In the face of the COVID-19 pandemic, exchanges have continued online.
China is also actively working with these countries on programmes directly benefiting people. With signature programmes such as well drilling, eye disease treatment, and donation of school supplies, cooperation has been deepened in areas including poverty alleviation, medical care, education, environmental protection and voluntary services. Mugnier said that the interaction between different countries and peoples is conducive not only to global economic development, but also to the promotion of understanding between different peoples and cultures.
Opportunities ahead
According to Hu, due to the COVID-19 pandemic, coupled with the conflict between Russia and Ukraine and the complex geopolitical game behind it, the development of the BRI is facing a multitude of challenges, including a complicated international environment, economic difficulties due to the pandemic, and insufficient readiness in some participating countries to deal with climate change and implement sustainable development.
At the same time, Hu believes that there are also many new opportunities. Firstly, international cooperation in health will be significantly strengthened. The COVID-19 pandemic has prompted governments around the world to place greater emphasis on international cooperation in health, ranging from coordination of public health policies to in-depth cooperation between hospitals and pharmaceutical companies, joint training of medical workers, health information sharing, and cooperation in vaccine development and production.
Secondly, the focus on green development in the BRI will be enhanced. The post-pandemic era will make it more pressing to highlight the basic principle of green construction, further strengthen environmental protection efforts, and better adopt advanced environmental standards and green technologies. Green development will exert an inexhaustible driving force for the sustainability of the BRI.
Thirdly, digital technologies such as 5G, artificial intelligence, big data and cloud computing, as the key productive forces of the fourth industrial revolution, will provide an important support for promoting high-quality development of the BRI.
Finally, in the post-pandemic era, host countries will be more active in promoting the development of industrial parks based on higher standards, thereby promoting the construction of a more integrated system of industrial chains, value chains and supply chains among the participating countries. This would allow them to gain more benefits from the BRI and globalisation.