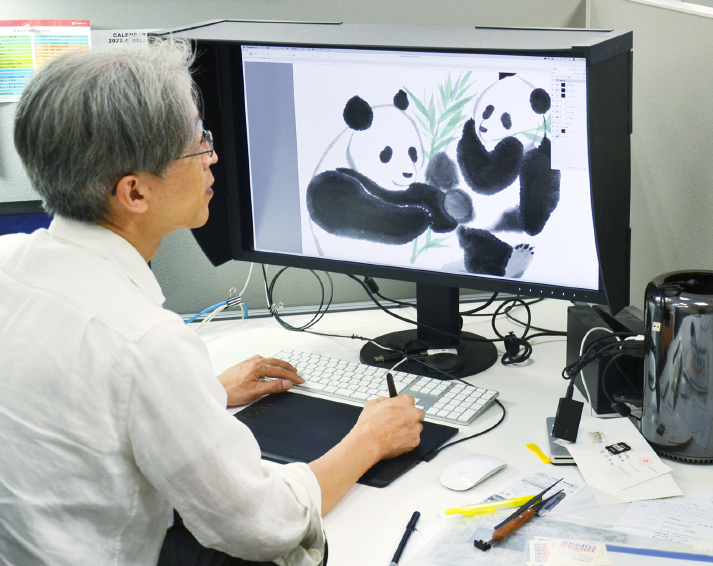 Akira Tamaki, a designer at Japan Post, creates a postage stamp to commemorate the 50th anniversary of the normalization of diplomatic relations between China and Japan on September 21 (XINHUA)
Seven months after U.S. President Richard Nixon's visit to China and the resulting issuance of the Shanghai Communiqué in February 1972, Japanese Prime Minister Kakuei Tanaka arrived in Beijing on September 25. Like Nixon, Tanaka was welcomed at the airport by Chinese Premier Zhou Enlai.
"Shaking hands, they shook up and down for five or six times and then paused for short while before shaking hands again as if to confirm something." This ice-breaking moment was captured by Japanese newspaper the Asahi Shimbun.
During the visit, China and Japan reached agreements on a host of matters of interest to both sides. The subsequent signing of the Sino-Japanese Joint Statement on September 29, 1972, marked the normalization of diplomatic relations between the two countries.
On September 29 this year, Chinese President Xi Jinping exchanged congratulatory messages with Japanese Prime Minister Fumio Kishida to mark the 50th anniversary of resumption of diplomatic relations between the two countries.
The two leaders both expressed readiness to work with each other by taking the 50th anniversary as an opportunity to promote constructive and stable bilateral relations as well as the peace and prosperity of both countries, the region and the world in the next 50 years.
A new start
The changes in the international landscape at that time provided some opportunities for the bilateral relationship to get back on track, according to Chinese experts.
Following Nixon's visit to China, Japan hoped to likewise improve relations with its largest Asian neighbor. Then, after Tanaka took office in July that year, rebuilding Japan's ties with China became his priority, Hu Lingyuan, Director of the Center for Japanese Studies at Shanghai's Fudan University, recently told Shanghai Observer.
The wisdom and decisiveness of Chinese leaders also played a key role in bringing the two sides together. Since the 1950s, China had encouraged people-to-people exchanges with Japan, which paved the way for the two governments to begin reestablishing ties. This development could only have been achieved under visionary political leadership, Hu said.
Economic ties between China and Japan developed vigorously between 1972 and 1978 with joint efforts by the two governments and business communities. There was a widely accepted view among Japanese policymakers that helping promote China's development would allow Japan to open a new market, Wang Lingyi, a researcher at the Shanghai Academy of Social Sciences, said in his article published by ThePaper.cn. Wang has been studying China-Japan trade since the early 1990s. On the Chinese side, leaders proposed the goal of learning from Japan's advanced technology to push forward China's modernization.
Since the implementation of reform and opening-up policies in 1978, China's economy has grown rapidly. The following years saw bilateral trade, direct investment and intergovernmental capital cooperation becoming increasingly robust. Especially in the early 1990s, with the improvement of China's market economic system, commercial projects emerged as main drivers of economic and trade exchanges between the two countries. Following China's accession to the World Trade Organization in 2001, their cooperation has been further expanded to finance, regional integration, energy, the environment and other areas.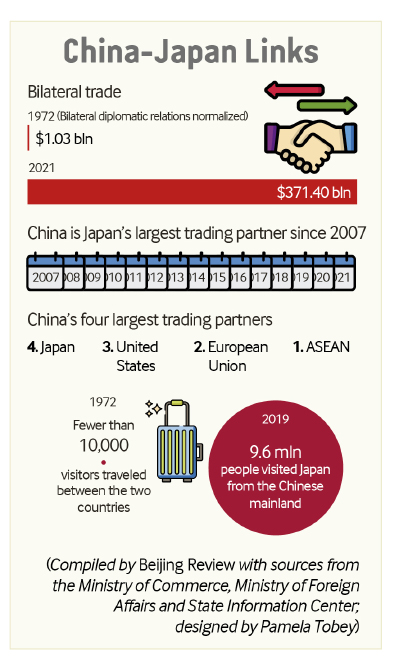 Pushing the boundaries
Currently, China and Japan are major trading partners. Bilateral trade increased from $1.03 billion in 1972 to $371.4 billion in 2021. People-to-people exchanges have been growing at an even faster pace. The visits paid by Chinese travelers to Japan rocketed to 9.6 million in 2019 from less than 10,000 in 1972.
However, there have also been some twists and turns in political relations, particularly on issues concerning history and the Diaoyu Islands.
"China and Japan should develop their relationship by taking history as a mirror and looking forward to the future, in a bid to promote mutually beneficial cooperation and peaceful development, as well as pass on friendship to future generations," Chinese Ambassador to Japan Kong Xuanyou wrote in an opinion piece published on China Daily on September 29.
Kong emphasized the importance of implementing these ideas as the two countries are "partners, not threats" to each other. He continued that China and Japan should prioritize coordination over competition, properly manage their disputes and differences, and continue to push forward the bilateral relations on the right track.
"Promoting exchanges and cooperation at all levels between the two countries is a priority. Objectively, it requires a new exchange and communication platform that will enhance mutual understanding and trust and lay a public opinion foundation for the stable development of bilateral relations," Gao Anming, Vice President of China International Communications Group (CICG), said.
In 2005, the Beijing-Tokyo Forum was launched, which has since grown into an influential event for nongovernmental exchanges and has the longest history of any such platform between the two countries.
"This style of public diplomacy gives play to the role of highly experienced but non-official representatives such as academics and former diplomats and civil servants," Gao said. CICG has been the Chinese organizer of the forum since 2015.
"Their in-depth and candid discussion allows both sides to solve problems and avoid potential crises by fully understanding one another's concerns. Additionally, the ideas generated by participants during the forum could be used as a reference in future decision making by the two governments," Gao added.
During the Second Beijing-Tokyo Forum in Tokyo in September 2006, then Chief Cabinet Secretary of Japan Shinzo Abe made a sudden decision to attend and deliver a speech with the hope of improving bilateral ties. Several days later, Abe became the new prime minister of Japan and visited China the following month. His trip helped put Sino-Japanese relations back on track, after they had been soured by his predecessor Junichiro Koizumi's repeated visits to the Yasukuni Shrine, where Japan's war dead, including 14 Class-A war criminals in World War II, are worshipped.
"Abe used the Beijing-Tokyo Forum as the platform for the release of his policy toward China, showing his recognition of the important role of the forum," Gao said.
How should both countries upgrade the relationship in future? "First, they need to resume all kinds of contact that were suspended due to the COVID-19 pandemic," Hu said. "They should also expand communication between governments and between the two peoples, which will enhance mutual trust and dispel misunderstandings."
"Trust is the coin of the realm. When trust was in the room, whatever room that was—the family room, the schoolroom, the locker room, the office room, the government room or the military room—good things happened. When trust was not in the room, good things did not happen. Everything else is details," George Shultz, late U.S. Secretary of State, wrote for his centennial birthday in 2020. Likewise, trust is also the key to keeping China-Japan ties healthy and robust.
(Print Edition Title: Trust Is the Key)
Copyedited by G.P. Wilson
Comments to ffli@cicgamericas.com