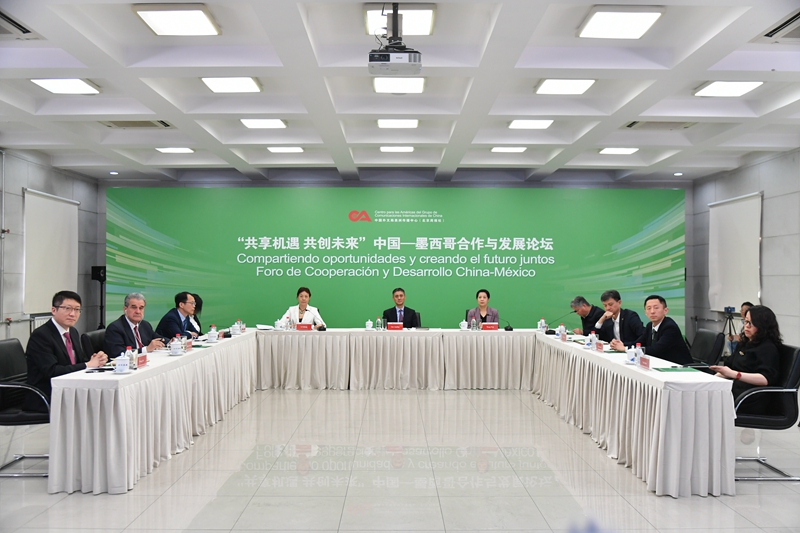 Panelists at the China-Mexico Cooperation and Development Forum hosted by China International Communications Group (CICG) Center for the Americas on March 10 (CICG AMERICAS)
From trade and investment to multilateralism, China and Mexico have illustrated what a comprehensive strategic partnership, which they established 10 years ago, means and are poised to do even more together in the years to come, participants at a forum agreed.
Under the theme Sharing Opportunities and Creating the Future Together, the China-Mexico Cooperation and Development Forum, hosted by China International Communications Group (CICG) Center for the Americas, was convened both online and offline on March 10. Officials and experts from the two countries shared their insights on their bilateral ties.
"China's modernization has created new opportunities. China and Mexico should explore common development interests to drive bilateral relations," Gao Anming, Vice President and Editor in Chief of CICG, told the forum.
China and Mexico celebrated the 50th anniversary of the establishment of diplomatic ties last year, and should embark on a new journey this year to provide impetus for the recovery of global economy. The two countries have remained connected despite COVID-19, and hope to advance mutual understanding more than ever. The two sides are expected to resume face-to-face exchanges in the post-pandemic era, Gao said.
Both China and Mexico are major developing countries and important emerging markets. Chinese modernization and Mexico's development strategy have a great deal of common ground, Zhang Run, Chinese Ambassador to Mexico, told the forum, adding that bilateral relations are in an important phase of pursuing development on the basis of past achievements.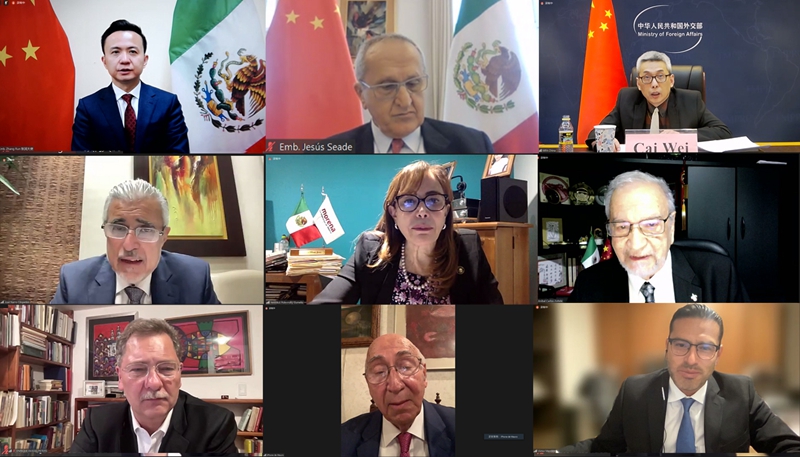 Guests attending the China-Mexico Cooperation and Development Forum online on March 10 (CICG AMERICAS)
Jesús Seade, Mexico's Ambassador to China, emphasizes that in the last four years, foreign direct investment from China in Mexico was close to $1 billion, representing 46 percent of the cumulative investment from China since 1999.
"We are determined to consolidate Mexico as an attractive destination for foreign investment--and, especially, as a strategic ally of China on the other side of the world--thanks to its privileged geographic location, its skilled labor force, and its abundant network of free trade agreements that gives it preferential access to multiple international markets," Seade said.
According to Cai Wei, Director General of the Department of Latin American and Caribbean Affairs of the Foreign Ministry of China, China has pursued modernization through peaceful means. Mexico is welcome to join the China-proposed Global Development Initiative and Global Security Initiative to contribute to global development.
"Mexico is welcome to participate in the Belt and Road Initiative in fields including finance, 5G, lithium, and electric vehicles to improve supply chain connections between China and Mexico," Cai said.
China and Mexico should resume direct flights as soon as possible to boost offline communication, and improve exchanges on culture and tourism, he added.
José Narro, Secretary of the Board of the Mexican Senate, pointed out in his speech that China has become one of Mexico's main trading partners in recent years. China is the second largest source of imports and the third largest destination for Mexican exports. "Multilateralism is very important and the relationship with China helps to build a more balanced, democratic and tolerant world," he said.
Yeidckol Polevnsky, President of the Mexico-China Friendship Group of the Mexican Chamber of Deputies, highlighted China's role in support of Mexico during the pandemic. China can benefit greatly from investing in Mexico due to the latter's cross-border market with the United States. The Belt and Road Initiative should be further publicized and promoted to support multilateralism.
Víctor Méndez, President of the Mexico-China Chamber of Commerce and Technology, pointed out in his speech that Mexico is one of China's most important trading partners in Latin America, while China is Mexico's second biggest trading partner after the United States. One of the key reasons for the growth of trade between them is that both economies complement one another.
Aníbal Carlos Zottele, coordinator of the China-Veracruz Studies Center of the University of Veracruz, stated that it is important for Mexico to improve its strategic partnership with China. The two countries have common ground on many issues including addressing military tensions and trade frictions.
China and Mexico have developed high-quality and frequent exchanges between government sectors and enterprises, Enrique Dussel, coordinator of the Center for China-Mexico Studies at the National Autonomous University of Mexico, told the forum.
Mauro Jiménez, editor of the magazine Macroeconomía, said that the great friendship uniting Mexico and China and their peoples has borne economic, cultural, political and social fruits.
Chinese attendees echoed their views. Wang Wen, Director General of the Foreign Affairs Office of Chongqing Municipal Government, told the forum that Chongqing established sister-city relations with the Mexican state of Nuevo León in 2013. The two sides should promote industrial cooperation, and improve exchanges between young people. Ning Wenze, Assistant to the President of rail transit equipment giant CRRC Corp. Ltd., said the company has participated in the building of several transportation infrastructure projects in Mexico.
According to Yang Shouguo, Director of the Institute of Latin American Studies at China Institutes of Contemporary International Relations, China and Mexico should improve exchange between their think tanks, and expand cooperation on climate change and new technologies.
Spanish departments at Chinese universities have long carried out exchanges with Latin American and Caribbean countries. The training of Spanish speakers will boost China-Mexico ties, Chang Fuliang, Director of the Department of Spanish and Portuguese Studies at Beijing Foreign Studies University, told the forum.
"The CICG Center for Americas will work with other communities from China and Mexico to improve exchange and cooperation for the better prospects of the two countries," Li Yafang, President of the CICG Center for Americas, said.
Copyedited by G.P. Wilson
Comments to lixiaoyang@cicgamericas.com