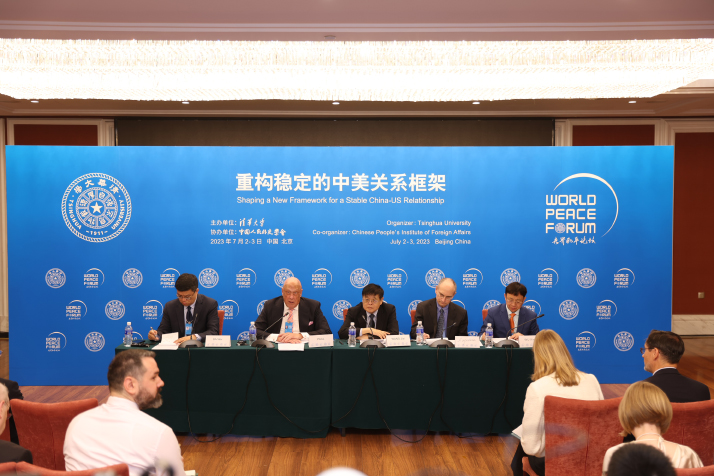 A panel discussion on China-U.S. relations during the 11th World Peace Forum in Beijing on July 3 (COURTESY PHOTO)
Hope for the best but prepare for the worst—that pretty much sums up the recent scholarly consensus regarding the future of China-U.S. relations at the 11th World Peace Forum, a high-level seminar on international security hosted by Tsinghua University in Beijing on July 1-3.
Over the past few years, the Sino-American bilateral relationship has reached a low point with growing tensions over issues ranging from trade and tariffs to technology competition. This was especially the case following former U.S. House Speaker Nancy Pelosi's provocative visit to China's Taiwan region last August.
During last year's meeting of Chinese President Xi Jinping and U.S. President Joe Biden in Bali, Indonesia, in the leadup to the Group of 20 Summit there, both sides voiced their commitment to stabilizing bilateral ties, agreeing to create mechanisms to collaborate when and where possible.
Washington has proposed putting up guardrails so competition does not evolve into conflict. But if the bilateral relationship is already on the wrong track, how are "guardrails" of any use? Cui Tiankai, former Chinese Ambassador to the U.S., asked at the forum. Only when both countries ensure the relationship is on the right path, can "guardrails" work. And to make things right, both sides will have to show sufficient political willingness, he added.
"We can't afford to just cross our fingers and hope for the best. We can't just wish for an end to friction and strategic rivalry," Daniel Russel, Vice President for International Security and Diplomacy at U.S. think tank Asia Society Policy Institute, told Beijing Review. He explained how both governments have an obligation to their own people, their larger regions and the world "to accelerate the efforts which have largely stopped, [including] the diplomatic engagements, the political dialogue, and even sorting out some of the important economic and financial challenges we face."
Suspicious minds
The two countries should try to prevent any unexpected incidents that may only worsen bilateral relations from happening, e.g., the shooting down of a wandering Chinese weather balloon off the coast of South Carolina in early February, Wang Jisi, Founding President of the Institute for International and Strategic Studies at Peking University, said at a panel discussion during the forum.
U.S.-China relations have grown more unstable and unpredictable, Douglas H. Paal, a distinguished fellow with the Carnegie Endowment for International Peace, an organization known for its independent analysis of major global problems and understanding of regional contexts based in the U.S., told Beijing Review. The postponement of U.S. Secretary of State Antony Blinken's visit to China from February to June following the aforementioned incident was "costly" and "put a premium on following up more quickly, compressing more work into a shorter time frame," he added.
According to Wu Xinbo, Dean of the Institute of International Studies at Shanghai's Fudan University, there is a strong and active anti-China impulse. The atmosphere in Washington is "toxic and irrational," reminding people of the notorious McCarthyism that held sway in the U.S. in the early 1950s when then Senator Joseph McCarthy led a campaign to "root out" supposed communist infiltration in the government and other institutions, he said.
Paal continued the U.S. is now preparing for its general election season, which tends to raise issues, therefore limiting space for policy innovation for the incoming administration. The two parties, Democrats and Republicans, are competing to "show how tough they are," he added.
Responding to recent comments by Blinken that "the U.S. will continue to do and say things China doesn't like," Cui said that China never expected the U.S. to do or say things to please China, and China in turn has never promised to do or say things the U.S. likes. The key is for both sides to find a true way to respect each other and peacefully coexist. "This is not about one side trying to make the other side like them," he added.
"Both countries are too important to the world and too powerful, frankly, to take those kinds of risks," Russel's views echoed Cui's remarks, elaborating that "Washington and Beijing really need to double down on the dialogue and find ways to compromise and cooperate."
Neither the American leader nor the Chinese leader wants conflict or war. But conflict and war do not necessarily happen on purpose, they can come about by accident—which is worrisome. This basically means we urgently need to find ways to reverse the sense of suspicion between our countries, Russel said.
A woman visits the exhibition area of BiliBili, one of China's leading online video platforms that mainly targets Gen Zs, during Licensing Expo 2023 in Las Vegas, the U.S., on June 13 (XINHUA)
One foot in front of the other
The active official interactions between the two countries over the past 50 years, following the de facto Sino-American alliance born in 1972, have benefited both their peoples as well as the international community. The balance of power, cooperation, support and contributions to the global economy, all combined have propelled the continuous progress of human civilization, Liu Jianchao, head of the International Department of the Communist Party of China Central Committee, said at the forum. "But even in this day and age, we must still emphasize that we cannot pursue unilateral advantages or blindly seek self-interest, casting aside the other party."
"China is not going to give up its priorities to accommodate the U.S. Nor is the U.S. going to stop pursuing what we consider to be important. But in the past, that has not posed an obstacle to China-U.S. cooperation when and where our interests overlapped or where we each had a shared responsibility," Russel said.
Both countries now have indicated their willingness to interact. After Blinken's visit to China on June 18, U.S. Secretary of the Treasury Janet Yellen also visited China, from July 6 to 9. "The question now is how to move ahead and take the opportunities to express our different views about some issues," Paal said, adding "It should not be engagement for the sake of engagement."
Competition can be stressful and arguments are unpleasant, but we can finish the argument, set it aside and then work together on the things we do agree on, Russel said.
Paal suggested all eyes should focus on laying the foundation for the two international meetings to take place in September and November, respectively, the Group of 20 Summit in New Delhi, India, and the Asia-Pacific Economic Cooperation Economic Leaders' Meeting in San Francisco, the U.S., to demonstrate that the two countries can deal with some of the tensions that might otherwise lead to conflict.
The two governments should adequately do their groundwork "so that the leaders can have more productive discussions and get some [tangible] results," Russel told Beijing Review.
Cui agreed that China and the U.S. can team up across many areas. He recalled that during his time in Washington, China and the U.S. cooperated practically in addressing the Ebola crisis in Africa, and medical staff from both militaries joined forces on the ground in several affected African countries. "Why can't this kind of cooperation extend to other areas?"
The U.S. still wants and needs to cooperate with China on the issues of climate change and macroeconomics, Professor Wu Xinbo said, adding it also has to respond to pressures from the business community which is demanding a more normalized economic environment.
Noting that both U.S. National Security Adviser Jake Sullivan and Yellen had previously stated that their country does not seek to decouple from China, Wu continued, "We have to wait and see whether these words will be translated into policies or if they are merely rhetorical."
According to Paal, both sides can still reach some agreements in practical fields such as increasing flights to facilitate people-to-people exchanges and working on trade barriers. On the suspension of military communication between the two countries, he said that the absence of good communication in the event of a crisis is bad for everybody. "I do hope we find a way to improve that communication when necessary."
(Print Edition Title: The Way Out)
Copyedited by Elsbeth van Paridon
Comments to mamm@cicgamericas.com