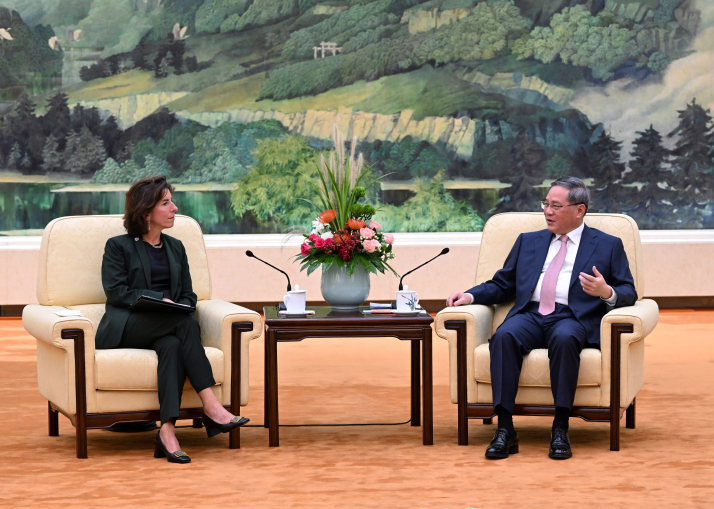 Chinese Premier Li Qiang meets with visiting U.S. Commerce Secretary Gina Raimondo in Beijing on August 29 (XINHUA)
Back in early July, Daniel Russel, Vice President for International Security and Diplomacy at U.S. think tank Asia Society Policy Institute, warned that the United States and China "have to make up for lost time" in an interview with Beijing Review. He also called on the two sides to double down on dialogue and "sort out some of the important economic and financial challenges that we face."
Two months have passed. So, are we catching up?
Following visits earlier this year by Secretary of State Antony Blinken, Treasury Secretary Janet Yellen and Envoy for Climate John Kerry, U.S. Commerce Secretary Gina Raimondo came to China on August 27-30.
Chinese Premier Li Qiang met with Raimondo in Beijing on August 29, telling her China is willing to strengthen dialogue and cooperation, so as to promote the sound development of bilateral economic and trade relations. Li also said he hopes that the U.S. will work with China to achieve this goal.
New channels
Raimondo is the first U.S. commerce secretary to visit China in seven years and many foreign affairs experts in China consider her the official in President Joe Biden's administration most likely to achieve tangible results with China on resolving economic and trade disputes and bringing bilateral economic ties back on track in President Joe Biden's administration.
Russel said in July that he expected the two side take practical actions, and resume and restart direct dialogue at every level, adding there are "a host of channels through which we ought to be able to conduct a dialogue."
Raimondo and Chinese Commerce Minister Wang Wentao held "rational, candid and constructive" talks on August 28, according to the Chinese Ministry of Commerce (MOFCOM). The ministry said Wang had raised serious concerns about several U.S. policies toward China, such as Section 301 tariffs, semiconductor policies, restrictions on investments and sanctions on Chinese firms, stressing that overstretching the concept of national security is not conducive to bilateral trade.
"The economic relationship between the United States and China is one of the most significant in the world. We share over $700 billion of trade," Raimondo said before meeting with her Chinese counterpart, adding it is "profoundly important that we have a stable economic relationship, which is to the benefit of both our countries, and is, in fact, what the world expects of us."
Good news arising from Raimondo's visit includes that the two countries announced they will establish new communication channels between their commerce authorities, including a working group consisting of officials and business representatives on both sides to seek solutions on specific commercial issues, according to MOFCOM. Wang and Raimondo also agreed to communicate regularly and meet at least once every year.
A communication mechanism for export controls was also launched, with both sides agreeing to carry out technical consultations between experts on enhancing the protection of trade secrets and confidential business information during administrative licensing procedures.
Cautiously optimistic
"It's a positive sign for economic interactions," Yang Shuiqing, a researcher with the Institute of American Studies of the Chinese Academy of Social Sciences, told Beijing Review. With the new communication mechanism for export controls in place, the two sides may be more effective in distinguishing between exports for military and civilian use, hopefully lessening the impact of continuous efforts by the U.S. to strengthen export controls under the pretext of "national security," she added.
Dialogue can help manage differences and prevent politicizing security issues, Zhang Monan, a researcher at the China Center for International Economic Exchanges, said, adding that the new mechanism will help both countries enhance the transparency of export control enforcement and facilitate normal business and trade cooperation.
"The U.S. and China have a massive and consequential economic relationship, which is good for the world, good for China and good for America," Raimondo said in Shanghai on August 30, adding that Washington wants U.S. companies to invest and grow in the Chinese market.
However, at the same time the U.S. Commerce Secretary was calling for dialogue and cooperation in China, the Biden administration announced on August 30 new restrictions on U.S. investment in key technologies such as chips and artificial intelligence (AI) in China. According to CNN, the new restrictions will "exacerbate a slump in deals between the world's top two economies."
Stephen Roach, former chief economist at Morgan Stanley, encapsulated the tightrope Raimondo must tread in a post on X, formerly known as Twitter, on August 30. "Raimondo's conundrum: portraying fuzzy lines as sharp. De-risking versus decoupling; national security versus economic security; trade versus saving deficits. America's China strategy compromised by political economy fears."
The newly announced restrictions are a textbook act of using government power to interfere in market operations, undermine competition and suppress the industrial development of other countries, which violates WTO principles of non-discrimination, fairness and free trade, according to the China Council for the Promotion of International Trade.
"The U.S. restrictions and review mechanism on outbound investment purposely distort the normal cross-border fundraising and operations of Chinese firms with the excuse of so-called 'national security,' and indiscriminately ban and censor international capital flow into China," the council said at a press briefing held in Beijing, stressing that the U.S. actions will also harm industrial chains that are highly reliant on global division of labor and cooperation.
A survey conducted by the American Chamber of Commerce in China last year showed that 66 percent of U.S. companies in China will maintain or increase investment in China in the coming two years. "We hope that the U.S. can work with China to put into practice its commitment of not seeking a decoupling from China and create a favorable environment for the sound development of China-U.S. economic and trade ties," Chinese Foreign Ministry spokesperson Wang Wenbin said on August 30.
Coinciding with Raimondo's visit, Chinese tech giant Huawei on August 29 surprised the market by unveiling its Mate 60 Pro smartphone, which the company said is the most powerful in its flagship Mate Pro series to date, with new breakthroughs in aspects including satellite communication, AI and Kunlun glass technology, which creates a screen that is high performing on the inside and impact-resistant on the outside.
This soon became a trending topic on China's leading microblogging platform Weibo, with the hashtag "HuaweiMate60" generating 790 million views within 20 hours of the announcement. "This kind of excitement over the new Huawei smartphone reflects the Chinese public's expectations for [homegrown] core technology breakthroughs amid the U.S. intensifying the measures it takes against China," Hao Min, a professor at the Department of Law of the Beijing-based University of International Relations, told Chinese state-run newspaper Global Times.
"The excitement among Chinese netizens demonstrates that the U.S. export restrictions and crackdown on China and Chinese tech firms will not be successful [at stifling their development]," Hao said, adding that Washington cannot hinder China's technological rise but rather is accelerating the pace at which it becomes self-reliant in science and technology.
As Democrats and Republicans have all made reviving manufacturing and responding to the calls of America's blue-collar workers a priority on their respective political agendas, either party, when in power, may adopt a series of protectionist measures, Wu Qisheng, a researcher with the Institute of International Studies, Shanghai Academy of Social Sciences, told 21st Century Business Herald, a Chinese financial media outlet.
Against the backdrop that the U.S. perceives China as its major strategic competitor, this tension will continue to be felt in bilateral economic and trade relationship, with the U.S. constantly proposing measures against China, be they export controls or investment reviews, Wu added.
"Moving ahead, more tangible steps from the U.S. are needed, rather than simply vowing not to decouple from China, so as to better resolve conflicts and bridge differences on the economic and trade front," He Weiwen, a senior researcher at the Center for China and Globalization, a Beijing-based think tank, told news portal China Daily.
"What we do now will determine where the U.S.-China relationship is headed," Russel stressed.
(Print Edition Title: A Test of Sincerity)
Copyedited by G.P. Wilson
Comments to mamm@cicgamericas.com