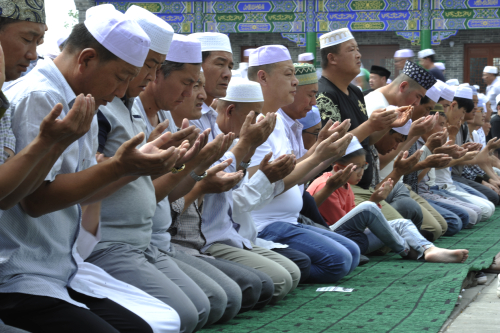 Muslims celebrate the Eid Festival at the Najiahu Mosque in Ningxia on July 18 (HAN SHENGLI)
Two years ago, when Abdou Lahad came to Ningxia to study Chinese language and culture on a government scholarship, he had no clue about this autonomous region in northwest China that is home to the Hui ethnic group, China's largest Muslim group.
"I had never heard of Ningxia before in my life," said the 25-year-old Senegalese student at Ningxia University's School of International Education. "I came to know of it only after I was transferred to Ningxia University from Wuhan [a major city in central China]."
But when Lahad arrived at the Hedong International Airport in Yinchuan, capital of Ningxia, it immediately felt like home. Everywhere, there were signs in Arabic, one of the major languages in Muslim countries; some neighborhoods looked Middle Eastern with their domed buildings and minarets; and miraculously, his food worries were gone. "Everywhere you go, you can eat the food, it's halal [compliant with the teachings of Islam]," he said with relish. "That's why all of us Muslims like Ningxia."
More Muslim students like Lahad, who want to learn Chinese realizing it's going to be the lingua franca of trade and tourism, are discovering Ningxia as a tailor-made educational destination for them.
The Beifang University of Nationalities, a stone's throw away from the Ningxia University, opened an International Education School last year with 10 foreign students. Next semester, the number will triple with the majority from Tunisia, Algeria and Central Asia.
Mohamed Ben Azzouna knows French, Arabic and English. Now he is learning Chinese at the Beifang University of Nationalities. The 26-year-old Tunisian with a master's in catering management said it would be a feather in his cap: "With English and Chinese, I can find a job anywhere." His peer at the university, Oussama Dimassi, a 28-year-old who studied hotel management in Tunis, wants to start a company in China. Hamed Rahmouni, a 21-year-old also from Tunis and in the same Chinese class, plans to spend at least seven years in China, soaking up the language and business culture.
Arabia in China
Though far from home, the trio draws comfort from the prevalence of Arabic in Ningxia, a melting pot of Chinese and Arab cultures. When the Silk Road, the world's oldest overland trade route, was opened in China's Han Dynasty (206 B.C.-A.D. 220) to link with Europe, Ningxia was an important stop along the route. Waves of visitors from the Middle East came and settled down in this region. More Islamic elements were injected when the Mongols occupied Ningxia in the 13th century under Genghis Khan. Some of them stayed back, contributing further to Ningxia's Islamic culture.
Interestingly, nine of Ningxia's Western Xia (1038-1227) kings were buried in elaborate mausoleums in the Gobi Desert that look like the famed pyramids of Egypt. Also a prime tourist destination in Yinchuan, the Sand Lake is not only a haven for aquatic birds but also conjures up visions of Arabia with lines of camels walking across the sand carrying people on their backs.
The autonomous region is dotted with mosques, with two standing out.
Najiahu Village is a placid community with picturesque houses laid around a paved square where venders sell watermelons, snacks spiced with sesame seeds and other goodies. The women go about their business with their heads covered by scarves while some of the men wear skull caps. What makes the village, where the residents are consanguineous with the same family name Na, a magnet for historians and architects, is its nearly 500-year-old mosque.
A riot of blue and green, it is a remarkable specimen of Ming (1368-1644) architecture, where nearly 400 people pray daily. There is a separate praying hall for women and a huge community kitchen where special dishes are cooked in huge pots during Muslim festivals like Eid. A fusion of indigenous and Islamic cultures, the mosque, administrative staff member Na Zhonglin said, was visited by the king of Jordan.The other remarkable mosque is in the Hui Culture Park, where some of the masterpieces of Islamic culture have been replicated. The entrance is modeled on the Taj Mahal, the 17th-century mausoleum Mughal Emperor Shah Jahan built in north India in memory of his beloved wife Mumtaz Mahal. Inside stands the famed Blue Mosque of Istanbul, also built in the 17th century by Turkey's Sultan Ahmet I. Well, almost.
A Ningxia businessman, Li Jiehuang, loved the Blue Mosque and the Muslim culture so much that he decided to build a replica in Yinchuan. Opened to the public in 2005, the beautiful mosque that can accommodate around 4,000 people is also a platform to acquaint locals as well as visitors with Islam, how it was founded and its basic tenets.
In addition, the park boasts a small but imaginatively assembled museum of Islamic culture. A map illustrates how Islam came to Ningxia along the Silk Road, images point out famous Muslim scientists, artists and writers, and a special exhibition pays tribute to the Chinese Muslims who contributed to the growth of the nation.
China-Arab business
Wang Heshan, Vice Chairman of Ningxia Hui Autonomous Region, said the government is developing Ningxia as a bridge between China and the Muslim world. Wuzhong, a city at the heart of Ningxia, is the home of halal food, boasting a flourishing industry that exports its products to Malaysia, Indonesia, the Middle East, and other places with a sizeable Muslim population. The China (Wuzhong) Halal Industrial Park, with nearly 50 enterprises, was set up in 2012. The Ningxia Jinrui Halal Food Co. in the park serves as a model business for several reasons. It was established in 1997 by Yang Jinglan, a mill worker. Yang, disabled a year after joining a woolen mill, overcame her mishap to become the largest manufacturer of halal frozen food and director of the Ningxia Entrepreneurs' Association. Last year, the government recognized her as a "national self-improvement model."
The food industry is complemented by an Islamic apparel industry that makes garments used by Muslim men and women: head scarves, veils, skull caps and even prayer mats. There is an e-commerce industry to boost both industries.
To step up economic growth and open up further to investors, Ningxia is building an economic pilot zone and a comprehensive bonded zone. To buoy these initiatives, there is the China-Arab States Expo for greater trade and cooperation with Arab and other Muslim countries.
The fifth edition of the trade fair is scheduled from September 10 to 13. It will have associated events like a China-Arab States Industry and Commerce Summit, an Online Silk Road Forum to explore e-commerce development, and a China-Arab States Tourism Entrepreneur Conference.
As a step toward deeper and long-lasting ties with Muslim countries, Ningxia is learning Arabic.
Five years ago, Maniar Muhammad Ali and his family of five moved from stormy Baghdad to Ningxia, joining the ranks of Arabs coming to Ningxia as Arabic teachers.
Ali and his wife teach Arabic at the Ningxia Muslim International Language School. Three months ago, his daughter Shereen joined the Ningxia Radio and TV Station, where she presents Learning Arabic, a newly started program that teaches youngsters Arabic.
Niu Zhongqi, Deputy Director of the station, explained why: "We need Arabic for cultural communication with Arab countries and to introduce them to China's economy and culture."
Copyedited by Kylee McIntyre
Comments to yanwei@bjreview.com