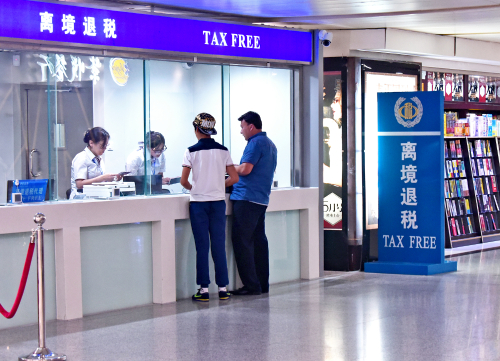 Foreign visitors inquire about tax rebate procedures at the airport (XINHUA)
On the morning of July 1, 2015, the first thing Wang Qiang did was to put up a prominent sign at the entrance to his shop: "Tax free." The manager of Ruifuxiang, one of China's time-honored brands specializing in traditional Chinese garments, is over the moon at the thought of the boost this will give to his business.
The optimism is driven by the commencement of a new tax rebate scheme taking effect on that day. Under the new scheme, Beijing and Shanghai will offer an 11-percent tax refund to foreign tourists on goods bought from designated stores.
By spending more than 500 yuan ($80) in the same store on the same day, foreign tourists and those from China's Hong Kong, Macao and Taiwan who have stayed on the Chinese mainland for less than 183 straight days are eligible for the 11-percent refund, Zhao Yanming, Deputy Director of Beijing Municipal Finance Bureau, told the media on June 30. The scheme covers all items purchased within 90 days of departure, bar those prohibited for export. 
The refund, if it is less than 10,000 yuan ($1,612), will be paid either in cash in Chinese currency or be transferred to the buyer's bank account. Sums over 10,000 yuan will be paid only through bank transfers. 
Boosting tourism 
"Tax rebates are widely practiced around the world. Ours will stimulate tourism consumption and unleash market vitality in the sector," said Sun Yao, Deputy Director of Beijing Municipal Commission of Commerce. He said the move will help rejuvenate the city's downward inbound tourism.
Statistics from Beijing's Bureau of Statistics show inbound tourism to the city in 2014 declined by 5 percent compared to the previous year. The city received about 4.27 million overseas tourists. Their average expenditure was $1,087, of which only 26.7 percent was spent buying goods, much lower than the 40-to-50-percent average seen by most developed tourism cities.
"Tax rebate is a good policy. It reduces shopping costs. I will definitely buy more Chinese-style gifts for [my] family and friends," American tourist Cedric Georges told Beijing Review. A fan of Chinese silk, he also planned to buy a traditional Chinese suit for himself before leaving China.
But some insiders doubt the tax rebates will bring a substantial increase in tourism revenue. "A tax refund is indeed stimulation for Chinese outbound tourists, as most of them are likely to buy expensive bags, cosmetics or watches abroad. But most foreigners visiting China only choose to buy some souvenirs. The influence of such a policy is thus insignificant," Chen Zhi, manager of a Beijing-based travel agency, told Beijing Review.
Zhang Bin, a researcher on taxation with the Chinese Academy of Social Sciences, agrees with Chen, saying this tourist expenditure is small in quantity and amount and will have little impact on tourism spending. "But it will help explore potentials of the tourism sector and benefit related businesses," he said.
Homegrown brands
On July 1, when the policy took effect, 56 stores in Beijing and 27 in Shanghai were designated as qualified retailers offering tax rebates. "They include retailers of China's time-honored brands, renowned department stores and Sino-foreign joint ventures," said Sun.
He said that with the policy in place, China's time-honored brands will gain an advantage to acquire wider international recognition. "Beijing is home to more than 100 reputable homegrown brands like Tongrentang Pharmacy. This advantageous tourism resource needs to be further explored," he said.
After the Beijing Olympic Games in 2008, the capital city launched the Beijing Gift program to regulate the special tourism products market and showcase Chinese cultural treasures to inbound tourists. Qualified businesses dealing with tea, silk, Chinese wines, jewelry and souvenirs were selected as franchisers to operate businesses in tourist destinations and commercial hubs. Many of them qualify to sell tax-rebate commodities.
But among Beijing shopping outlets favored by foreign tourists, Xiushui Street or Silk Street and Hongqiao Market are not included in the tax-rebate scheme. "Businesses in these two places are mostly self-employed vendors who do not qualify as legal value-added tax (VAT) payers. Therefore, goods purchased there cannot receive tax rebates," said Gao Ruijun, Chief Auditor with Beijing Office of China's State Administration of Taxation. "We are now discussing whether it is feasible to integrate those separate vendors and establish a company with unified management so that the markets qualify to sell tax-rebate goods," said Gao.
Officials said preparations to implement the policy are complete. Tax refund facilities have been established at Terminal 2 and Terminal 3 in the Beijing Capital International Airport.
Despite this, some tourists expressed concerns over the convenience of processing the tax refund. "I am afraid that the [rebate] procedure may be too complicated for a foreigner. If so, I would rather not use it," said Georges.
But Sun said that explanatory signs will be put up and volunteers trained to guide foreign tourists through the rebate procedures. The Beijing customs authority has simulated the whole procedure and concluded that it will take less than 15 minutes to complete on the premise of presenting complete application documents, including personal ID and purchase receipt.
Copyedited by Kylee McIntyre
Comments to yushujun@bjreview.com