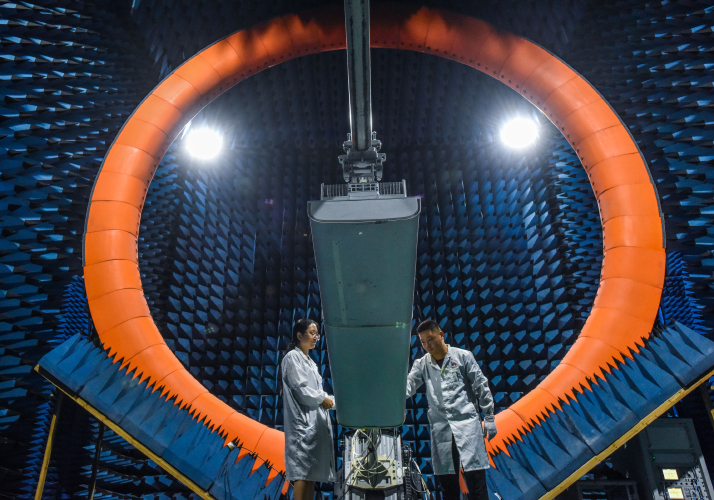 Engineers test equipment for 5G base stations at a Huawei lab in Guangzhou, Guangdong Province, on July 3, 2020 (XINHUA)
With the ambition of delivering enhanced cross-device experiences to consumers, Chinese tech company Huawei launched the second version of its open-source operating system, HarmonyOS 2, on June 2.
The system is able to connect a variety of devices to smartphones, including wearables, tablets and even vehicles. However, Richard Yu, CEO of Huawei's Consumer Business Group, said HarmonyOS, or Hongmeng in Chinese, is not a substitute for Google's Android or Apple's exclusive iOS as many had predicated, but has instead been developed to power the Internet of Things (IoT) ecosystem.
The first version of HarmonyOS was introduced in August 2019. Prior to the rollout of HarmonyOS 2, it had already been used in Huawei's smart TVs and in home appliances produced by other brands, such as microwave ovens.
Huawei undertook the launch of the new system amid mounting external pressure. Citing so-called national security concerns, the U.S. has continued banning a list of Chinese enterprises from accessing key U.S. technologies and products, including Huawei. Notably, Google introduced its new operating system, Android 12, in May and this time Huawei's products are not on the list of smartphones compatible with the update.
HarmonyOS 2 will generate a giant leap for Huawei once it gains a solid market share. According to a research report released by Founder Securities, a financial services company based in Changsha, Hunan Province, the development and application of HarmonyOS can help Huawei become a core technology developer and upgrade its businesses to cope with the chip shortage caused by the U.S. ban.
"HarmonyOS is compatible with Android devices and, according to test results, can operate at higher speeds. As Huawei expands the application of HarmonyOS, it is likely to surpass Android in terms of functionality and reliability," Zhao Xiaogang, an associate professor at Wuhan University's School of Computer Science, told IT news website IThome.
A big move
Android and iOS reportedly occupy around 68 percent and 30 percent of the global market for operating systems, respectively. According to Yang Haisong, Vice President of Huawei Consumer Business AI and Smart Full Scenario Business Department, the success of an operating system lies in its market share. A 16-percent share of the Chinese market is the threshold for HarmonyOS 2 to survive and thrive. To achieve this, it will need to run on at least 300 million devices by the end of this year. Huawei aims to equip around 200 million of its own products and 100 million devices from other companies with the system, using a "Huawei Inside" model.
Many companies and institutions in China have embraced the launch of HarmonyOS. In May, home appliance maker Midea Group said it would roll out some 200 new products with the system by the end of this year. On June 4, Bank of China, China Guangfa Bank Credit Card Center and China CITIC Bank Credit Card Center announced that they would switch to using HarmonyOS 2. Carmaker BAIC Group also plans to unveil two models with HarmonyOS-powered smart car solutions later this year.
China-based YAJI Software, a game engine developer, has also announced that its new-generation product, Cocos Creator 3.2, will be launched at the end of June and will run on HarmonyOS 2, making it the first in the industry to support the system.
To reach out to more app developers and terminal users, Huawei announced it had donated all of the core structure for HarmonyOS to the Openatom Foundation, through which manufacturers can access the codes of the operating system and develop their own products. Around 500,000 developers have adopted HarmonyOS and the figure will continue to grow.
"As many domestic enterprises are slow to participate, Huawei is expected to introduce additional measures to promote the system," Liu Xingguo, a researcher at the Chinese Enterprise Confederation, told Beijing Review.
The company has also been working on improving its Huawei Mobile Services (HMS) platform, which allows users to experience functions such as the use of Huawei ID and push notifications and enables developers to launch apps for Huawei devices. As of the end of March, there were over 120,000 softwares on the Huawei app store that use HMS, a company spokesperson said.
"While Microsoft Windows facilitated the era of laptops, and iOS and Android have facilitated smartphone use, HarmonyOS aims to ride the tide of IoT to contribute to China's industrial restructuring," Wang Chenglu, President of the Software Department of Huawei's Consumer Business Group, told Xinhua News Agency. "We hope to expand the application of the system to drive the upgrading of industries such as home appliances, steel and machinery manufacturing."
Growth of Huawei
The launch of HarmonyOS has been backed by Huawei's improving research and development (R&D) capabilities. Established in Shenzhen, Guangdong Province, in 1987, the company has become one of China's tech giants, with branch offices in over 170 countries and regions. Its business now covers telecommunications equipment, semiconductors, smartphones and big data solutions. In 2020, its sales revenue reached 891.4 billion yuan ($139.3 billion), a year-on-year increase of 3.8 percent. That same year, it ranked 49th on the Fortune Global 500 list.
According to company sources, Huawei's R&D investment totaled 141.9 billion yuan ($22.17 billion) in 2020, up 7.8 percent year on year. Over the past decade, it has invested more than 720 billion yuan ($112.5 billion) in R&D. The input is expected to exceed 650 billion yuan ($101.5 billion) in the next five years. By the end of 2020, Huawei held more than 100,000 active patents in over 40,000 patent families worldwide.
Huawei began its R&D on 5G technologies in 2009. In July 2019, it launched its first 5G mobile phone for commercial use, which gained China's first 5G network access license. Since then, the company has been expanding 5G cooperation with China's three major telecom operators, China Telecom, China Mobile and China Unicom, as well as with other companies both at home and abroad. As of June 2020, Huawei has declared 3,147 5G standard essential patents. It announced an action plan to equip 1,000 domestic smart factories with its 5G solution in May.
Nevertheless, Huawei's development is facing great external challenges, including the U.S. ban on the company's access to its products and services. Last November, Huawei sold all business assets of its budget smartphone brand Honor to a consortium of over 30 agents and dealers. It said this move would help Honor's channel sellers and suppliers make it through the difficult time.
While the company has shown ambition to use its 5G facilities to develop self-driving systems, it has stressed that it is not and will not be manufacturing cars, but will instead focus on providing autonomous driving solutions for carmakers. According to Huawei, the company is supporting its strategic partners including BAIC, Chang'an Auto and GAC Motors in building intelligent connected vehicles under their own sub-brands.
Current priority
Affected by U.S. obstructionism since 2019, as well as sluggish global demand, Huawei saw its sales revenue decline 16.5 percent year on year to 152.2 billion yuan ($23.8 billion) in the first quarter (Q1) of this year, down for the second consecutive quarter. Data from Counterpoint Research, a global industry analysis company, showed that the global market share of Huawei declined to 4 percent in Q1, down to sixth from first place in the same period in 2020 on the ranking of global smartphone shipments.
According to market research company IC Insights, Huawei's semiconductor arm, HiSilicon, took 10th position on the global chip ranking in Q1 of 2020, but was not among the top 15 a year later.
According to Liu, the greatest challenge facing Huawei is the R&D of chips, and its self-sufficiency of high-end chips is unlikely to be achieved in the short term. "To overcome the difficulties, Huawei needs to reduce reliance on its electronic device business and explore new markets through further improving its software products, such as HarmonyOS and the AI computing framework MindSpore," Liu said.
(Print Edition Title: Harmony Connects All)
Copyedited by G.P. Wilson
Comments to lixiaoyang@bjreview.com