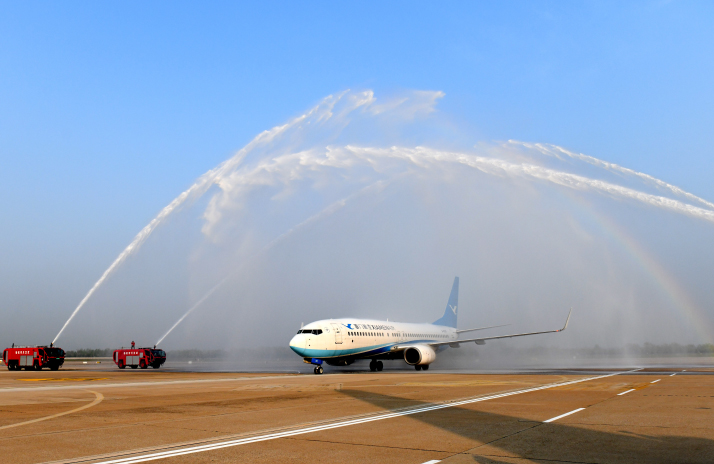 Xiamen Airlines' Flight MF8095, the first flight to arrive in Wuhan after the city lifted travel restrictions due to COVID-19, is welcomed at the Tianhe Airport in Wuhan, Hubei Province in central China, on April 8
(XINHUA)
For Australian pilot Myles Bernard Weston, Thanksgiving started in October this year. His wife and two daughters, who had been stuck in New Zealand since the Chinese New Year holiday in January due to disruptions caused by the novel coronavirus disease (COVID-19), were finally able to come back home in Xiamen, Fujian Province in southeast China.
Weston has stayed on in Xiamen throughout, carrying on with his daily flights for Xiamen Airlines, with whom he has been working for two years. There were assignments even during the peak of the epidemic. In February, Xiamen Airlines delivered supplies to Wuhan, the city in central China then hardest hit by the virus, and Weston was the captain.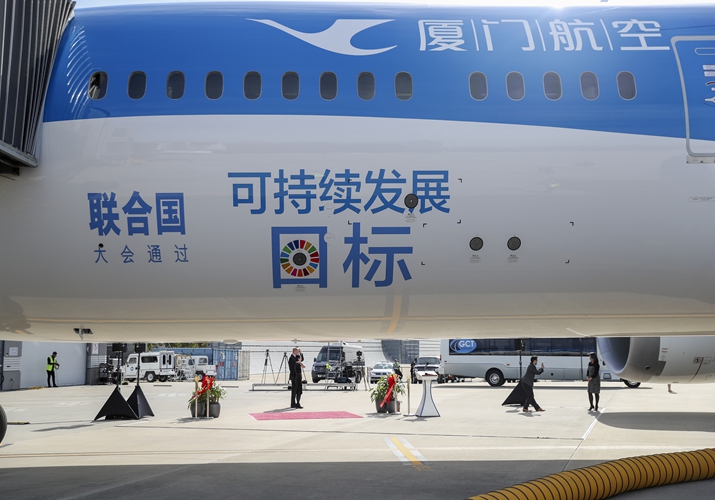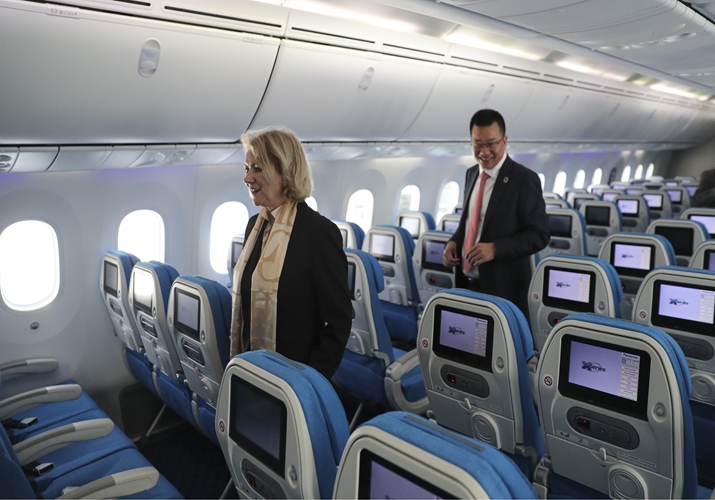 Alison Smale, then Under Secretary General for Global Communications at the UN Department of Public Information, and Zhao Dong, President of Xiamen Airlines, visit the company's Boeing 787-9 aircraft themed on the UN's Sustainable Development Goals in Charleston, the U.S., on January 26, 2018 (XINHUA)
Anti-epidemic work
Along with medical supplies and food, the flight also carried eight doctors to Wuhan from Xiamen to assist in the epidemic prevention work.
In fact, Xiamen Airlines' contribution to the anti-epidemic work started in January as it was part of the air channel that ferried medical personnel and cargo. It also flew medical experts to other countries, such as the Philippines, to support the anti-COVID-19 work there, Zhao Dong, President of Xiamen Airlines, told Beijing Review.
Also the first to bring back Chinese stranded overseas, it ran flights to Thailand, Malaysia and Ghana, transporting over 5,000 people by September 6.
Xiamen Airlines is one of the carriers to maintain flights to other countries and regions with prevention and control measures in place. On August 19, it was allowed to increase its four weekly round trips to the U.S. to eight as China reached an agreement with the U.S. As per it, their airlines can double the number of their passenger flights to each.
Xiamen Airline's contributions were officially recognized in September when at a ceremony held in Beijing to commend role models in the national fight against the epidemic, it was awarded along with others.
The company had a distinction right at its founding in 1984. Four years earlier, the government assented to creating four special economic zones (SEZs) to further reform and opening up and explore new economic development models. Xiamen was among the four cities chosen and the birth of Xiamen Airlines made the port city the first SEZ to have its own airline.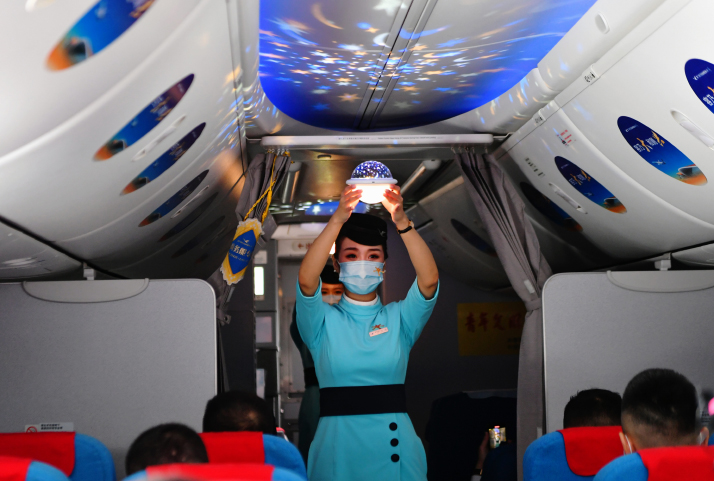 A crew member of Xiamen Airline's specially coated Daxing aircraft demonstrates safety instructions to performs for passengers during the maiden flight of the specially coated aircraft, on August 5 (XINHUA)
A matter of pride
When President Xi Jinping visited the Boeing assembly plant in Seattle during his state visit to the U.S. in 2015, he talked with pride about the growth of Xiamen Airlines, which uses Boeings. "In the initial stage, Xiamen Airlines and the Xiamen Airport had to be developed with international loans, and the airline had only a few aircraft," he said. "Now, after 30 years of development, Xiamen Airlines has the world's most advanced Boeing 787 planes. This is the epitome of China's civil aviation development." Xi was vice mayor of Xiamen between 1985 and 1988.
Starting with two rented Boeing 737s, Xiamen Airlines now has 206 aircraft and operates on nearly 350 routes to major cities around the world. It ranks among the top 10 airlines in the world in terms of operating profit and is the only air carrier in China that has been profitable for 33 consecutive years, Zhao said.
On August 6, the company announced a new expansion plan. It would build a north China headquarters. This is a pragmatic move to utilize the Daxing International Airport, the new aviation hub in Beijing, and also be involved in the coordinated development of the Beijing-Tianjin-Hebei region. By March 29, all its flights to and from Beijing had been transferred to the new airport from the Beijing Capital International Airport.
"We are exploring an asset-light approach to shave off fixed assets and improve returns and resilience of Xiamen Airlines," Zhao said. The company will reform its business model in line with the dual circulation strategy, China's new design for economic development in which the domestic market is the mainstay and domestic and foreign markets complement and reinforce one another. It will also enter more industries such as new retail, logistics and healthcare.
Green growth
Xiamen Airlines was the first airline in the world to support the UN's Sustainable Development Goals (SDGs). On February 15, 2017, it signed a cooperation agreement with the UN at the world body's headquarters in New York City.
Since then, it has introduced more eco-friendly measures such as switching to bamboo pulp tissues and cups for passengers. It promotes digital self-service at the airports, from self-check-in and self-baggage drop to face recognition self-boarding.
Its United Dream aircraft, a Boeing 787-9 painted in a special blue livery that represents the SDGs, ran themed flights in 2018 to raise awareness of sustainable development among passengers.
John Bruns, then President of Boeing China, called the new Boeing aircraft an ideal fit for Xiamen Airlines and the SDGs. Based on in-service data, Boeing said the 787 family uses 20 to 25 percent less fuel and has 20 to 25 percent fewer emissions than the planes they replace.
In September 2019, the aircraft was used for Xiamen Airline's first passenger flight at the Daxing airport. In July and August this year, it flew Chinese peacekeepers to Mali in West Africa to join UN peacekeeping operations.
Today Xiamen Airlines operates one of the world's youngest fleets, with the average age of its aircraft being six years. Its fuel consumption per ton-kilometer has dropped by 14.8 percent over the past five years, surpassing the global average improvement in fuel efficiency.
Zhao said the company has been able to achieve its commitment given to the UN that it would reduce its annual emissions by 300,000 tons. This will contribute to China's commitment made at the UN in September that it will efface its entire carbon footprint by 2060.
(Print Edition Title: The Sky's the Limit)
Copyedited by Sudeshna Sarkar
Comments to mamm@bjreview.com