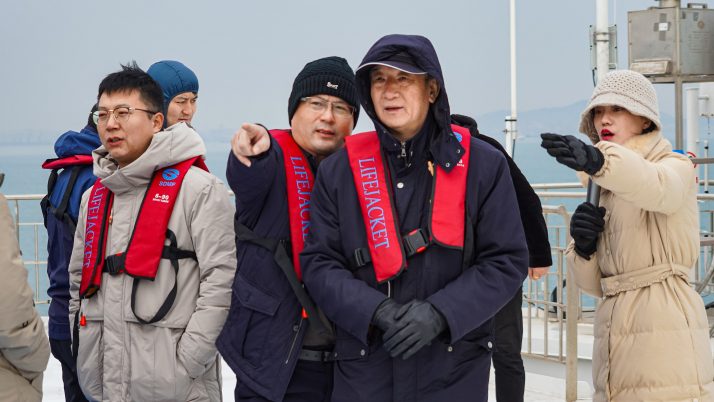 Chen Yong (second right), Chairman of the Marine Ranching Specialized Committee of the China Society of Fisheries and the Marine Ranching Branch of the China Fisheries Association, inspects a marine ranch integrated platform in Yantai, Shandong Province in east China, on December 9, 2020 (COURTESY PHOTO)
Recalling the days of working on the ocean, Chen Yong, 65 years old, still has fresh memories. "It was a difficult job working on the sea. Even I, who majored in marine fishery, often got seasick," he told Beijing Review.
Chen, former Vice President of Dalian Ocean University (DOU), has devoted almost all of his working years to developing marine ranching in China, which he believes is key to China's marine ecological restoration and protection. China is a large maritime country, and overfishing has strained the nation's marine resources.
Haven for fish
In 1978, Chen was admitted into the DOU, then known as Dalian Fisheries University, in the coastal city of Dalian, Liaoning Province in northeast China, where he majored in marine fishery. Eight years after graduation, he became a lecturer at his alma mater while closely watching and studying the development status of China's marine fisheries.
At that time, pollution in China's offshore waters was becoming more and more serious, jeopardizing the fish living there. Exacerbated by overfishing, both the number and diversity of offshore marine life were dwindling.
"Many countries in the world face similar challenges at certain development stages. It is through learning from others' experience that we can better protect the sea," Chen said.
In 1990, he went to pursue further education at Tokyo University of Fisheries, now Tokyo University of Marine Science and Technology. During this period he studied how to produce and manage artificial reefs.
In 2000, Chen began working on his first scientific program upon returning to China after graduation. He researched technology that could assist in improving the proliferation environment of marine life along the Dalian coast. The project was difficult, since sea cucumbers, abalones and sea urchins in the project area are all marine treasures, and any mistake would incur considerable loss for fishermen.
Chen first made an in-depth investigation of the target sea area's environmental factors, including currents, temperature and geology. Short of funds, he and his colleagues borrowed a boat and went to sea with underwater measurement equipment. After meticulous fieldwork, Chen simulated the seawater environment of the target sea area in the laboratory, placing fish reefs and sea cucumbers and other creatures into the artificial environment and observing the effect.
After the test was successful, Chen and his colleagues placed various kinds of artificial reefs in the target sea area, and photographed the site. They found the biomass of sea cucumbers, sea urchins, and large seaweeds such as kelp and wakame in artificial reef areas had increased by more than 30 percent. At the same time, the growth environment of these marine treasures was also greatly improved, forming a virtuous circle and bringing sound economic and ecological benefits. After the initial success, Chen and his team started to undertake larger marine ranching projects funded by the government.
According to Chen, there are several different definitions of marine ranching globally. In China, it refers to building or restoring places in particular areas for marine life to breed, grow, forage, and hide from predators. The goal is to ultimately conserve fishery resources, improve the ecological environment of the sea, and realize the sustainable use of these resources, according to a book released by fishery administration under the Ministry of Agriculture and Rural Affairs and the Chinese Academy of Fishery Sciences in 2017.
Artificial reefs, mainly made of cement and rebar, are installed undersea as safe living quarters and playgrounds for marine animals. The seaweeds gradually growing on the reefs can provide rich nutrition for fish, shellfish and prawns.
"Marine ranching can also help clear the water. The kelp and wakame on the reefs growing into a forest in the sea can reduce water eutrophication by absorbing salt," Chen said.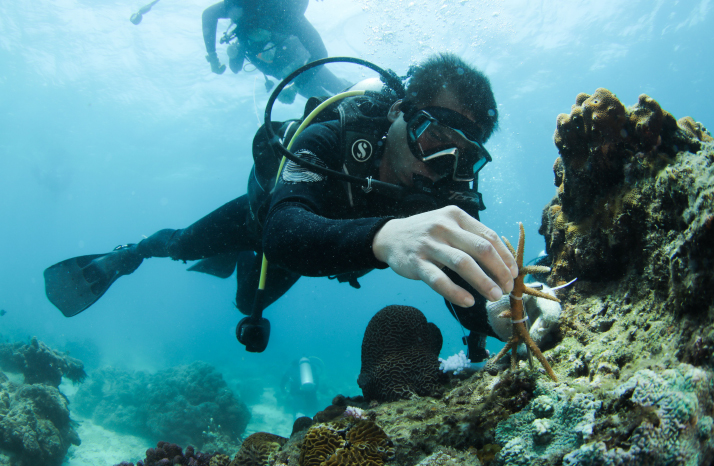 A staff member transplants coral reef undersea at a marine ranch on Wuzhizhou Island in Hainan Province, south China, on April 28, 2020 (XINHUA)
Gradual progress
"Compared with the past, now the operation at sea is not that difficult, as technology plays a crucial role," Chen said.
Thanks to technological advancement, modern marine ranching can serve as a new type of marine fishery production method that can protect the ecology and conserve resources while enabling the continued development of marine fisheries in a healthy manner. It also reduces much work that previously could be done only by humans, increasing efficiency and accuracy.
In 2008, Chen led his team at the DOU to research and develop modern marine ranching. They adopted various technologies, such as new material technology for artificial reefs, real-time online monitoring of the underwater environment, and sound tracking and manipulation to control the number of fish.
Joining hands with local companies and research institutes, the team built a demonstration zone in Dalian, which was the first project in China to utilize systematic modern marine ranching technology. In the past, marine life in the area faced serious existential threats. The abyssal region was like a "desert" due to its rushing current and other natural conditions, according to Chen. After installing artificial reefs and undertaking other marine ranching management processes, the amount of marine life in the area has surged.
"I have great pleasure in witnessing the evident change. In the past, there were few fish in the demonstration area. In one or two years after the launch of the marine ranching program, I could catch many fish," Chen said.
Now there are more than 136 marine ranching demonstration zones nationwide, each with its distinct features. For example, on Wuzhizhou Island in Hainan Province, south China, where the tropical climate enables colorful coral reefs to grow, underwater sightseeing is being developed. The demonstration zones in Dalian and other areas in north China are more suitable for fishing and aquaculture.
But the development of the fishery and cultural tourism industry must be based on surveys and feasibility studies of specific areas and management, so that the ocean environment will remain healthy and the model sustainable, Chen said.
The development of marine ranching still faces many challenges, such as lack of scientific research personnel in the field, shortage of capital, and the failure of policy to keep up with scientific and technological development. In addition, more technological breakthroughs have to be made.
"Marine ecology conservation, like any other thing, takes time to develop through trial and error. I'm glad to be a part of the process and do my best for the endeavor," Chen said. For his outstanding work in this field, he was one of the recipients of the title Most Beautiful Scientific and Technological Workers 2020 given by the China Association for Science and Technology, together with six other organizations.
(Print Edition Title: Ocean Guardian)
Copyedited by Sean Connolly
Comments to luyan@bjreview.com