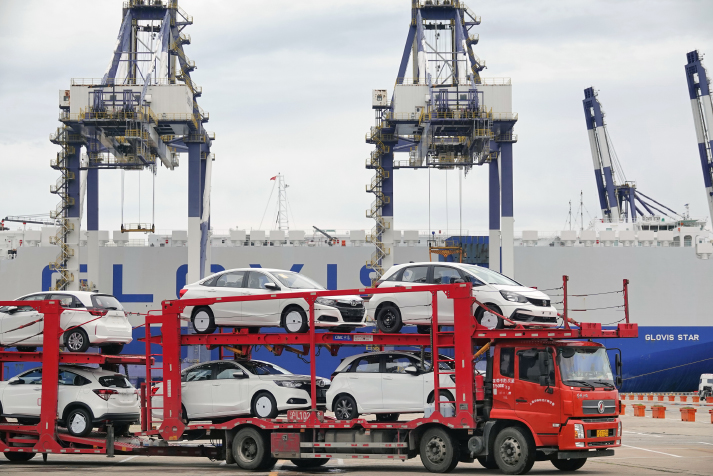 A truck carries cars to be exported at the port in Yantai, Shandong Province, on July 13
(XINHUA)
With ships fully adorned with brightly colored signal flags, Shanghai Port was in festive atmosphere on July 11. At 9 a.m. sharp, all Chinese vessels whistled in unison for one minute, to usher in the Maritime Day.
At the same time, 17 sailboats cruised along the Huangpu River in Shanghai, also part of the activities to mark the special day, the 17th in the country.
The event was established in 2005 in commemoration of the 600th anniversary of renowned ancient Chinese navigator Zheng He's voyages to Southeast Asia and East Africa in the 15th century, which charted the routes of the ancient maritime silk road.
This year, various activities took place across the country, including a maritime forum held in Zheng's hometown Kunming, capital of Yunnan Province. At the virtual opening ceremony, Zhao Chongjiu, Vice Minister of Transport, said China's shipping industry has made remarkable achievements, and become a globally important and influential player. He added that the sector has played an important role in boosting foreign trade, serving national economic and social development, and safeguarding China's maritime rights and interests.
The shipping industry is committed to building a modern and high-quality transportation system that is convenient, efficient, green, intelligent, safe and reliable, He Jianzhong, Chairman of China Institute of Navigation, said at the forum. He also spoke highly of the industry's seafaring spirit, which features virtues such as a pioneering spirit, pragmatism, solidarity and dedication.
An important player
With 18,000 km of coastline and more than 11,000 islands, China is a big maritime country, as well as a shipping and shipbuilding power in the world.
In 2020, China's total port cargo throughput and container throughput ranked first in the world, respectively reaching 14.55 billion tons and 260 million 20-foot equivalent units, Zhao said at a press conference on June 24. That year, eight Chinese ports were listed among the top 10 in the world in terms of cargo throughput, and seven among the top 10 in terms of container throughput.
At of the end of 2020, the total shipping capacity of China's maritime fleet reached 310 million deadweight tons, the second largest worldwide. China COSCO Shipping and China Merchants Group were respectively the first and second largest among the world's shipping enterprises.
Marine shipping has played an important role in supporting foreign trade and boosting overall economic development of China, the globally largest trader in goods. About 95 percent of the country's imports and exports are delivered through marine shipping.
Moreover, the industry is essential to the building of a community with a shared future for humanity. It serves the 21st-Century Maritime Silk Road Initiative, proposed by China in 2013 to promote cooperation and common development among participating countries along the routes.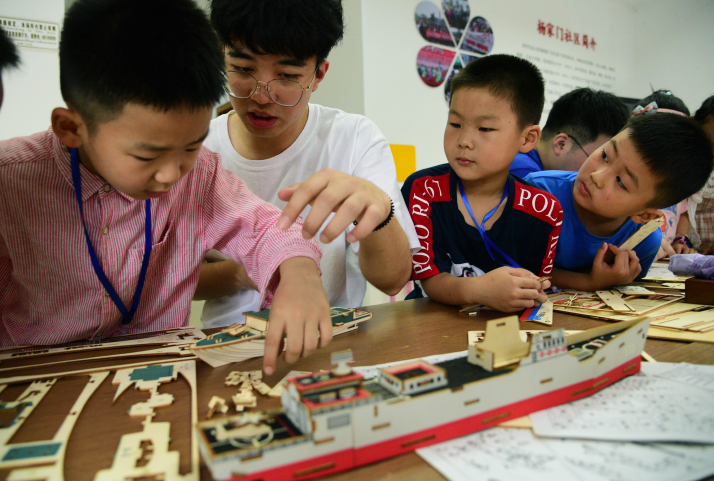 Children learn to assemble ship models under the guidance of a volunteer in Zhenjiang, Jiangsu Province, on July 11, China's Maritime Day (XINHUA)
Navigating through challenges
In 2020, as COVID-19 ravaged the world, marine shipping played an important role in helping the global and the Chinese economy grow against the headwind, Xu Lirong, Chairman of China COSCO Shipping, said at the forum.
The pandemic posed unprecedented difficulties and challenges to the development of the shipping industry, Zhao said. Epidemic prevention and control measures such as strict inspection and quarantine procedures lowered the operational efficiency industry-wide.
The outbreak also disrupted the production and supply chains of many countries in the world. In the first several months of 2020, the most difficult period in China's fight against the virus, its foreign trade plunged sharply. After the country effectively contained the coronavirus, its imports and exports grew significantly. In last June, its foreign trade returned to positive growth, and the uptrend continued for seven consecutive months, according to the Ministry of Commerce (MOFCOM).
In 2020, China's total foreign trade value grew by 1.9 percent year on year, making it the only major economy registering positive growth in trade in goods that year.
In particular, its export value grew by 4 percent and its import value fell by 0.7 percent. China exported anti-coronavirus materials to more than 200 countries and regions in the world, including 224.2 billion masks, equivalent to nearly 40 masks for everyone in the world outside China, according to MOFCOM. The country also exported notebook computers and other products needed for people to work or study from home during COVID-19 lockdowns.
In the first half of this year, both China's imports and exports surged, with total trade value growing 27.1 percent year on year and 22.8 percent from the same period of 2019, according to data released by the General Administration of Customs of China on July 13.
Such rapid growth has strained China's marine shipping capacity. In response, all liner companies have been going full steam to meet increasing international demand amid strict pandemic prevention measures. Zhao said the transport authorities also encouraged enterprises to increase their freight capacity.
Thanks to such efforts, last year, the volume of China's imports and exports delivered via marine shipping increased by 6.7 percent, Xu said.
At present, China COSCO Shipping has deployed all its container capacity, and even used some other non-container ships to carry containers, according to the company. It has also set up a special team to serve small and medium-sized exporters.
Recently, a company in Shantou, Guangdong Province, was unable to secure shipping space for exports to the Black Sea area of Europe, and as a result, the goods were piled up in its warehouses, hampering further production. After the market service team of China COSCO Shipping was informed, it coordinated with various parties to free up as much space as possible to meet the company's demand so that its export business could resume.
Zhao said in the first five months of this year, major liners increased their shipment capacity on major routes from the Chinese mainland, with shipping capacity on routes to North America increasing by 65 percent year on year, and by 27 percent from the same period of 2019; and those to Europe respectively up by 38 percent year on year and nearly 10 percent from the same period of 2019.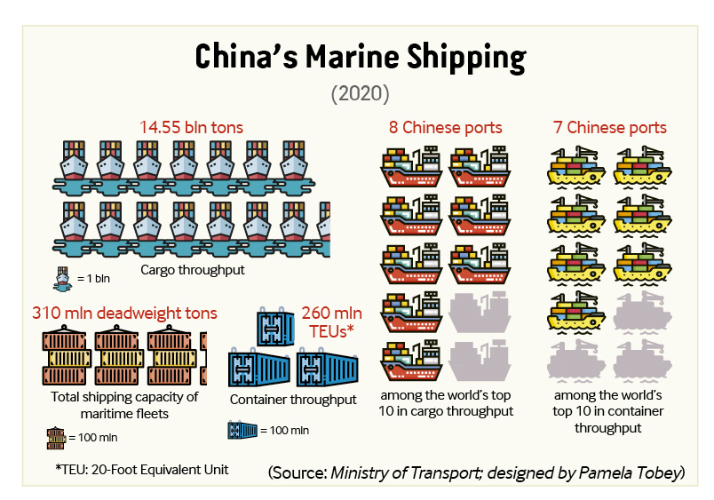 Going smart and green
While meeting the pressing current demand, the marine shipping industry is also gearing up for the future. Envisioning the post-COVID-19 world, Xu said the international shipping industry will be shaped by three major variants, namely, changing economic and trade patterns, accelerated technological progress, and tightened environment regulations.
In China, the new infrastructure supported by state-of-the-art science and technology, such as smart ports, intelligent vessels and green transportation solutions, has become a new engine driving the high-quality development of the shipping industry, Wang Tongzhou, Chairman of China Communications Construction Co., said.
Recently, a breakthrough was made in intelligent vessel development. On June 29, China's first unmanned containership Zhifei started sea trials. It left a terminal in the Qingdao Shipyard and sailed to a test site near Qingdao, a coastal city in Shandong Province. Zhifei is 117 meters long, with about 8,000 tons of displacement, a design speed of 12 knots and a 4,500-nautical-mile cruising radius. Developed by the China Waterborne Transport Research Institute, the ship can self-drive or be remotely controlled.
Intelligent vessel development is still in the early stages in China and it has a promising growth potential. Qingdao launched an industrial park in July, and so far, 16 major companies in the sector and 18 enterprises in the upstream and downstream industrial chain have moved into the park.
In the future, Zhifei will dock with a fully automated container terminal at the Qingdao Port. The port is a pioneer in the application of 5G technologies, with phase I and II of its smart terminal put into operation in 2017 and 2019, respectively. According to the port authorities, the phase-I project has improved operational efficiency by 30 percent and saved labor by 80 percent.
As of 2020, nine fully automated container terminals had been built across China, and another seven are under construction, Zhao said. He added that China is leading the world in terms of automatic terminal design and construction, as well as port machinery and equipment manufacturing technology.
In addition to going smart, Chinese shipping industry is also speeding up its green transformation.
Although compared with other means of transportation, water transport is relatively low in energy consumption and pollution, at present, most Chinese ships still use fossil fuels, which produce pollutants, Cao Desheng, Director of the Maritime Affairs Bureau of the Ministry of Transport, said. He said China has intensified efforts to reduce pollution, such as implementing relevant policies and complying with international standards. It requires the use of low-sulfur fuel oil, pulling ships to dock employing shore power, and promoting low-carbon energy on vessels, according to Cao.
(Print Edition Title: Riding the Waves)
Copyedited by Ryan Perkins
Comments to wanghairong@bjreview.com