Mickey Mouse in a parade at the Shanghai Disney Resort on June 16, the day the park officially opened (XINHUA)
Before Disney opened its first resort on the Chinese mainland, the sixth of its kind worldwide, China's real estate tycoon Wang Jianlin raised quite a few eyebrows when he claimed on a talk show on China Central Television that Disney shouldn't have built a resort in Shanghai. According to Wang, since China already has many domestic theme parks, "Disney will fail to be profitable in China in 10 to 20 years."
"Disney's advantages lie in the large number of cartoon characters it has created. However, this may also become a burden as Disney is expanding based on previous cartoon creations without innovating its business model," claimed Wang.
Wang's remarks were aired shortly ahead of the opening of the Wanda Cultural Tourism City, also known as the Wanda City, in Nanchang, capital of east China's Jiangxi Province on May 28. By making such remarks, he was suspected of devising a public stunt to promote the park's inauguration.
In response to Wang's comments that Disney will be unable to turn a profit over the next 10 to 20 years, Wu Liyun, an associate researcher with the China Tourism Academy, said whether Disney can become profitable depends on market factors. Considering the size of the theme park market on the Chinese mainland, what Wang predicted is unlikely to happen.
Wu said that compared with Disney, which has been engaged in developing theme parks for over 60 years, Wanda still has a long way to go. Whether Wanda can transform into a cultural tourism conglomerate like Disney depends on its business model and how well it utilizes traditional culture.
This is also true regarding other Chinese theme park giants. Domestic theme parks face the need to adapt to the impact of increased competition from their foreign counterparts.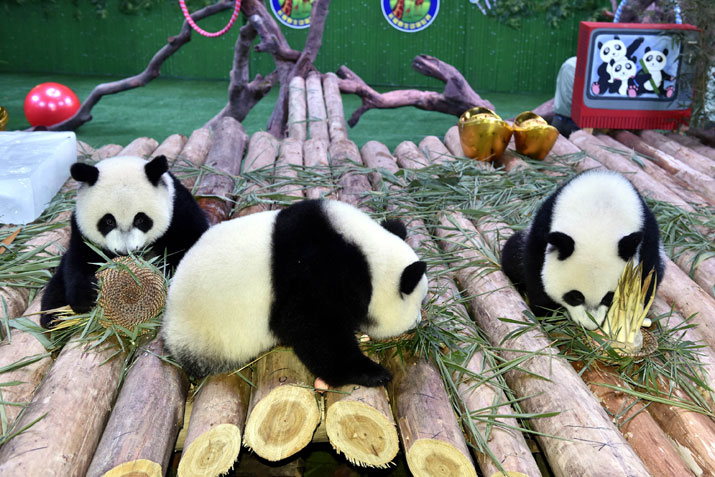 Pandas eat bamboo sprouts at the Chimelong Safari Park in Guangzhou, south China's Guangdong Province, on July 29, 2015 (XINHUA)
A booming industry
Amidst the transformation of the Chinese economy from one focused on investment to one which is consumption-based, tourism will embrace new growth opportunities as part of the service industry. Last year, over 4 billion trips were made domestically and China's tourism revenue exceeded 4 trillion yuan ($608 billion), both of which ranked the first worldwide, according to the country's National Tourism Administration.
Thanks to the thriving tourism market, theme parks are presented with opportunities for expansion. China's first theme park was established in Shenzhen by the Overseas Chinese Town Group (OCT Group) in 1989. The number of theme parks had skyrocketed to about 2,500 by 2013, according to data from Forward Intelligence Co. Ltd.
Major domestic theme parks have formed their own business models and characteristics. For instance, OCT Group combines theme parks with real estate, and Dalian Haichang Group focuses on displaying ocean animals.
Wang's Wanda City also has a model combining tourism with commercial properties. It incorporates an outdoor theme park, an indoor shopping mall with restaurants and cinemas, the world's largest ocean park, hotels as well as a pub street. "Wanda is good at developing commercial properties. It invests in tourism with rent generated by commercial properties, while tourism draws visitors who promote the development of commerce. Tourism and commercial properties therefore reinforce each other's value in Wanda City," Wu told Beijing Review.
Four domestic theme park groups—OCT Parks China, Chimelong Group, Fantawild and Songcheng Worldwide—have even ranked among the list of Top 10 Theme Park Groups Worldwide published by the 2015 TEA/AECOM Theme Index and Museum Index, an annual study of attendance at top theme parks, waterparks and museums.
AECOM, a U.S.-headquartered multinational engineering firm that provides design, consulting, construction, and management services, predicted that China will overtake the United States to become the largest theme park market by 2020. By then, 221 million trips will be made to such establishments in China, almost doubling 2015's figure.
According to a report published by Suzhou-based tourism service provider LY.com, over 80 percent of those surveyed rated theme parks as their top choice for family trips.
"Theme parks which enable tourists to experience various facilities have followed the evolving trend of tourism, from sightseeing trips to interactive tours," Wu told Beijing Review.
"Theme parks can satisfy an individual tourist's customized demands. For instance, some tourists prefer cartoon figures, while some like sea-creatures. Their needs can all be satisfied through a variety of parks," Wu added.
However, the domestic theme park industry is currently plagued with over-construction, homogeneous competition and lack of cultural foundations.
According to Forward Intelligence Co. Ltd., 70 percent of China's domestic theme parks are in the red, 20 percent are stable, and just 10 percent are profitable.
Most domestic theme parks lack the large number of intellectual property (IP) rights possessed by Disney. In comparison, over 60 percent of the revenue of Disney's parks and resorts comes from by-products such as books, toys, food and clothes based on its IP. Ticket sales only account for a small proportion of Disney resorts' revenue.
Although domestic theme park operators such as Fantawild have come up with their own cartoon characters and related by-products, they still lag behind Disney and Universal Studios in terms of the diversity and creativity of their products.
Wei Xiang, an associate professor of the National Academy of Economic Strategy at the Chinese Academy of Social Sciences, said that the future of theme parks over the next five years will depend on their ability to develop by-products.
Homogeneous competition is another problem. Many parks are amusement parks, such as OCT Group's Happy Valley parks and Chimelong Paradise. Although there are slight differences between these parks, their recreational facilities are more or less the same.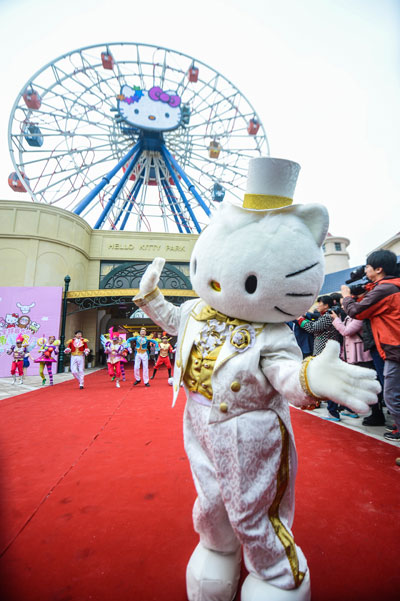 The first Hello Kitty theme park in China finishes construction in Anji County, Zhejiang Province, on November 28, 2014 (XINHUA)
Competition heats up
Liu Daoqiang, President of Fantawild Holdings, the Shenzhen-based culture and technology company, doesn't think Disney will seriously impact domestic players in the industry.
Fantawild has opened over 10 theme parks, including Fantawild Adventure, Fantawild Dreamland, Fantawild Water Parks and Oriental Heritage, across the country. It has also established theme parks in Iran and Ukraine.
"China has a population of over 1.3 billion. How many tourists can Disney accommodate per year?" he said.
"The penetration of fast food chains McDonald's and KFC into the Chinese market hasn't driven local restaurants out but only provided alternative options for consumers," said Liu.
Liu further explained that Disney represents Western culture, while domestic brands like Fantawild draw tourists by making use of Chinese cultural elements such as ancient folklore. The two are vastly different, claimed Liu.
Liu added not every Chinese family can afford plane tickets to the Disney Resort. For a long time to come, Chinese theme parks can only serve customers within a radius of 500 km.
Tang Hualiang, President of the Changzhou-based Dragon City Tourism Holding Group, said that the Disney Resort will complement domestic parks rather than thwart them.
"Our dinosaur park needn't deal with competition from Disney in particular, but instead should improve its own services," said Tang.
Founded in 2005, the Dragon City Tourism Holding Group is a cultural tourism corporation which owns Universal Dinosaur Town and the Oriental Saltlake Resort.
Tang added that Disney primarily focuses on cartoon characters from films, while his dinosaur park offers exhilarating experiences. "My group has clear long-term plans and our parks have distinctive characteristics. Therefore, we will focus on displaying our advantages rather than going into competition with Disney," said Tang.
He Jianming, a professor specializing in tourism management at the Shanghai University of Finance and Economics, said that the Shanghai Disney Resort may divert tourists from neighboring parks such as the Hello Kitty theme park in Anji County of Zhejiang Province and the Shanghai Happy Valley. However, in the mid- and long-term, the Disney Resort will boost the theme park industry in surrounding areas.
Tang said that the Oriental Saltlake Resort has already carried out cooperation with Disney. Joint tickets for the Disney Resort and the Oriental Saltlake Resort are already available on the official website of the former.
Wu said domestic theme parks should consolidate their cultural basis. "For instance, the Winnie the Pooh ride, in which guests ride in spinning honey pots, looks simple, but it is attractive because of its cultural basis in the movie The Many Adventures of Winnie the Pooh."
Wanda City also tries to appeal to tourists by absorbing local cultural characteristics. For instance, the Nanchang Wanda City has included elements of blue and white porcelain in its design, as Jiangxi is a major producer of porcelain in China.
Shen Zheyan, a researcher in the culture industry with CIConsulting, an industry research firm in Beijing, suggests introducing virtual reality (VR) technology to theme parks. "VR products can provide immersive user experiences and boost the development of theme parks," claimed Shen.
On the other hand, Shen said that Chinese parks' adoption of famous IP and cultural concepts will improve their attractiveness to tourists.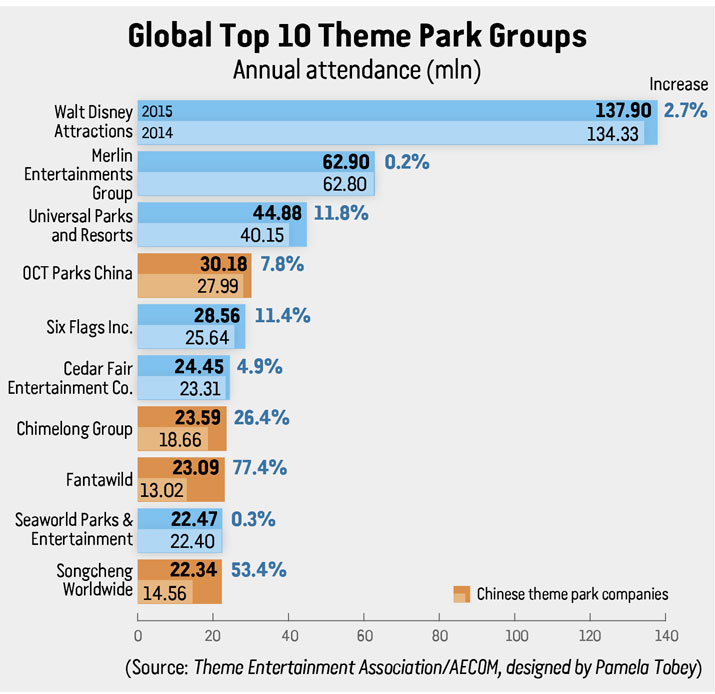 Copyedited by Bryan Michael Galvan
Comments to jijing@bjreview.com