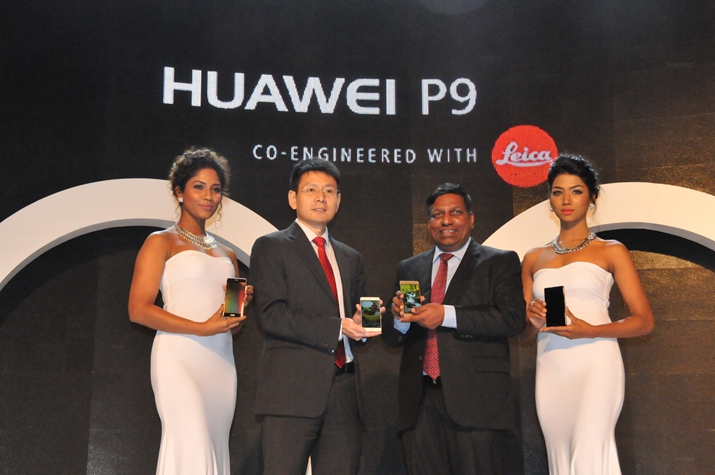 Wang Shunli (second from left), CEO of Huawei's subsidiary in Sri Lanka, demonstrates one of Huawei's cellphones in Colombo, capital of Sri Lanka, on June 25 (XINHUA)
The world's first quantum satellite, named the Quantum Experiments at Space Scale (QUESS), is now beaming information back to Earth. The equipment was launched on a rocket into the boundless embrace of space on August 16 from the Gobi Desert in the northwest of China, to experiment with hack-proof communication.
Quantum communication technology promises to be an effective means to counter cyber-attacks, surveillance operations such as the U.S. PRISM program, and a myriad of risks to businesses and individuals' private information.
A physical phenomenon known as quantum entanglement makes the information transmitted by the satellite immune to hacking. When two or more particles are enmeshed together into a state of quantum entanglement, their physical properties are correlated. This means that if one were to examine a particle in the entangled set and found it to be in one state, the other particle must be in the opposite state.
What makes this important to quantum communication is that the particles in this set can then be "separated" and placed far from each other. For example, if one were to observe a part of the entangled particle in Beijing, the corresponding part of the set would change instantaneously, even if it were on the moon—regardless of the speed of light. This is why Einstein, who studied the phenomenon, referred to it as "spooky action at a distance," since it defies the laws of space and time. Through quantum entanglement, information can essentially be teleported anywhere.
Thanks to the laws of quantum mechanics, secure communication is possible because the photons sent by the satellite, which are entangled, cannot be intercepted without immediately being detected by both the sender and receiver. Also, the quantum information transmitted cannot be cloned or cracked.
Through the satellite, also named Micius after the name of an ancient Chinese philosopher, educator and scientist, experts plan to conduct quantum experiments at the ground stations. The quantum teleportation phenomenon has been demonstrated in laboratories on the ground, but not yet in space—Micius now enables tests across longer distances than previously.
The QUESS project's lead scientist Pan Jianwei is renowned for his groundbreaking work in quantum entanglement. He told Xinhua News Agency that fiber optic technology is not suitable for quantum communication across the globe because after traversing 100 km along optical cables, the photons can only deliver 0.1 percent of signals to a receiver.
Satellites are necessary for global quantum communication because about 80 percent of photons can travel through the atmosphere into space, where they can be transferred by satellites back to ground stations thousands of kilometers apart, Pan said.
Nonetheless, a single low-orbit quantum satellite is not able to provide coverage to the entire globe. Therefore, a web of such satellites is needed, which Pan predicted would be weaved around the year 2030. At that time, he claimed, ordinary households would also have access to quantum communication technology.
Researchers with the quantum satellite at the Shanghai Engineering Center for Microsatellites on May 25 (XINHUA)
Blueprint for innovation
Quantum communication and computing is one of the 15 major science and technology programs that China plans to carry out by 2030, according to a national science and technology innovation plan unveiled by the State Council on August 8.
Other major science programs involve fields such as aviation engineering, combustion turbines, deep sea exploration, brain science and artificial intelligence technology. Also among main areas of interest are deep space exploration, space vehicles, cyberspace security, big data and agricultural technology.
Currently, a fiber optic quantum communication network is being laid between Beijing and Shanghai, which is expected to be completed in the latter half of 2016, said Pan, adding that it will be the first of its kind in the world.
In addition to quantum communication, Pan and his team are also working on quantum computing. Quantum technology promises to improve computing speed immensely. He said that some equations that take the Tianhe-2—one of the fastest supercomputers in the world—100 years to solve can be cracked by a quantum computer in just 0.01 second. Quantum computers are believed to be able to provide new solutions to cryptography, weather forecasts and medical research.
China aspires to improve its science, technology and creativity sectors so as to drive growth through innovation.
The Global Innovation Index (GII) 2016, released on August 16, put China as the world's 25th most innovative country, up from the previous year's 29th. The GII index was jointly published by Cornell University, INSEAD and the World Intellectual Property Organization (WIPO).
But based on figures from the Chinese Academy of Science and Technology for Development (CASTD), an organization under the Ministry of Science and Technology, China ranked 18th in terms of global innovation.
Chen Jingquan, an official with the Department of Innovation and Development of the Ministry of Science and Technology told Beijing Review that the GII index uses a number of indicators for state governance and has relatively more measurements based on a per-capita basis, in which China tends to score lower. Meanwhile, the CASTD takes into consideration China's national condition and produces a more appropriate measure of China's innovation ability, he claimed. China now aims to become one of the world's top 15 most innovative countries by 2020, according to the national innovation plan.
Through the plan, breakthroughs are expected in basic research and strategic hi-tech fields so that the country will transform from an innovation follower to a leader, it says.
At the beginning of the 21st century, China was basically a follower, while in the past five years, it has become a global leader in terms of some technologies, said Li Ming, Vice Minister of Science and Technology, in a press conference on July 22.
The newly released plan has set specific innovation targets. According to it, China's research and development investment is expected to go up from 2.1 percent of its GDP in 2015 to 2.5 percent in the next five years, while the number of patents per 10,000 people should increase from 6.3 to 12 percent.
Science and technology innovation will play a bigger role in promoting balanced, inclusive and sustainable development, the document reads. China also plans to raise the contribution rate of science and technological progress to economic growth from 55.3 percent in 2015 to 60 percent in 2020.
Corporate efforts
The plan for science and technology innovation states that enterprises should play a major role in innovation. China therefore intends to cultivate internationally influential and innovative leading enterprises, support small and medium-sized science and technology firms, encourage collaboration between enterprises and academics, and channel funds for innovation into firms.
In 2015, China's spending on research and development totaled 1.4 trillion yuan ($210 billion), 77 percent of which was undertaken by enterprises, said Vice Minister Li.
"This suggests that companies have changed their profit strategies from reliance on low-cost labor and resources to dependence on research, science and technology," Li said.
Huawei Technology Co. Ltd., a global leading information and communication technology solution provider, invests more than 10 percent of its annual sales revenue into research and development.
Data from the company show that in 2015, approximately 79,000 employees, or 45 percent of the total, were engaged in research and technological sectors. In that year, its research and development expenditure reached 59.6 billion yuan ($8.99 billion), or 15 percent of its total sales.
As of December 31, 2015, the company had been granted a total of 50,377 patents, more than 90 of which are for original inventions. By that time, it had joined more than 300 international organizations for standardization, industry alliances and open-source communities.
In 2016, U.S.-based business magazine Fast Company rated Huawei as one of the top 50 most innovative companies in the world, because it has gained a competitive edge in the cutthroat smart phone market.
Currently, the company is actively looking to apply the "Internet Plus" concept, which seeks to integrate the Internet with conventional industries. On June 30, the company released an end-to-end narrowband Internet of things solution.
In Shenzhen, south China's Guangdong Province, Huawei is promoting smart water management together with the Shenzhen Water Group and China Telecom. With narrowband Internet of Things (IoT) technology, household water consumption data can be submitted automatically into a database, which means that residents no longer have to manually check their meter. Residents will be able to check their water usage figures and pay their fees online.
Also, tap water production and supply data as well as water pressure and quality data can be automatically transmitted to the Shenzhen Water Group so the company can follow its operations more closely, helping it to increase efficiency.
In addition, Huawei has installed more than 300 intelligent parking stall detectors in collaboration with China Unicom at the Shanghai International Tourism and Resorts Zone. Parking stall detectors periodically report stall usage data to servers through the IoT. Drivers can check the availability of parking space through a mobile application at any given time.
On May 4, the Shanghai Municipal Government signed an agreement with China Telecom to promote intelligent parking citywide.
Yu Quan, Chief Strategy Officer of the Huawei Wireless Network Product Line, said that "Huawei will assist (telecommunication) service providers so as to jointly promote the application of the narrowband IoT technology."
International collaboration
Speaking about the new trends in science and technology development, Vice Minister Li said that in recent years, China has become more active in integrating into the global innovation network. According to him, China's share in global research and development investment increased from 1.7 percent in 2000 to 14.4 percent in 2014.
Li said that in the past five years, many papers were co-authored by Chinese and foreign nationals. This is because a good number of innovation-driven Chinese companies have set up research and development centers overseas, and some Chinese companies have funded research projects and launched courses in U.S. universities.
On April 26, Huawei and the Vodafone Group, a multinational communication service provider based in Britain, jointly opened the world's first narrowband IoT laboratory in the UK.
According to Huawei, the lab will "explore cutting-edge developments including network solution verification, new application innovation, device integration, and product compliance certification."
"With our decade-long strategic partnership with Vodafone, the creation of this lab is another important milestone in our long-term relationship. Working with Vodafone, we have accelerated the standardization of technology and carried out successful pre-commercial trials," said David Wang, President of Wireless Product Line at Huawei.
China will plan and promote innovation from a global perspective and actively participate in the global innovation network, the national innovation plan claims.
The country aims to deepen inter-governmental science and technology cooperation, engage in innovation dialogues and develop science and technology partnerships with both developed and developing countries.
Foreign experts are welcome to lead or participate in national science and technology programs, the plan states, adding that visa policies will be reformed to attract talented people from overseas.
Xue Lan, Dean of the School of Public Policy and Management of Tsinghua University, said that in the current era of globalization, innovation should not be carried out behind closed doors, and that the flow of knowledge and talented people will bring about an efficient allocation of resources.
He said that the national science and technology innovation plan is very important both for increasing the country's international competitiveness and for dealing with its economic "new normal." Innovation is necessary for carrying out the supply-side reform and for adjusting the industrial structure, he said.
Apparently, China's top leaders have long realized this, and have been actively promoting innovation. "An innovation-driven economy is brimming with vitality," said Premier Li Keqiang on June 27 at the opening ceremony of the Summer Davos Forum held in Tianjin.
"We will vigorously advance innovation in science and technology, work for breakthroughs in major, key technologies, and promote the commercialization of innovation results," he said.
He also stated the need for the government to "ensure a level playing field for all players and a pro-innovation institutional environment."
Copyedited by Bryan Michael Galvan
Comments to wanghairong@bjreview.com