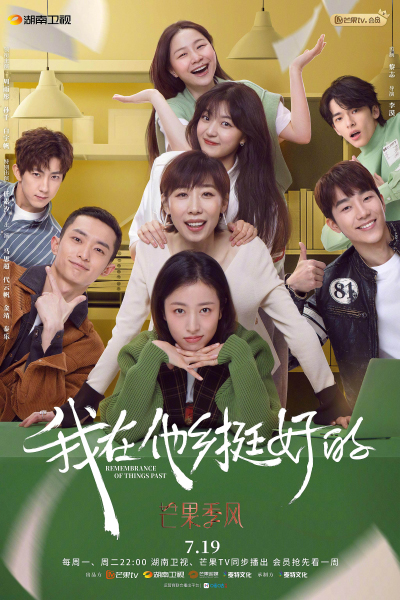 A poster for The Remembrance of Past Things (FILE)
On her 26th birthday, Hu Jingjing jumped off a street overpass, ending years of living as a drifter in Beijing. This is the opening scene of a recent hit TV show called The Remembrance of Past Things, leading three of Hu's friends, together with startled viewers, to explore reasons for her drastic decision and the meaning of life by solving problems spanning their careers, relationships and families.
The main storyline focuses on young people who migrate from small cities to the metropolis of Beijing, revealing the highs and lows of their daily lives.
The 12-episode drama was received very well by viewers, garnering 8.3 points out of 10 on the Douban review platform. The show's hashtag on China's Twitter-like Sina Weibo has thus far been viewed over 1.6 billion times.
The warm welcome far exceeded the expectations of 33-year-old director Li Mo, whose original motivation was to tell a story that can move people. "Through the experiences of every character in this drama, I hope viewers can gather some strength and overcome adversity with an optimistic attitude," he told China Youth Daily.
Young people in Beijing
Li has lived in Beijing for over 20 years. As someone who moved to Beijing himself, he has a profound understanding of this particular group of residents.
Over 20 years ago, he left Qingdao in Shandong Province to study at a middle school affiliated with the China Conservatory of Music in Beijing. In the beginning, the word beipiao referred to people that would venture out to the capital city in pursuit of their dreams, especially in the art-related circles. As time went by, the term beipiao has been extended to include all youngsters flocking into the metropolis to explore their options in life.
The Remembrance of Past Things describes the lives of ordinary people from their own perspectives, Wang Jia, a 28-year-old human resource specialist at an Internet company in Beijing, said. Since entering college in Beijing, she has now lived in the city for eight years.
"The everyday experiences of the protagonists in this drama really gained my sincerest sympathy. Things like the high price of an apartment and rush-hour subway cars that look like sardines used to get me so stressed and wound up that I would even think about escaping from the city and heading back to my hometown of Yangzhou in Jiangsu Province," she told Beijing Review.
Some viewers voiced their concerns the drama could potentially spark anxiety and promote a type of sang culture among viewers. Sang, a buzzword describing an attitude of some young people, refers to a reduced work ethic, a lack of self-motivation and an overall indifferent demeanor.
"I have seen generations of people work hard to integrate into the Beijing environment. It may not be the place where we were born, but it's the one that makes us feel most at home," Li said. Friends, too, greatly factor into this equation, he explained.
"That's just the way we choose to live," Li said, adding that the work did not specifically focus on any part of sang culture. He thinks a reality made up of rainbows and butterflies would be bland; it is the complexity of life that forces people to think for themselves and grow up.
Topics related to young people's life in Beijing have been popular subjects for many on-screen works. For instance, The Struggle, a TV-show released in 2007, was one of the most successful ones in the category. The 32-episode drama looked at young people born after 1980, a generation boasting cynicism, rebellion and passion.
Through telling the stories behind their decisions and watching the protagonists find solutions to problems that life post-graduation would throw at them, the drama triggered fiery discussion within the young generation.
Thanks to its creative team with copious visual art know-how, The Remembrance of Past Things is seen as the portrait of a new generation, speaking to those born after 1990.
Guo Shuang, one of the scriptwriters, said she had not been back to her hometown for many years until the COVID-19 pandemic in early 2020 prevented her from returning to Beijing. The temporary break from Beijing and a hometown revisited from all angles enabled Guo, as well as her colleagues, to seize the opportunity to take a closer look at the changes in their birthplaces as well as those within themselves after having spent well over a decade living and working in Beijing.
They then quickly realized all those thoughts should be bundled and developed into a TV series. Although the drama is set in Beijing, they also collected the stories from people living in other cities such as Hangzhou in Zhejiang Province. Guo said, "We wanted to reflect the circumstances of those who grew up and developed their lives outside of their hometowns."
"The message we want to convey with this show is that each person needs to know what it is they want in life. It is not a matter of where to live, as long as the choice suits you," Guo said in an interview.
Female perspective
In the TV series, four girls support and help each other through difficult times. The advice from and the company of friends became the most important way for them to deal with any glitches along the way, adding warmth and joy to the drama's more somber undertone. Though not the original intention of the team, the friendship between the women turned the drama into a female-based story, Guo said.
The so-called "women's genre" is a major part of China's entertainment industry today, often spurring lively discussions across social media. Take Ode to Joy, a series that tells the story of the friendship between five young women who all live on the same floor in an apartment building, for example. Another mega-hit called Nothing But Thirty follows the perspectives of three 30-year-old women and tells the story of China's female urbanites and the multiple hurdles they encounter in modern-day society.
Nevertheless, The Remembrance of Past Things is different. For instance, these women do not live under the same roof. "That is the reality of adult life. We cherish each other, but still need to keep a certain distance," Li clarified.
Furthermore, the drama offers a down-to-earth, at times even brutal, look at today's women, giving the floor to the "ordinary" ones. "I've never thought about marrying a rich man to change my destiny as is the case in Nothing But Thirty; there were certain intense ongoings in my own life that somewhat resembled the storylines of the Ode to Joy series. But I do in fact face some of the more common problems revealed in The Remembrance of Past Things," Wang elaborated.
One of the show's protagonists, 36-year-old Ji Nanjia, is a successful entrepreneur. She faces the dilemmas of how to push back against the pressures to hurry up and just get married to anyone because of her age, all the while protecting men's self-esteem in the relationship. Qiao Xichen, like many young employees, needs to deal with office politics. And then there's the occasional tapping into hot social topics such as appearance anxiety.
Sometimes, people's words and criticisms can make women insecure, at times even trying to please others by getting plastic surgery, Wang said.
"We are living in the 21st century. Why can't people realize that beauty means diversity? It is their responsibility to discover the unique charm of each individual," Wang added.
(Printed Edition: Happiness Amid Hardship)
Copyedited by Elsbeth van Paridon
Comments to liqing@bjreview.com