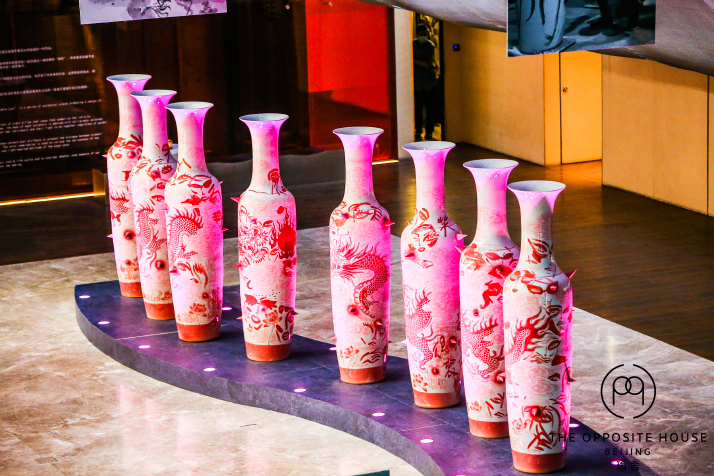 A tale of two dragons, androgyny, and spikes: Fashion artist Yvan Deng's exhibition, Infinite and Inconceivable Lust, takes center stage at the Opposite House in Beijing, on March 10 (THE OPPOSITE HOUSE)
China. Land of promise, land of opportunity. It's the new San Francisco, the new Hollywood, the new anything you want. It's that completely unique piece of art, it's the traditional skill of papercutting/ ceramics/ shadow puppetry, and so the list continues, that's been practiced for over one millennium.
Chinese art is rich and varied; it is a complex concept to grasp. Qingdao-based fashion artist Yvan Deng always aims to show his roots via art; personal style, after all, is about pride, progress and revolution. All rolled into one pencil pouch. Or a touch of clay.
As Chinese ceramics and porcelain in days of yore served as diplomatic gifts for trade, today, they brave borders, cultures and times alike.
Capital of kilns
Often called the Porcelain Capital for its important role in the domestic and international ceramic industry, Jingdezhen in Jiangxi Province is renowned for its ancient porcelain production that stretches back more than 1,700 years. The most important ceramic production center in China, Jingdezhen produces high­-­quality porcelain that is appreciated both in China and worldwide. For hundreds of years, porcelain traveled over land and by sea along the Silk Road to different parts of the world, acting as a medium to facilitate the cultural and commercial exchange between East and West. In December 2014, Jingdezhen was officially approved by UNESCO and joined the Creative City Network, gaining itself the "City of Crafts and Folk Art" accolade.
In recent years, by making use of its cultural assets and advantages, Jingdezhen has organized prominent activities on ceramic arts. These include exchanges and partnership projects promoting cultural heritage and diversity in line with UNESCO priorities. These activities and celebrations have established a platform for diversified cooperation and communication, transforming Jingdezhen into a creative ceramic city brimming with potential; young artistic talents are drawn to its flame like moths.
Establishing a name for himself as the one and only live fashion illustrator, documenting in bold and vivid fashion the catwalk beats of Shanghai, Milan and Paris, Deng traveled from Qingdao, a coastal city in Shandong Province, to Jingdezhen to explore the clever cosmos of ancient Chinese ceramic vase patterns. His ceramic works, which include both the functional and the sculptural, are infused with elements of fashion, humor, and character painted on with traditional Chinese ink, among others. Refined and sensitive to the touch, Deng's vibrant pieces are a sight to behold. But there's more to them than meets the eye…
In-house heritage
Addressing socio-political issues and challenging the traditional boundaries and hierarchies imposed by those in power, art can open up space for those sidelined to be seen and heard and contribute to social change by producing knowledge and solidarity or simply raising awareness. Art can affect and reflect a mesmerizing myriad of people and things, especially from the aspects of culture and society. Some images in Deng's ceramic pursuit echo China's reignited millennial and Gen Z passion for their own longstanding heritage—as opposed to the previous penchant for Western brands and elements.
"China has become more globalized and open; many Chinese people still feel validated by Western products, brands or services," Deng told Beijing Review. "My ceramic works are a showcase of contemporary China by bringing traditional crafts to new audiences and showing them our abundance of in-house heritage and the wave of new creative talents rolling in."
Cultural heritage aside, contemporary Chinese art undertakings do not shy away from the topics at play within society. Ranging from first-tier struggles to keep up with the urban "China Speed" pace of life and work, to the lingering quest for more gender equality across the vast mainland board.
For example, visiting his March exhibition, Infinite and Inconceivable Lust, at the Opposite House in Beijing, the author spotted Deng's depiction of a "drowning woman." A mirror image of how many millennials and Gen Zs in China's urban society today are increasingly burying themselves in loan consumption and financial suffering to maintain a lifestyle of, well, "better, higher, more."
"This painting portrays the accumulation of pressure, albeit social or economic. Chinese society, especially that in big cities like Shanghai, Beijing, Shenzhen, etc., demands you don't lose face and that can come at a high price, even making people feel like they're drowning," Deng explained. And the pressures of the times can extend well beyond the bank account.
The artist's ceramic imagery tells the love story of two dragons­­­­­—their features and decorations purposely and wholly androgynous. The firedrakes roam their otherworldly domains spiking a bond so strong its protective power even manifests on the ceramic vases—in the form of thorny points. "The idea is to show that no matter what gender we are, we are all equal and should be respected as such. China used to have a strong preference for boys, continuing the male line, etc., but now things are changing. We should break open the conversation; both genders have the same rights and responsibilities," Deng elaborated.
The red and pink mishmash of colors and lighting surrounding the vases like halos represent Chinese happiness and Western passion, capturing East and West in the same narrative, on the same canvas.
The true identity
Chinese young consumers are increasingly less impressed with gold and bling and are looking more for a refinement and craftsmanship that resonates with their cultural traditions. The Gen Zs, in particular, yearn for the traditional craftsmanship and the uniqueness and quality that come with. Bringing back the individuality and shaking off their grandparents' 1960s uniforms, the new generation of Chinese artists, from designing to painting, is defining the future of the industry, and bringing it to the international arena.
Young designers are becoming increasingly experimental and risky in their work, feeling their path to the true Chinese creative identity.
"I'm proud to say that exactly because China has a widespread cultural depth—both in time and space, plus an array of ancient techniques and styles, we have much room for future artistic growth," Deng said. "This evolution is already en route; just look at the hot and happening revival of Jingdezhen, for example. This backdrop innately influences my life and work."
Art promotes communication between cultures; it is a universal language that breaks cultural barriers and gives people respect for the beliefs and traditions of others. Using art can be an effective way of uniting individuals of contrasting cultures and improving their understanding of and communication with one another.
Art preserves history, it is one of the single best preservers of history, which has a huge impact on culture and society, and it is also a great history teacher. Simply looking at art infuses a respect for history into us. However tech- and world-savvy China's new generations may be, they are always going to be fiercely proud and protective of their roots, and it will shine through whether it is fashion, food or ceramics.
As the New Youth walks into China's tomorrow, a part of their being will always belong to the country's great past. Deng's advice? In life, and art… Do not tread carefully; do touch with care.
(Print Edition Title: Unleash the Dragon)
Comments to elsbeth@cicgamericas.com