An eagle-eyed young woman in black never stood out of the earshot of renowned Chinese director Chen Kaige at the premiere of The Battle at Lake Changjin, which later became the world's highest-grossing film this year, on September 25 in Beijing. Her ponytail swung back and forth as she looked around watchfully. She was neither an actress in the film, nor an invited guest at the premiere. She was the director's bodyguard, Zhang Meili.
The 21-year-old's dedication to her job attracted widespread media attention. A story about her, like the film, went viral on social media with 180 million views. She has now been tagged by netizens as "China's most striking female bodyguard."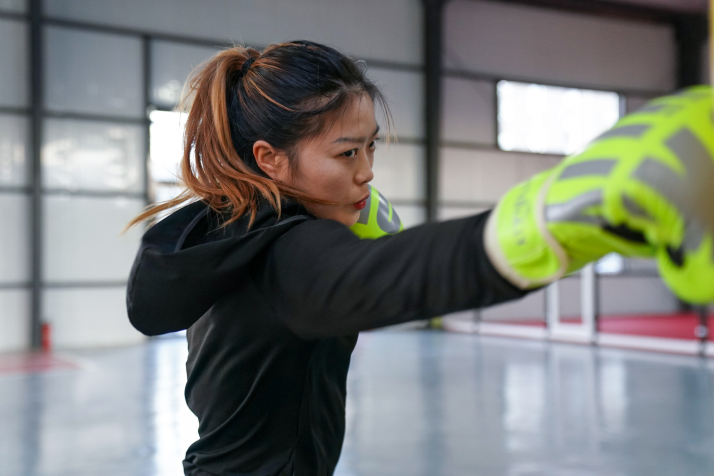 Zhang Meili, a bodyguard with Beijing-based Genghis Security Academy, practices Chinese kickboxing on November 23 (ZHANG WEI)
A remarkable dream
Zhang, born in 2000, grew up in a small village in Zigong, Sichuan Province, in southwest China. "I was nicknamed Hercules when I was young," she told Beijing Review. "I was stronger than average girls because I often helped my grandma with house and farm work."
Zhang and her older brother were left-behind children as their parents had migrated to Shenzhen, a coastal city in south China, for work. Her parents ran a fast-food café in Shenzhen when she was in primary school.
At the age of 8, in 2008, Zhang and her brother moved to Shenzhen to live with their parents for a year and a half. One day, some customers caused trouble in the café when she was there after school. "My father was at risk of getting hurt. It's from that moment on that I wanted to become physically strong enough to protect my family," Zhang said.
From that point onward, the little girl began practicing sports and martial arts. In the beginning, she learned moves by watching Jet Li's landmark action movie, The Shaolin Temple. At the time, she didn't know that in that same year, China's first private training center for close protection, Genghis Security Academy (GSA), was founded by a veteran named Chen Yongqing in Beijing. Nor did she know back then that GSA would change her life for good.
After entering middle school, she stood out in local track meets and gained access to professional training in sprinting, high jump, long jump and shot put. In 2018, she was admitted to Chengdu Sports University, majoring in Chinese kickboxing.
"I came to know about the bodyguard profession when doing part-time jobs while attending university," Zhang said. When it came time to graduate, she joined a seminar on security and protection hosted by GSA in Chengdu. She was fascinated by the career prospect and wanted to go on to train as a professional bodyguard after graduation.
Zhang's parents had other ideas. "My parents knew little about bodyguarding and hoped I would become a teacher or civil servant, which are stable jobs most girls would choose," Zhang said. But Zhang didn't want to live a conventional life: finding a stable job, getting married, having babies and, as she put it, "dancing in the kitchen." "Our generation values building self-worth. We will never compromise because of skepticism or opposition," she said. "I insisted on blazing a trail by bravely pursuing what I wanted in life."
Zhang talked with her brother and soon won his support, but it took Zhang two months to persuade her parents. She promised her parents that if she didn't succeed in three years, she would give up her dream to be a bodyguard and find a stable job recommended by them. Her parents reluctantly agreed.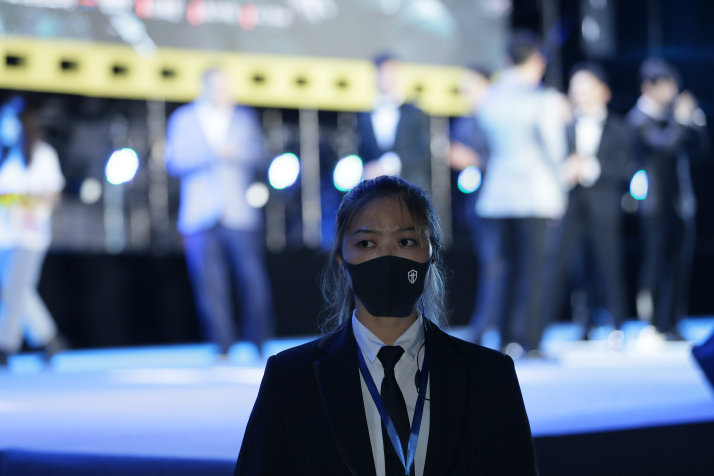 Zhang appeared at the premiere of The Battle at Lake Changjin, providing security services for Chinese director Chen Kaige, on September 25 (COURTESY PHOTO)
A real professional
In August, Zhang undertook training at the GSA. In addition to unarmed combat, she also learned shooting, finding and removing monitoring equipment, and defensive driving. "There were 30 trainees, most of whom were veterans and retired sportsmen, I was the only female," Zhang said. She gritted her teeth and got on with the tough training regime.
Two months later, she graduated to become a professional bodyguard and a Chinese kickboxing coach at GSA, thanks to her hard work. "Zhang cherishes every chance to learn. She is a typical Gen Z who is open to new things and willing to explore the unknown," Chen, GSA's founder, told Beijing Review.
Zhang's choice to become a bodyguard has drawn much skepticism. Some think she must be really rough and wonder if she can ever find a boyfriend. Others say women can't beat men in a fight. "I want to prove them wrong. In addition to being teachers or civil servants, girls can also be bodyguards," Zhang said.
"Some think we are thugs living under a rain of bullets every day. Actually, we are very safe in China. Fighting takes up only one fifth of our training course. Being a bodyguard is more about offering service," Chen said.
As China develops, there are now many millionaires who need professionals to help them maintain their privacy. When they want to go out, bodyguards study their itineraries and conduct security analyses to provide them with safe and comfortable services, Chen added.
Zhang has undertaken four assignments since joining GSA. "What we do is mental work as we have to always be alert and identify potential dangers," Zhang said. Zhang believes that women, compared with men, are more conscientious. For example, when going home alone at night, she would analyze potential dangers based on the surrounding situations. "Women have a well-developed instinct to spot danger, so they outperform men in this regard," she said.
Her work performance bears testimony to her judgment. When offering her security services to a female entrepreneur in October, Zhang found a covert listening device in the client's car after careful examination. "We removed the device to protect her privacy. In situations like that, clients get to know more about our job and we gain more recognition," Zhang said.
Future plans
Zhang has been under the spotlight following her assignment at the premiere. In less than a month, she gained 24,000 followers and received 240,000 likes on Douyin, China's TikTok.
"Many have called me a celebrity and said I could have a promising future," Zhang said. But the 21-year-old keeps a clear head when dealing with the unexpected fame. "In this age of information, news emerges in waves, and the spotlight on me is likely to shift soon. Both praises and doubts about me will disappear one day, leaving me in peace again," she said.
"I want to be a better bodyguard and show more people the true meaning of my job. I am also looking forward to undertaking assignments abroad."
According to Chen, demand for female bodyguards is huge, as female clients or those who want to keep a low profile prefer their services. But there are only few female bodyguards. "I hope that Zhang will grow into a good coach who can train more girls to solve the shortage of qualified female protection officers," he said.
Training others is also part of Zhang's future plan. "I will continue to teach Chinese kickboxing, and share my work experience with newcomers," she said. Zhang is also preparing for a postgraduate entrance examination. "Educational level determines one's vision. I am eager to improve myself and live a more meaningful life."
(Print Edition Title: The Bodyguard)
Copyedited by G.P. Wilson
Comments to linan@bjreview.com