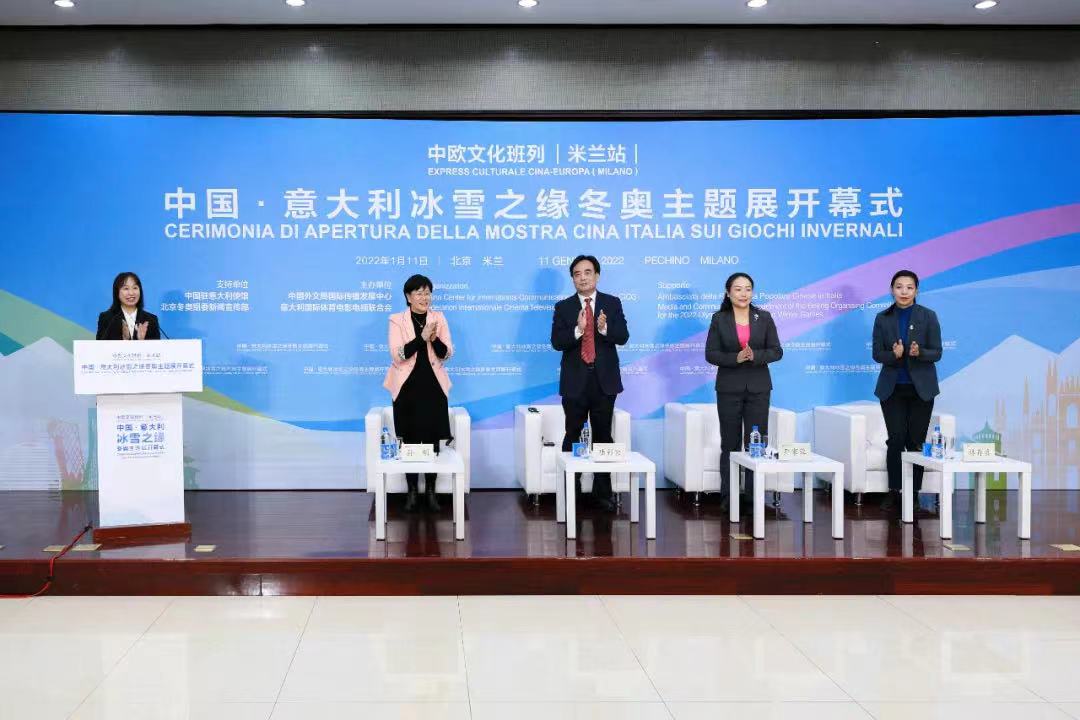 The opening ceremony of an exhibition on China-Italy exchange and cooperation surrounding the 2022 Olympic Winter Games is held in Beijing and Milan both offline and online on January 11 (CICG)
As China enters the final sprint toward the Beijing Olympic Winter Games, the new year also marks the beginning of the China-Italy Year of Culture and Tourism. Italy, which will host the next Winter Olympics in 2026, has been very involved in the preparations for the Beijing Games. The growing exchanges between the countries point to closer China-Italy ties throughout the coming year.
On January 11-13, an exhibition on China-Italy exchange and cooperation surrounding the 2022 Olympic Winter Games was held in Beijing and Milan, both offline and online.
The exhibition was hosted by the China International Communications Group (CICG) and the Italy-based International Federation for Sports Cinema and Television. The exhibition showcased photos of China's preparations for the Beijing 2022 Games, cooperation between China and Italy on winter sports and Italy's to-be Winter Olympic zones.
As Chinese Ambassador to Italy, Li Junhua told attendees at the opening ceremony of the exhibition in Milan, China-Italy cooperation on winter sports has seen great progress. The head coaches of the Chinese men's ice hockey team and the Paralympic alpine ski team, as well as the assistant coaches of the Chinese national luge team are all from Italy. In 2019-20, hundreds of Chinese winter sports athletes traveled to Italy for training and competition. Italy also participated in the World Winter Sports (Beijing) Expo as an honored guest country in September last year.
"The Mayor of Milan told me that the success of the Beijing 2022 Games is a good way to mark the beginning of the next session of the Winter Olympics in Italy. The exchanges between the two countries will drive the development of winter sports in China and help Italian businesses explore opportunities in the Chinese market," Li said.
According to Franco Ascani, President of International Federation for Sports Cinema and Television, the Winter Olympics can strengthen unity and cultural exclusiveness, allowing the culture of the host countries to be better understood by others. The Olympic Games can provide strong driving forces for tourism. The year of 2022 is expected to bring opportunities to the Olympic industry and boost the development of nations in the post-pandemic era.
China and Italy have a long history of cultural and people-to-people exchanges, with the two countries being connected by the ancient Silk Road for more than 2,000 years. Today, the bonds have become even closer, with programs for mutual translation of both cultures' literary works, and the China-Europe railway. "In addition to the Beijing Games, increased China-Italy cooperation on translation, think tanks and cultural exchange is expected to continue to improve mutual understanding," said Lu Cairong, Vice President of CICG.
Copyedited by G.P. Wilson
Comments to lixiaoyang@cicgamericas.com