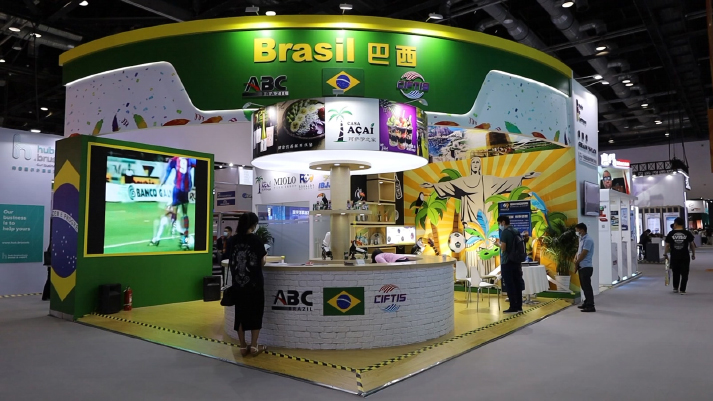 The Brazil booth at the China International Fair for Trade in Services in Beijing on September 5, 2021 (LI XIAOYANG)
While a Chinese person may have a bite of Brazilian beef here in China, a Brazilian across the ocean may be using a phone made by China's tech company Xiaomi. This is the fruit of robust bilateral trade between both countries. Besides traditional fields like agriculture and raw materials, the two sides have been seeking to expand their cooperation in recent years.
Despite the COVID-19 pandemic, China and Brazil expect to shore up mutual ties in several sectors this year. According to the sixth meeting of the China-Brazil High-Level Coordination and Cooperation Committee in May, the countries will jointly improve tax services for cross-border businesses, strengthen bilateral trade on agricultural products, further cooperation on pesticides and boost investment in the low-carbon and clean technology sector.
The two countries will also team up in the digital economy, scientific innovation and industrial and supply chains, and enhance digital technology exchanges, the meeting said.
Extensive ties
Since establishing diplomatic relations in 1974, China and Brazil have developed a close trade relationship. China has been Brazil's largest trading partner since 2009 and has been a steady supplier of a wide range of products to the Latin American country. Brazil is China's most important trading partner in the Latin American and Caribbean region.
Data from the Brazilian Foreign Trade Secretariat showed that bilateral trade totaled over $130 billion in 2021. Brazilian exports to China mainly include agricultural products like beef and soybeans, as well as ores and petroleum; China's exports to Brazil consist of mechanical and chemical products and transportation equipment.
As China keeps opening up its market, many Brazilian products have reached Chinese consumers. According to Brazil beef industry group Abrafrigo, China imported around 140,000 tons of beef from Brazil in January-February this year, accounting for 41 percent of Brazil's total beef exports. The introduction of Brazilian agricultural products has met upgraded consumption demand in China.
Moreover, Brazil has a booming market for machinery products, with China being one of its major providers. Many Chinese enterprises have invested in Brazilian energy, infrastructure and new-energy vehicle sectors.
"I have been in China for many years and have witnessed its rapid development as well as the rising import of Brazilian products. Both countries' complementary economies will improve China-Brazil ties," José Mário Moccia Antunes, an official with the Investment Promotion Agency of the State of São Paulo in Shanghai, told Beijing Review.
Chinese firms had invested over $60 billion in Brazil as of late 2020, Chinese Vice Minister of Commerce Wang Shouwen said at a meeting of the China-Brazil Entrepreneurs Committee (CEBC) in May. Brazil is the top partner of China in Latin America in cooperation on building laboratories. The two countries have also collaborated in the fields of telecommunication, aerospace and finance.
During the COVID-19 pandemic, China and Brazil both saw thriving digital economy and e-commerce. Enterprises of the two countries are supposed to improve exchanges on emerging fields of the digital economy, the Internet of Things (IoT) and new energy, Wang said.
New frontiers
China-Brazil cooperation on cutting-edge technologies is another aspect worth exploring.
Since the commercialization of 5G in China in 2019, its application has been expanded to fields including education, healthcare, tourism and transportation, which has boosted the IoT. Brazil has also proposed goals to further develop the IoT, Jin Hongjun, Chargé d'affaires ad interim of the Chinese Embassy in Brazil, told a forum held via video link on July 27. The event was co-hosted by the CEBC and the Chinese Embassy in Brazil.
"China-Brazil cooperation on the IoT will boost bilateral synergy in trade, agriculture, infrastructure and energy, and drive green and sustainable development. We expect more cooperative programs on the IoT and data security between both sides," Jin said.
Pan Helin, Co-Director of the Digital Economy and Financial Innovation Research Center at Zhejiang University, pointed out at the forum that the IoT can be applied in the development of smart cities, smart vehicles and wearable devices, and can empower traditional industries. In Brazil, with its population of 216 million, IoT application scenarios are similar to those in China.
Chinese tech companies are vying to enter the emerging Brazilian market. Huawei is a leader in 5G technologies. As agriculture contributes a large proportion to Brazil's GDP growth, the company has worked with local agricultural research centers to improve grain output. In December 2020, for example, the Brazilian farm state of Goias rolled out a pilot project to increase productivity and take swift action against disease using Huawei's 5G technologies and equipment, Bruno Zitnick, Huawei Director of Public Relations in Brazil, told the forum.
"We have also launched smart warehouses in Brazil to improve the efficiency of goods delivery. It once took five to seven days, whereas today that time has been reduced to two hours," Zitnick added.
Xu Lei, Xiaomi Director of Public Relations in Latin America, told the forum that his company focuses on smart products ranging from phones to IoT-based home appliances. It is currently working on providing products in line with Latin American demand. In some large Brazilian cities, like São Paulo, where traffic jams are ubiquitous, Xiaomi's smart scooter has become a big hit on the market, Xu said.
Xiaomi opened its first brick-and-mortar store in Brazil in 2019. According to the company, phone purchases account for half of its total sales in Brazil, while smart products like wearable bands and smart lights are close runners-up. Its sales rank third in Brazil's smartphone market.
Some 300 Chinese enterprises have established business cooperation with their Brazilian counterparts, mainly in the fields of agriculture, animal husbandry and retail, according to Liu Yushu, Director of the Macro Research Department at the Chongyang Institute for Financial Studies, Renmin University of China. Only three of them are hi-tech companies, showing much room for growth. The two countries are now supposed to lift cooperation in digital infrastructure and economy.
He suggested that both countries should improve their exchanges on the regulation of cross-border data flow, jointly formulate rules and promote experience sharing to improve collaboration in the digital economy.
On the other hand, Brazil has made much technological progress in recent years. It ranked 57th on the Global Innovation Index last year, up from 62nd place in 2020.
Brazil is one of the first countries to use seabed petroleum. Local enterprises have developed full-fledged technologies to cut energy consumption during the utilization process. Brazilian firms have also realized a range of agricultural innovations, including the creation of photovoltaic tiles that are both affordable and eco-friendly. These achievements prove valuable to China's ongoing industrial transformation.
"To advance technological cooperation, China and Brazil should launch exchange centers. Given China's Macao Special Administrative Region has been a hub for exchanges between the country and Portuguese-speaking states, the role of the region should be given fuller play in this drive," Yuan Jinyun, an academician with the nonprofit Brazilian Academy of Sciences, headquartered in Rio de Janeiro, said at a forum last year.
(Print Edition Title: In-Depth Interaction)
Copyedited by Elsbeth van Paridon
Comments to lixiaoyang@cicgamericas.com