READY: Workers from the Urumqi Railway Administration wait for a CRH2-061C high-speed train ready to pull out from Urumqi Electric Multiple Unit Deport at 9:50 a.m. on June 3 (LI FANGFANG)
Nan Baojun, 43, a veteran railway steward with 20 years' experience, was excited when she spoke to Beijing Review on a test high-speed train running from Urumqi to Shanshan in northwest China's Xinjiang Uygur Autonomous Region. "Xinjiang finally has its high-speed railway," she exclaimed with glee.
At 9:50 a.m. on June 3, a CRH2-061C high-speed train began its 283-km journey from Urumqi to Shanshan to test the Xinjiang section of the second double-track line of the Lanzhou-Xinjiang Railway.
The railway, which was first built in 1952-62, is the only one that connects Xinjiang with other parts of China. The new line starts in Lanzhou, capital of Gansu Province, and takes a slightly different route, winding through the neighboring Qinghai Province before re-entering Gansu and joining the old route that heads northwest toward Xinjiang.
The 1,776-km new line crosses a vast expanse of the Gobi Desert and other areas with harsh natural conditions including extreme temperatures and wind speeds, both of which needed technical innovations to overcome.
Construction of the Xinjiang stretch of the railroad, which runs for 710 km in total, began in March 2010. After the last section between Gansu and Qinghai finishes its test running in September, the new line will start trial operation. It will be finally put into use at the end of 2014. With the new railway, travel time between Lanzhou and Urumqi will be cut from the current 21 hours to 8 hours or less.
Xinjiang's local residents have longed for the opening of the high-speed railway for a long time.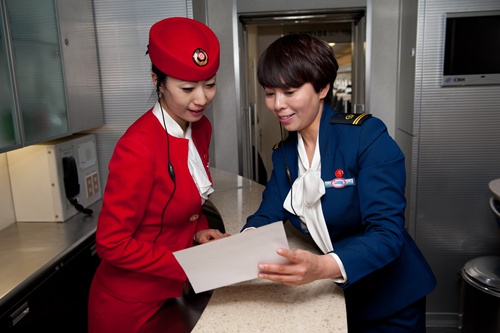 TRAINING: Nan Baojun (right) coaches a steward on the test high-speed train on June 3 (CHEN BOYUAN)
"When I took a taxi to go to work, the driver asked me when Xinjiang would have its own high-speed railway," said Nan, who will be in charge of all the attendants on the route after it is put into use. "When I went to get a haircut, the hairdresser also asked me if it was true that Xinjiang was building a high-speed railroad."
The trial run on June 3 included tests on dynamic response, rails, communications and aerodynamics, and all the results were within safety limits, said Fu Lianzhu, chief engineer of the line's trial run project.
TOP SPEED: The speed of the test high-speed train reaches 275 km per hour, 10 percent faster than the designed one, to make extra sure that everything is operating as expected (ZHAO GE)
This section is designed for an average speed of 250 km per hour when it begins operations. During the test, the speed used was 10 percent faster, 275 km per hour, to make extra sure that everything is operating as expected.
"We had to undertake nine days of testing before we started the trial run," Fu said.
According to Fu, the train began its trial run at a speed of 160 km per hour, regularly increasing its speed by 20-km increments. After the speed exceeded 200 km per hour, the increases were lowered 10 km per hour until it reached 275 km per hour.