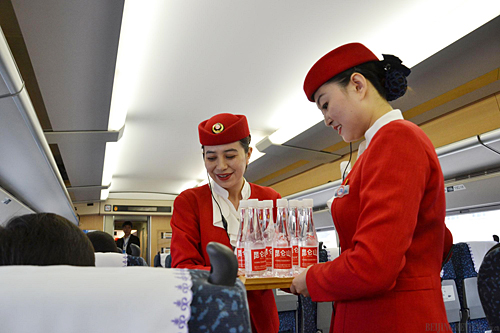 WELCOME ABOARD: Zulhumar Tursun (left), 22, serves passengers on the test high-speed train on June 3 (LI FANGFANG)
Economic solution
Xinjiang is a remote region, and more than half of its population is made up of ethnic minorities who follow Islam. Violence in the name of "jihad" has been increasing since 2009 and represents the biggest threat to the region.
Chinese President Xi Jinping urged strengthened precautions and international anti-terrorism cooperation, stressing long-term stability as the main goal for the region at the second central work conference on Xinjiang on May 29.
The meeting was held in the wake of a series of bloody terrorist attacks in the region, including one at an open air market in Urumqi, which left 39 people dead and 94 injured on May 22. It was the second terrorist attack in Urumqi in less than a month. On April 30, an explosion at the Urumqi Railway Station killed three people, including the two attackers, and injured 79 others.
"Terrorism can't break the unity of the Xinjiang people or stop the region's development," said Tuerdi. "We are very strong."
Echoing Tuerdi's sentiment, Zulhumar Tursun, 22, an Uygur attendant on the test train, is also confident in Xinjiang's future. "Xinjiang is not what you heard in rumors," she said.
Tursun is proud to be one of the first nine candidates chosen from about 5,000 women who all wanted to work for the first high-speed train in her hometown.
Affected by the terrorist attacks, direct investment in Xinjiang and tourism revenues reduced 50 percent and 40 percent respectively in May, comparing with the same period last year, according to Lai Xin, a senior official with the region's Development and Reform Commission.
But Li Wenqing, a local tourism official, pins his hopes on the high-speed railway to revive the industry.
"The high-speed railway will cut the costs and time needed to visit Xinjiang," Li said.
Xinjiang received 52 million domestic tourists and 1.1 million foreign tourists in 2013. Li is still optimistic about reaching the target of receiving 57 million tourists this year.
"The tourism industry will become Xinjiang's most important industry, accounting for 10 percent of its GDP by 2015," Li said.
"With its beautiful natural scenery and cultural sites, we need a developed transportation net. If tourists can travel here within three days rather than seven days, that would be great" Nan said. "As with the high-speed railway in use, more people can come to know Xinjiang and Xinjiang locals can better know the outside world."
The high-speed railway will also greatly improve Xinjiang's transport capabilities to Central Asian and European countries and strengthen its role of being the transportation hub along the Silk Road Economic Belt, said Erkin Tuniyaz, Vice Chairman of the Xinjiang Regional Government.
In a speech in Kazakhstan last September, President Xi proposed the construction of a "Silk Road Economic Belt" as a way of boosting political and economic ties between China and neighboring countries, as well as accelerating the development of China's western regions.
Email us at: lifangfang@bjreview.com