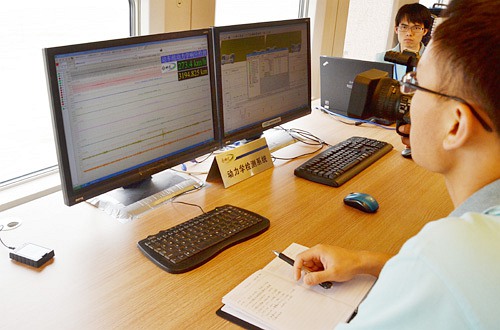 GETTING CLOSER: A Technician monitors the speed of the train on June 3 (LI FANGFANG)
Not that far
When Tuerdi worked for the Urumqi-Hami section of the old route of the Lanzhou-Xinjiang Railway, it took more than six hours to travel the roughly 600 km of the route.
But when the high-speed railway goes into operation, it will be possible to traverse it in as little as two and a half hours. "It'd be possible to make a day trip to and from Urumqi to Hami, a city in south Xinjiang," Tuerdi said.
For people in Xinjiang, online shopping is not as convenient as it is in the rest of China because of the long wait for packages and higher delivery fees.
For those using ShunFeng Express, a premium delivery company in China known for its efficiency, delivering a package from Beijing to Urumqi takes a week at least and costs 24 yuan ($3.84) per kg. However, customers in other provinces, with the exception of those in southwest China's Tibet Autonomous Region and in Qinghai, their purchases can arrive in two days and the delivery fees can be so low that some online vendors are even willing to cover them for their customers. What's worse, some online business owners rejected orders from Xinjiang to avoid the hassles of the inconvenient transportation arrangements.
"When we were trained in Wuhan, enjoying shopping without delivery costs was so exciting," Nan said. She looks forward to high-speed cargo trains that can improve the situation.
The high-speed railway will make a huge difference. The old route of the Lanzhou-Xinjiang Railway will be used exclusively for cargo trains while the high-speed railroad will be for passenger trains, according to Liu Xinle, a railway official in Xinjiang.
"It means that the current transportation capability for both cargo and passengers will be doubled," Liu said.