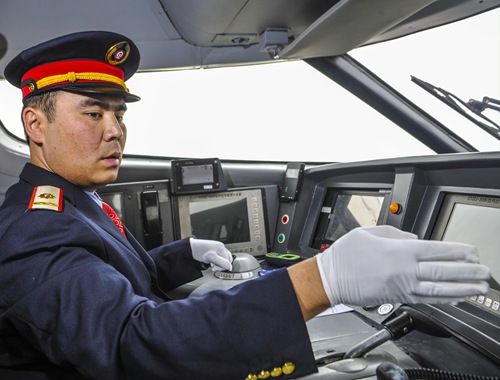 VETERAN: Adi Tuerdi, an Uygur driver, operates the test high-speed train on June 3 (ZHAO GE)
"On account of the high speeds, we drivers have to take turns [to get a chance to experience it]," said Adi Tuerdi, 34, an Uygur train driver. Besides Tuerdi, there is also one Kazak and 10 Han ethnic drivers on the trial high-speed train. They were all selected from train drivers working in Xinjiang.
Tuerdi experienced tough tests as a candidate over the past several months. The basic criterion is that a driver has healthy physical and mental condition and good knowledge of China's railways. When he passed his interview in Beijing, Tuerdi was given the opportunity to learn the theoretical knowledge needed for high-speed trains and receive practical training.
Tuerdi received his driving classes in Baoji, northwest China's Shaanxi Province, and Southwest Jiaotong University in Chengdu, Sichuan Province, some 3,000 km far away from Urumqi.
He practiced his skills at the Wuhan multiple unit train depot in central China's Hubei Province, one of the four major depots in China. The other three are in Beijing, Shanghai and Guangzhou in south China's Guangdong Province.
However, the highest priority is a train driver's recorded safe-driving distance. They cannot have violations within at least 100,000 km of one another. Tuerdi's safe-driving distance is 573,400 km, which he has worked up since his career as a train driver started in 2003.
"I'm proud to be the first Uygur driver of the high-speed trains in Xinjiang. It's also a pride for my family, and even for all Uygurs," Tuerdi said.