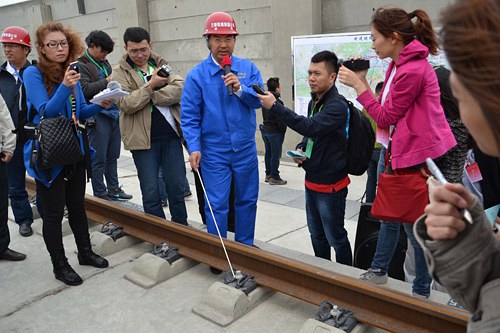 INNOVATIONS: La Youyu (center), Chairman of Lanzhou-Xinjiang Railway Xinjiang Co., explains the technological challenges of building the first high-speed railway in Xinjiang on June 3 (LI FANGFANG)
Challenges conquered
Xinjiang is the largest base of wind power in China. The windiness of the region was a major factor in the decision to build so many wind farms there, but sometimes the wind is responsible for more than just generating electricity and can cause serious damage and be a potential threat to trains.
The high-speed railway passes four particularly notorious windy areas, where gusts of wind can reach 60 meters per second, equivalent to the wind speed in a category 4 hurricane. Wind exceeding 32 meters per second are considered hurricanes.
In the four areas with extreme wind that the railway passes, there are 208 days a year where winds exceed 20 meters per second.
A 462-km wind shield has been built to prevent damage, covering 65 percent of the total length of the Xinjiang section of the high-speed railroad, the largest wind protection structure in China's high-speed railway construction, according to La Youyu, Chairman of Lanzhou-Xinjiang Railway Xinjiang Co.
"Constructing a high-speed railroad in such a harsh natural environment is a real challenge," said La, a Tibetan with a rich experience in railway construction. He participated in building the Beijing-Shanghai high-speed railway and the Qinghai-Tibet railway, the world's highest and longest high plateau railroad, as vice commander in chief.
"Without the protection wall, trains would have to stop running when wind speeds reach 30 meters per second. But now, they don't have to do that till it exceeds 40 meters per second," La said.
Xinjiang is also renowned for the large temperature differences between day and night, which can cause concrete to crack. "We worked hard to choose the best formula for the concrete possible," La explained.
The high-speed railway's environmentally friendly construction is another highlight, especially near the Dabancheng wetland, a national nature reserve in Urumqi.
During the construction, clear rules forbidding littering and random driving were made. Workers built a road exclusively for construction use. After the construction work was finished, the road is used for follow-up railway maintenance and given to the local people for their daily use.