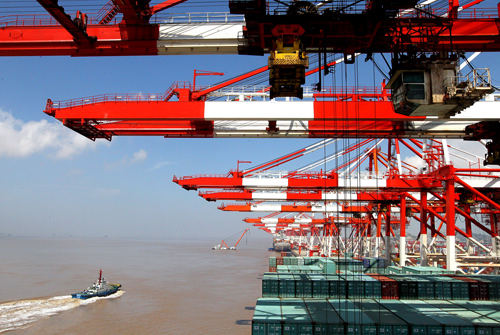 Shanghai Yangshan Deep-water Port (CHEN FEI)
China's 12th Five-Year Plan for National Economic and Social Development (2011-15) was approved by the National People's Congress, the country's top legislature, on March 14.
Focusing on building a green economy, China plans to cut energy consumption and carbon dioxide emissions per 10,000 yuan ($1,576) of the GDP by 16 percent and 17 percent, respectively.
Other key targets include maintaining a 7-percent annual GDP growth on average, realizing an urbanization rate of 51.5 percent, increasing expenditure on research and development to 2.2 percent of national GDP, expanding pension schemes to cover all rural residents and 357 million urban residents, building 36 million affordable apartments for low-income families and conducting comprehensive reforms in monopoly industries which will allow for more competition.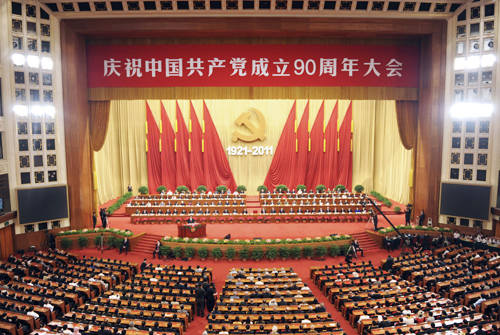 A gathering commemorating the 90th anniversary of the founding of the Communist Party of China is held in Beijing on July 1 (XINHUA)
A grand gathering marking the 90th anniversary of the founding of the Communist Party of China (CPC) was held in Beijing on July 1. Hu Jintao, General Secretary of the CPC Central Committee, delivered a keynote speech.
Hu said that the CPC has accomplished three major feats since its formation: With reliance on the people, completing a new-democratic revolution to win national independence and liberation for the people; completing the socialist revolution and establishing the basic socialist system; carrying out a great new revolution of reform and opening up, and creating, upholding, and developing socialism with Chinese characteristics.
Hu said that the CPC, now with a membership of more than 80 million, will "actively yet prudently" carry out political structural reform in order to achieve the Party's fundamental goal, a situation where the people are able to determine their own destiny, and where the CPC is able to fully tap the initiative of the people.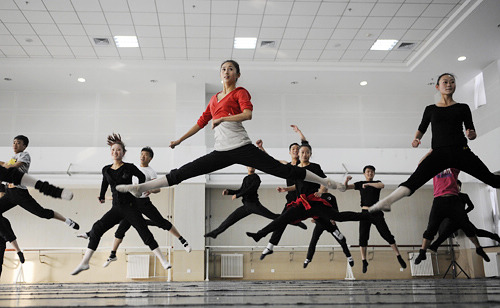 Dancers rehearse at Yinchuan Arts Theater in Ningxia Hui Autonomous Region (WANG PENG)
The 17th Central Committee of the CPC concluded its sixth plenary session in Beijing on October 18, adopting a decision on deepening the reform of China's cultural system and promoting the development of the cultural industry.
A statement issued by the session said that developing the cultural industry is a key priority for the Chinese Government. According to the statement, the country should not only provide its people with a comfortable material life, but also a healthy and rich cultural life.
More resources will be devoted to boosting public cultural services and speeding up the reform of the cultural industry, according to the statement.